Sales Have Ended
Registrations are closed
Congratulations, your registration has been successful! Thank you for registering for the "2019 千人心肺复苏法 MASS CPR❤️AED "! An electronic receipt has been sent to you at the email address you have provided in the registration form. Please check your email inbox, including your junk/spam folder, and print out a copy of the register receipt. Thank you for your support! Like our Facebook page for latest news. https://www.facebook.com/penang.mlcc/
Sales Have Ended
Registrations are closed
Congratulations, your registration has been successful! Thank you for registering for the "2019 千人心肺复苏法 MASS CPR❤️AED "! An electronic receipt has been sent to you at the email address you have provided in the registration form. Please check your email inbox, including your junk/spam folder, and print out a copy of the register receipt. Thank you for your support! Like our Facebook page for latest news. https://www.facebook.com/penang.mlcc/
About this Event
About this Event 2019 Mass CPR & AED 关于此急救训练活动
OPEN TO PUBLIC FOR FREE 免费开放于公众报名
The Penang State Government would like to organize a Hands-Only Mass CPR & AED training event in collaboration with its partners comprising the Malaysia Lin Chamber of Commerce Penang State, Malaysia Red Crescent Society Penang State, Han Chiang High School, JPN Pulau Pinang and PYDC. A free community-wide CPR & AED training event will be held on the 30th of June 2019 (SUNDAY) from 8.00am - 5.30pm at Han Chiang High School, Penang.
槟州青年及体育委员会,联合马来西亚林氏总商会槟州联委会,马来西亚红新月会槟州分会,槟榔屿韩江校友会及槟城教育局及青年发展机构,联袂举办于6月30日(星期日)上午8点至下午5点30分,假韩江中学举办的基本急救及自动体外心脏除颤器使用训练。
The Objectives 宗旨:
The Organizing Committee hopes to 基本急救训练的目的:
1. Strengthen the Chain of Survival of a cardiac arrest victim. 增加心脏骤停患者的生存机率。
2. Develop models of good care between the general public and health care providers to improve survival rates of cardiac arrest victims. 让非专业医务人员的一般民众亦有能力扮演急救的角色,以增加心脏骤停患者的生存机率。
What is CPR 什么是心肺复苏术?
CPR is Cardiopulmonary Resuscitation an important life saving first aid skill. It is the only known effective method to keep a victim of cardiac arrest alive, long enough for definitive treatment to be delivered. 心肺复苏术是极为重要的急救方法。这是目前唯一可以延续心脏骤停患者的生命,方得以有机会接受正规的治疗。
What is AED 什么是自动体外心脏除颤器?
An AED, or automated external defibrillator, is used to help those experiencing sudden cardiac arrest. It's sophisticated, yet easy-to-use, a medical device that can analyze the heart's rhythm and, if necessary, deliver an electrical shock, or defibrillation, to help the heart re-establish an effective rhythm. AED是自动体外除颤器,它用于挽救心脏骤停患者。它虽是一个精密却又简易使用的医疗设备,它可分析心脏的节律,并在必要时自动进行电击除颤,帮助心脏重建正常的心跳节律。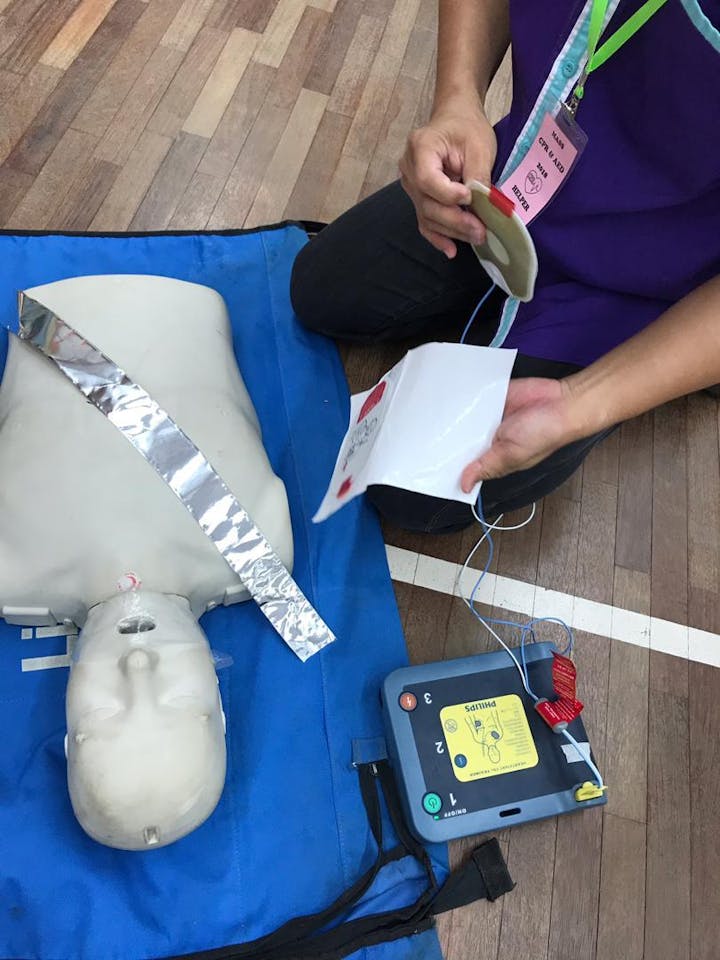 YOU CAN MAKE A DIFFERENCE! Registration is FREE! 您可以改变生命!免费报名参加!
Be A Mass CPR & AED Participant, COME JOIN US and LEARN A LIFE-SAVING SKILL! No CPR & AED experience is needed. First-time learners are welcomed! 参与基本急救心肺复苏术f和自动体外心脏除颤器的集体训练,和我们一起学习拯救生命的方法。您无需任何医疗经验,欢迎初学者报名!
For more information, please contact 请联系获取详尽资讯 :
Polleey 017-561 7663, Mei Shan 017-451 1763
Sponsored by 赞助单位 :