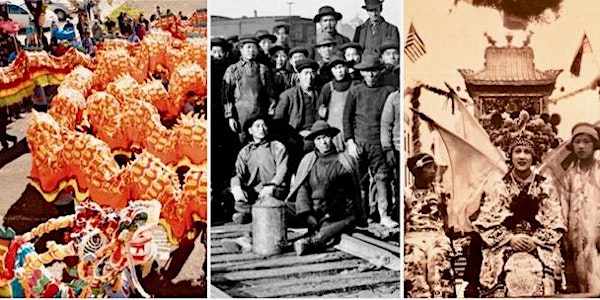 2019 Marysville Bokkai Festival & Chinese American Pilgrimage
Location
Yuba County Library
303 Second Street
& Chinese American Museum of Northern California 232 1st St
Marysville, CA 95901
Description
The Chinese American Pioneer Heritage Committee is working to increase knowledge of the historic Marysville Chinatown, once the second largest in the US, it was the hub of many Chinese Americans who built the infrastructure of California—including railroads, roads, wineries, mines, delta levees, water and irrigation systems and agricultural farmlands. This year we will also honor the 150th Anniversary of the Golden Spike - completion of the Transcontinental Railroad.
Chinese Americans were and are critical in the development of California. We hope to make this an annual pilgrimage to Marysville where many who have historical or cultural roots will help us discover and honor our heritage. We have organized a series of educational and cultural events in conjunction with the Bok Kai Parade and Bomb Festival. All are welcome. Most activities are free or by donation. Please join us.
---


SATURDAY, MARCH 9
BOK KAI TEMPLE: 9AM-3PM, 1st & D Street. This historic temple opened in 1854 and is still active, please respect the worship. Hundreds visit over the weekend.

CHINESE AMERICAN MUSEUM OF NORTHERN CALIFORNIA: 10AM-5PM, 232 1st St Focus on Delta, Central Valley and rural Chinatowns not covered by other museums.

OLD CHINESE SCHOOL MUSEUM, 10AM-5PM, 226 1st St.

BOK KAI FESTIVAL & STREET FAIR: 9AM-5PM, 1ST & C Streets: Food & Craft Vendors, cultural booths, childrens activities.

139TH BOK KAI PARADE- 11AM-1PM Famous 175 foot long golden dragon Hong Wan Lung
---
---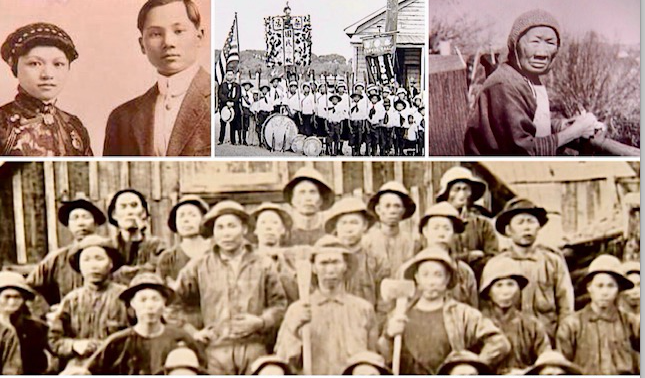 CHINESE AMERICAN FILM FESTIVAL - Yuba County Library, 303 2nd St, 1:30-5:30 PM Opportunity to view a spectrum of documentaries on Chinese American history, pioneers and community life. RESERVATION Suggested donation $10. Priority Seating to all 4 screenings (Limit 80) (Please arrive 15min. prior to each screening time to receive Priority Seating. Please retain your Event Brite ticket for each screening.)

1:30PM - Becoming American: The Chinese Experience, Between Two Worlds (Bill Moyers special) Abetted by the 1882 Chinese Exclusion Act, a wave of anti-Chinese sentiment swept across America. This program examines the exclusion years through the stories of Chinese Americans and their families who were kept apart by both ancient custom and U.S. law. These immigrants were trapped between countries, at home neither in the U.S., nor in China. The law that separated these families also provided relief as Chinese Americans turned to the courts for justice.
3:00PM - Bittersweet Roots: the Chinese in California's Heartland The California Delta is the one of the few places in America where the Chinese have maintained a sustained presence for nearly 150 years. As the gateway to the Sierra Nevadas, former Chinese miners, railroad workers, and merchants settled here. Chinese immigrants built levees, reclaimed swampland to transform this into one of the richest agricultural regions. Including family and community archival footage, hear the stories of the residents and families from Marysville, Fiddletown, Locke, Courtland, Isleton and other Delta towns, as the Chinese overcame and thrived despite hardship and discrimination.

4:00PM - A Legacy Worth Preserving: The History of the Square and Circle Club The Square and Circle Club is the first and oldest Chinese/Asian American women service organization in the United States, still in continuous existence. Founded in 1924 by seven idealistic young Chinese American girls in San Francisco Chinatown who wanted to raise relief funds for flood victims in China, the Club's philanthropy and community service have spawned many of the well established community service organizations still in existence today. Drawing from the Club's extensive personal archives, hear the Club's rarely told story, history of the founders including Alice Fong Yu, the first Chinese American woman school teacher, and the Club's extensive community service and fundraising work over the years. The Club proudly celebrates its 95th anniversary this year. www.SquareandCircleClub.org
4:45PM - The Chinese Exclusion Act, (47min) directed by Ric Burns Extensively documented and thoroughly researched, the film examines the origin, history and impact of the 1882 Chinese Exclusion law that made it illegal for Chinese workers to come to America and for Chinese nationals already here ever to become U.S. citizens. The first in a long line of acts targeting the Chinese for exclusion, it remained in force for more than 60 years. This film is a phenomenal exploration of the social, political, cultural climate of the times that fueled the anti-Chinese movement and documents the long history of Chinese resistance to exclusion that have historically established much of what we in America value as the hallmarks of American civil liberties. (Subtitled in Chinese).


---
---

PHOTO EXHIBITS: The Taishan Project Exhibit (lecture 3 PM), Chinese Railroad Workers, Chinese American Heroes at the Suey Sing Association Building, 305 1st Street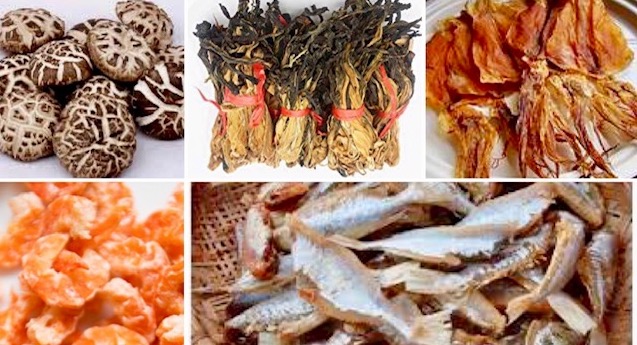 CHINESE RAILROAD WORKERS COOKING DEMONSTRATION WITH CHEF DON LEE, 2PM & 4PM, 305 1st St. Chef Don Lee is a business and community activist in New York Chinatown. He has researched the foods that the Chinese workers on the Transcontinental Railroad negotiated in their labor contracts with the Central Pacific Railroad 1865-69. He will prepare dishes using many of the dried and local ingredients they used.

RESERVE for priority seating. $10 suggested donation. Walk-ins as available.

MUSICAL & CULTURAL PERFORMERS: 1:30-5 PM, 113 C Street.
Jing Cai Tai Chi Team To celebrate the Year of the Boar the Jing Cai Tai Chi Team will perform:



Chan's Hun Yuen Tai Chi 24 Form

Kung Fu Fan

Chan's Tai Chi Chuen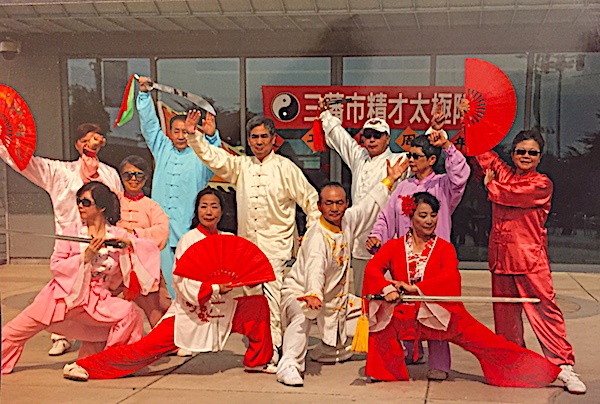 2. ABCT (A Better Chinatown Tomorrow) performs traditional Chinese music regularly at SF Chinatown's Portsmouth Square. Wilma Pang below.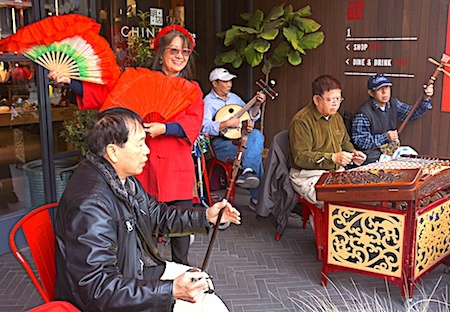 LION DANCE 4 PM, 113 C Street

PIONEER DINNER, 6 PM, Szechwan Chinese Restaurant, 223 1st St: Meet and network with community & committee members as we honor leaders who have contributed to leading, preserving and teaching Chinese American History. This year's honorees are: Marysville native & preservationis Leonard Hom and Chinese American author Fae Myenne Ng. Public Welcome. RESERVATIONS REQUIRED $20.



---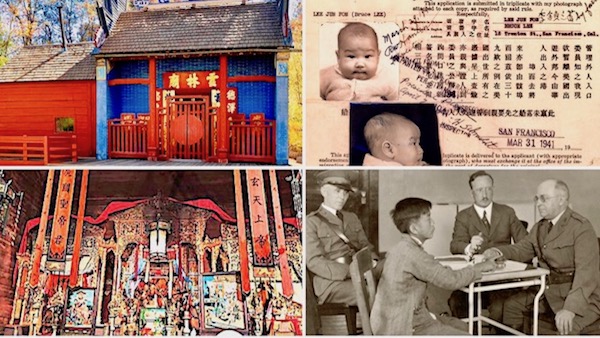 SUNDAY, MARCH 10
Exciting and rare opportunity to meet experts on researching Chinese American genealogy, pioneers who are working to preserving heritage sites and historians working to expand the research and education in Asian American Studies.
Panel 1: History of the Chinese & Asian Immigrant Experience, Researching Family History, Narrating Chinese American Stories.
Jeff Kan Lee: "Kan Clan and Locke" Jeff is the grandson of Lee Bing, the founder of Locke. His father was also at one time the unofficial mayor of Locke. Jeff is going to be talking about Lee Bing's immigration history and the founding of Locke from its Walnut Grove origins.
Ron Chan: "Documenting Family History Using Hearts, Not Charts" Ron has done extensive research on his family oral history and can talk about the different ways to organize, narrate and present those stories in a fun and interesting way. He has deep family roots in the Sacramento area. His parents were from Courtland and Isleton. His aunt was Connie King, better known as "Locke Mom," for her decades of support for the Locke community.
Nancy Wang & Robert Kikuchi-Yngojo ~ Eth-Noh-Tec:"Mining Gold: Finding the Treasures in Family Stories"
Whether or not your family members are gone, you've heard the stories at the kitchen table, while
at a family reunion, or even a side comment when unexpected. How do you find out more? How
do you piece these tidbits together? Where do you go to fill in the gaps? Come mine gold!
Nancy and Robert the duo team of Eth-Noh-Tec will perform an excerpt from their play Red Alter,
the story of Nancy's ancestors who started the fishing industry in Monterey Bay in 1850. Nancy is
the great grand-niece of Quock Mui one of the earliest Chinese women to be born in America in
1859 in the Chinese fishing village of Los Lobos.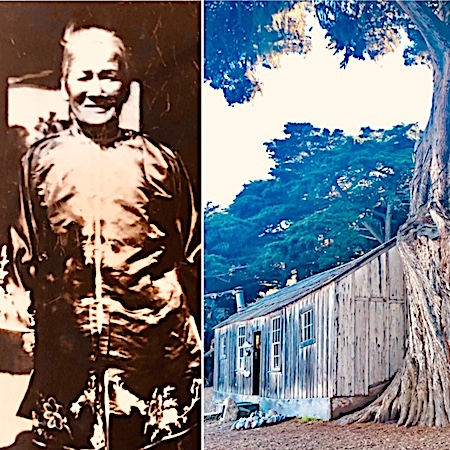 Panel 2: Immigration & Exclusion: From Chinese Exclusion and its impact on Asian American communities to immigrant issues today.
Anna Eng: "Immigration & Exclusion: the Experiences of Chinese American Families and the Long-Term Impact of Chinese Exclusion Laws"
Anna is an instructor in the Women and Gender Studies Dept. at San Francisco State University. She teaches classes on Gender, Politics and Citizenship. This talk is based on her genealogical research and oral history work that spans five generations in her family.
Hong Mei Pang: "Emerging from the margins: Chinese immigrants, civil rights, and migrant justice in the Trump era"
Hong Mei is the Director of Advocacy at Chinese for Affirmative Action where she leads community-informed advocacy to fulfill the organization's mission of protecting the civil rights of Chinese Americans and advancing multiracial democracy. Hong Mei's talk explores the ongoing challenges faced by Limited English Proficient Chinese immigrants, as well as, the ways that community-based civil rights movements have provided opportunities to build collective power despite the times.
LUNCH: Buffet Lunch catered by China Moon Restaurant (included) Opportunity to network and mingle with community members, activists and historians
2:00-4:00 – Panel 3 Rituals, Temples, Community History and Historic Preservation: Weaverville, Mendocino, & Chinese Heritage Sites on Public Lands
Jack Frost: "Weaverville's Won Lim Miao Translations"
Jack, the historic monument guide at the Weaverville Joss House State Historic Park will discuss the history of the Weaverville Temple and the recent translations of all the old original Chinese writings in the Joss House and the many family associations that helped with yearly donations.
Jeff Kan & Denise Lee: "Mendocino Chinese and the Kwan Tai Temple"
Jeff and Denise will be talking about the Mendocino Kwan Tai Temple. Denise is the great granddaughter of the builder of the temple. She will be talking about the Kwan Tai Temple and the history of her family.
Hilda Kwan: "Chinese Heritage Sites on Your National Forests"
Hilda is currently District Hydrologist for the Mendocino National Forest in California. Hilda's talk will explore how many of our histories lie within our national public lands; places that are long forgotten or unreachable. The US Forest Service is working on bringing these places and stories to light, and to connect the public with its history and public lands.
---
"BOMB" DAY CEREMONY: 4 PM Traditional firing of the Bombs & "good fortune" ring competition at corner of 1st & C Street