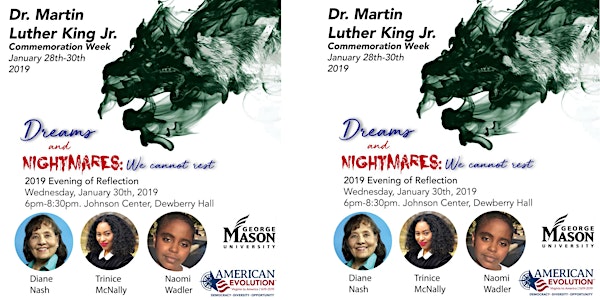 2019 Martin Luther King Commemoration: Evening of Reflection
Location
George Mason University
4400 University Drive
Johnson Center, Dewberry Hall
Fairfax, VA 22030
Description
Please join us for the 2019 Martin Luther King, Jr. Commemoration

Evening of Reflection on Wednesday, January 30th, 2019 in Johnson Center, Dewberry Hall from 6:00pm-8:30pm.

The 2019 Martin Luther King, Jr. Commemoration Evening of Reflection is a space where the Mason Community can come together to honor Dr. King, Jr and the accomplishments of our students, faculty, and community members.
Speakers will include: Civil Rights leader Diane Nash; Trinice McNally, founding director for the Center for Diversity, Inclusion & Multicultural Affairs at the University of the District of Columbia; and Naomi Wadler, a student at George Mason Elementary School in Alexandria, Va.
---
The theme for George Mason University's 2019 Martin Luther King Jr. Commemoration is Dreams and Nightmares: We Cannot Rest. This theme embodies the significance of Dr. King's Dream for justice and equality for all, but implores that we cannot stop there! The fight for equity, social justice, and the abolishment of systemic oppressions is still on! "We Cannot Rest" is a derivative of a quote from civil rights activist and pioneer, Ella Baker. Her famous quote, "Until the killing of Black Men, Black Mother's sons, becomes as important to the rest of the country as the killing of a white mother's son, we who believe in Freedom cannot rest until this happens" was laid to music and is widely known as "Ella's Song".
The MLK Commemoration Committee would like to invite you and your organization to attend this event. This event is open to all students, faculty, staff, and community members.
---


Sponsored by American Evolution, Housing and Residence Life, and Department of African and African Studies.