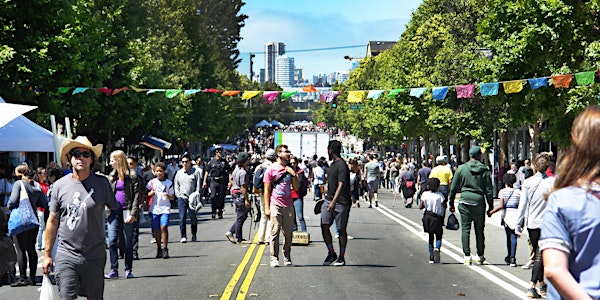 2019 Livability Summit & Awards Brunch
When and where
Location
The Chapel 777 Valencia Street San Francisco, CA 94110
Description
Taking place during Sunday Streets Mission at The Chapel on Valencia Street, the 2019 Livability Awards Brunch & Summit is your chance to see Sunday Streets from the inside-out, socialize, savor a cocktail, experience thought provoking discussions, and enjoy 1+ miles of car-free fun all in the same day!
Support Livable City's important work, including Sunday Streets, by purchasing the VIP Experience which includes entry to the VIP Brunch Reception with delicious brunch bites, hosted mimosa bar, and private lounge access all day.
Or RSVP to the public program and help spread the word about the FREE 2019 Livability Summit!
THE EXPERIENCE
Between 10am-12pm, VIP ticket holders enjoy access to the Brunch and Awards reception in The Chapel's open-air, heated patio restaurant, The Curio. Savor brunch bites and raise a glass from the hosted mimosa bar in celebration of the 2019 Community Leader Awardees, all while Valencia Street transforms into a car-free recreational space.
After brunch, gain early access to the beautiful Chapel Theater to bid on items from the 3rd Annual Explore Local Silent Auction featuring unique experiences and gifts from San Francisco's finest small businesses.
At 12:15, the event transitions into a speaking program open to the public, encouraging the greater Sunday Streets community to learn, think, discuss and dream big about how transportation, housing and public health solutions can become more equitable and sustainable for everyone.
During the public program, VIP ticket holders can head upstairs to the private mezzanine, complete with hors d'oeuvre buffet and private no-host bar to enjoy the program or outdoors to partake 1+ miles of car-free fun at Sunday Streets.
SCHEDULE
10:00am – 12:00pm // Awards Brunch At The Curio Patio
Enjoy a VIP Reception with delicious brunch bites, bottomless mimosas, and front stage viewing as Valencia Street transforms into Sunday Streets Mission!
Meet and mingle with livability leaders as you raise a glass in support of a San Francisco with plentiful and affordable housing, accessible public spaces and streets that make walking, biking, and public transit the best option for all.
12:15 – 1:00pm // Dreaming Big – What Does Shared Mobility Look Like?
As bike, scooter and car shares transform our streets, reshape our commutes and alter the transportation landscape of San Francisco, how do we center access for marginalized communities, encourage sustainable modes of transit, and create a system that is equity-first?
Join Planning Commissioner Myrna Melgar, SF Bicycle Coalition Board Member and JUMP Community Engagement Lead Meaghan Mitchell, and SOMCAN Transit Justice Organizer Mary Claire Amable for a panel discussion on dreaming big about the future of shared mobility. Moderated by Fay Darmawi, Founder and Executive Producer of San Francisco Urban Film Festival.
1:15 – 2:00pm // Community Leaders In Action – 2019 Livability Awardees
It takes a village to create a livable city. Learn how these community leaders and organizations work across a diverse landscape to create changes that affect the way we travel, live and play in the city we call home.
Lightning Talks from the 2019 Livability Awardees include:
In Chan Kaajal Community Garden is part of the city's first new park in ten years, bringing green, open space for community-building, recreation and public health to the heart of the Mission in collaboration with local community groups like Poder.
People Protected Bike Lanes fights to keep and create safe, accessible bike lanes free from car traffic. Their work has resulted in the installation of protected bike lanes on upper Market Street, $150k in funding for the Valencia Bicycle safety project, and upcoming projects on Howard and Townsend streets.
Part of Mayor Breed's Executive Directive to accelerate the approvals of Accessory Dwelling Units (ADUs), also known as in-law units, Mission Housing's 18th Street ADU Garage Conversion Project is modeling a way to create new, rent-controlled housing out of dormant garage space that is accessible to seniors, people with disabilities and low-income residents.
2:15 – 3:00pm // At The Intersection of Transit & Public Health
From wait times to walkable sidewalks to air quality, how we get around our city is deeply entwined with the health of our residents. Studies have shown access to quality public transportation results in better health outcomes - but how do we get there? The keynote conversation with SFMTA Vice Chair Gwyneth Borden and Dr. Susan Zieff, Director of Active Living Across the Lifespan Research Group, explores this intersection and the tactics, modes and models needed to create an equitable transit system that positively impacts public health for all San Franciscans.
SPEAKERS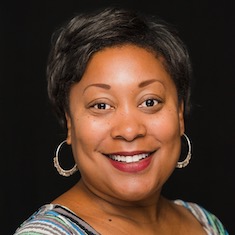 Gwyneth Borden was appointed to the SFMTA Board of Directors in 2014 and elected Vice Chair this year. A longtime transit rider, Ms. Borden has served in a variety of civic roles, including serving on San Francisco's Planning Commission and as a former aide to then-Supervisor Gavin Newsom. In 2013, she served as a member of the Mayor's 2030 Transportation Task Force and in 2003, she was appointed by the Board of Supervisors to serve on the Expenditure Plan Advisory Committee that authored the half-cent sales tax for transportation, which today funds the city's transportation projects.
Ms. Borden has long been active with public policy efforts at the local, state and federal level. Most recently, Ms. Borden served as the Executive Director of the Golden Gate Restaurant Association.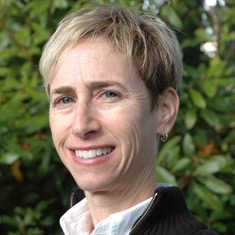 Dr Susan Zieff is a Professor of Kinesiology at San Francisco State and Director of Active Living Across the Lifespan Research Group. Her research focuses on social justice and equity issues associated with access to physical activity on local, national and international scales.
Zieff's work with Sunday Streets SF has been a model of evaluation for open streets initiatives at the international level, and she continues to work on economic impact assessment and potential for community-building and development in open streets programs. Her current areas of research address specific health disparities in physical activity behavior among Latina adolescent girls and LGBT youth, and related perceptions of body image and physical activity. Zieff works in conjunction with LGBT youth organizations and local YMCAs to develop guidelines and programming to support healthy lifestyles among this population.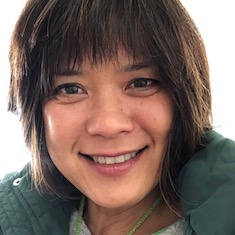 Fay Darmawi is the Founder and Executive Producer of San Francisco Urban Film Festival (SFUFF) and her unique background is a mix of film and finance. In addition to 25 years of community development finance experience - including most recently managing the low-income housing tax credit investment portfolio for Silicon Valley Bank - she completed five years of screenwriting training culminating in a fellowship with the Community of Writers at Squaw Valley. Based on her curation of the SFUFF, she was selected as one of the first Yerba Buena Center for the Arts Fellows. Fay is a graduate of the European Union's Valletta 2018 Curatorial School and most recently completed a storytelling residency with Forward/Slash Story.
Fay's formal urbanist training is from M.I.T. and the University of Pennsylvania, but her love of cities comes from her childhood experiences living in the epicenter of Jakarta, Indonesia.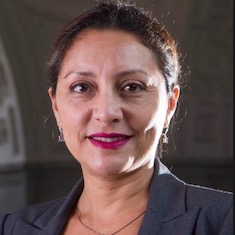 Myrna Melgar is currently the Executive Director of the Jamestown Community Center and prior to her work at Jamestown, was the Deputy Director of the Mission Economic Development Agency, another Mission District nonprofit providing asset building and financial services to low income Latino families. She was the Director of Homeownership Programs at the San Francisco Mayor's Office of Housing during the Newsom administration. Myrna also served three terms in the City's Building Inspection Commission, and also as President of the commission's Board of Appeals. She is a current member of the Assembly of the Jewish Community Relations Council, and the Executive Board of the Latino Democratic Club. Myrna is currently the Vice President of the San Francisco City Planning Commission, appointed by President of the Board of Supervisors London Breed.
Myrna immigrated to the Mission District as a teenager with her family during the 1980's from El Salvador, during that country's civil war. She attended San Francisco State University, and then obtained a Master's Degree in Urban Planning with a concentration in housing development from Columbia University in the City of New York. She lives in San Francisco with her husband and three daughters.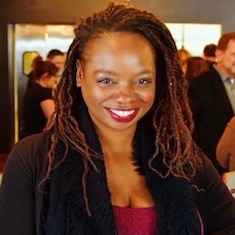 Meaghan Mitchell is a Bayview native, journalist, activist, and community engagement professional whose work is centered around neighborhood and transit-related issues. As an elected member to San Francisco's Bicycle Coalition Board of Directors and as the Community Engagement lead for bike share provider JUMP, Meaghan's background is multifaceted and focuses on the intersection of diversity, inclusion and community engagement.
Meaghan's outreach work has helped establish the legislated "African American Arts & Cultural District" of SF, launched the first dock-less e-bike share system in SF JUMP Bikes, and debuted Hoodline's Bayview news coverage as a journalist.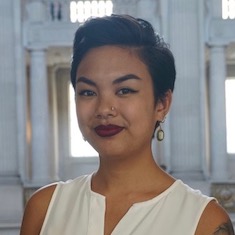 Mary Claire Amable, known around the neighborhood as Claire, is a first generation Filipina-American born and raised in the heart of the Tenderloin. Her great grandfather immigrated to the US in the 20's to work on the sugarcane plantations in Hawaii while her grandfather immigrated to San Francisco in the 70's after the Vietnam War, bringing Claire's father and his six siblings. Claire moved back and forth between the Tenderloin and SoMa for most of her life, putting down roots in both neighborhoods. She currently lives and works in SoMa while most of her family still live in the TL.

She graduated from The Woodside International School in 2014 and is currently a senior at San Francisco State University double-majoring in Urban Planning and Asian American Studies. With her degrees, she hopes to create positive change in her communities by writing policies that benefit and are reflective of the people and neighborhoods she represents.

Spending much of her time at the South of Market Community Action Network/SOMCAN as part of the City recognized group YOHANA, Amable is now the Transit Justice Organizer at SOMCAN. Amable has worked on several successful campaigns and co-designed programs that champion the growth of native and immigrant born San Francisco youth that strive to improve their quality of life.

Also active in city politics, she was appointed in 2016 to represent district six on the Youth Commission. For the two years, she has been able to work at City Hall, in various spaces of the South of Market and larger San Francisco communities of color.
SPONSORSHIP INFORMATION
Get in front of thousands of San Francisco residents and some of the Bay Area's brightest movers-and-shakers from the public, nonprofit, and private sectors all in the same day. Highlight your organization's civic spirit by sponsoring the VIP Brunch experience or one of the engaging public discussions that will be publicized to the 20,000+ attendees who fill Valencia every Sunday Streets.
Email sponsors@livablecity.org for more information or click here to view the 2019 sponsorship packages.