Description
Join the Emerging Leaders Initiative of Utah (ELI) as we bring together elected leaders to discuss the 2019 General Session of the Utah Legislature.
This free event is designed to give young Utah voters to hear directly from legislators to hear about upcoming legislative priorities (such as affordable housing and tax modernization), find out how these legislative proposals will affect you, and how you can advocate for the issues you are passionate about!
When: Thursday, January 31 from 6:30-9 pm
Where: Utah Capitol Building - Dining Hall
350 North State Street
Cost: Free
Additionally, event attendees will have the opportunity to network will fellow attendees and legislators, providing an unparalleled opportunity to meet with legislators and gain insights into this legislative session. Light food and refreshments will be provided.
In hosting this event, ELI will provide a forum for young voters to share their ideas with legislators and learn to better advocate for policies they are passionate about here Utah. In bringing together young voters, we can encourage future leaders to be part of the solutions to challenges affecting our state.
Panelists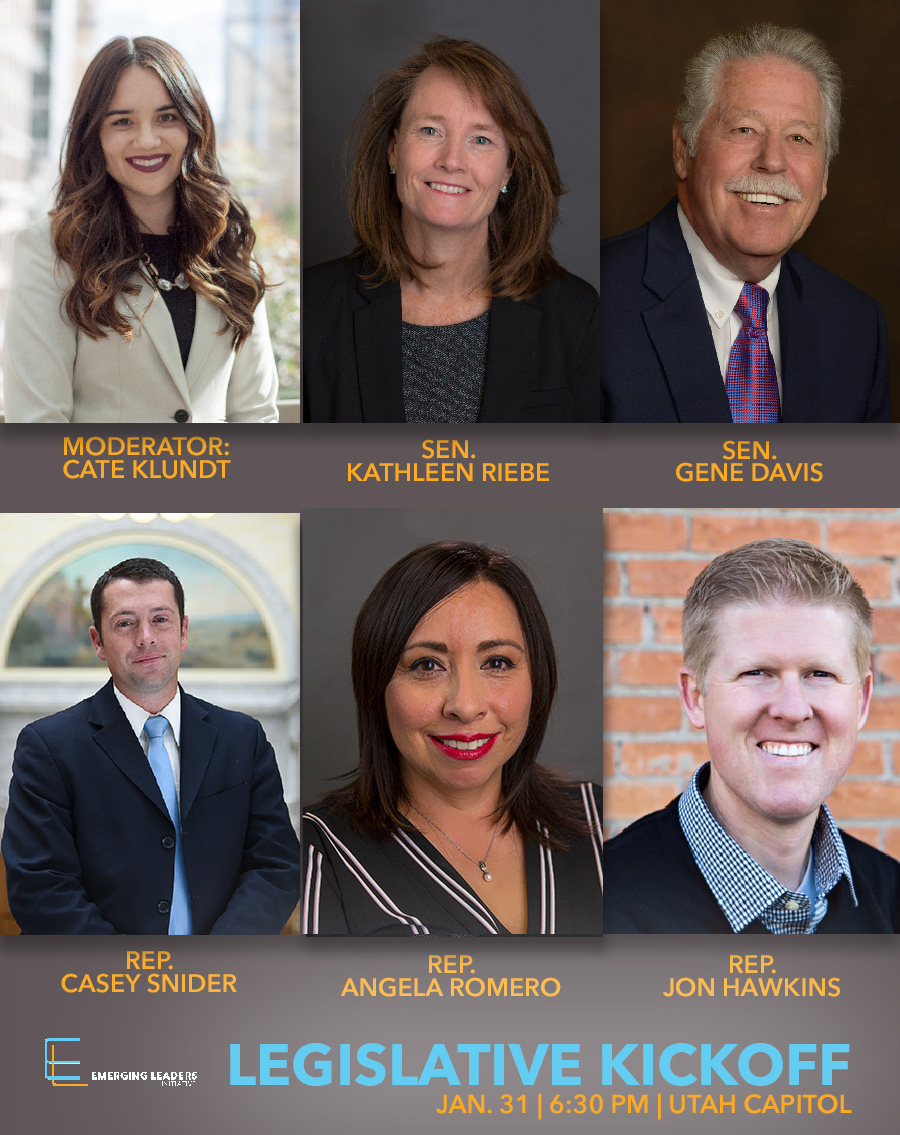 Moderator Cate Klundt: Klundt is currently the Government Affairs Director at Utah Association of Realtors. She has extensive experience in government affairs, lobbying and policy, and has held previous positions with World Trade Center Utah, Utah Association of Public Charter Schools and the Utah House of Representatives.
Sen. Gene Davis: Sen. Davis represents Senate District 3. He has served continuously in the Utah Legislature for the past 28 years, and has been a fervent voice for public education and for the health and economic stability of Utah families.
Sen. Kathleen Riebe: Sen. Riebe represents Senate District 8. She is an educator with the Granite School District who previously served as a State School Board member. Riebe is a passionate advocate for public education, air quality and public lands, responsible development and Medicaid expansion.
Rep. Casey Snider: At age 32, Rep. Snider is the youngest member of the Utah Legislature. He represents House District 5, which consists of the south end of Cache County. Rep. Snider owns and operates a 300-acre farm and also serves as a volunteer firefighter.
Rep. Angela Romero: Rep. Romero represents House District 26 and is a dedicated servant to Salt Lake City's west side. She currently is the community programs and operations manager for the Sorenson Unity Center, overseeing community programming in the Glendale, Poplar Grove and Rose Park neighborhoods.
Rep. Jon Hawkins: Rep. Hawkins represents Utah County's District 57. He manages a pre-sales consulting team at one of the technology firms in the valley, Workfront, bringing considerable experience and understanding in leading groups to build consensus.
Schedule
6:30-7 pm: Check-in and networking
7-8 pm: Panel with legislators
8-9 pm: Networking and event end
For questions about the event, please email us at emergingleadersinitiativeutah@gmail.com.