2019 LEADERCAST - Calhoun County, FL

Friday, May 10, 2019 from 8:00 AM to 2:30 PM (CDT)
Event Details



On behalf of the Calhoun, Jackson, and Washington County Chambers of Commerce, you are invited to a unique leadership development experience through live broadcast at on May 10th.The event is called Leadercast. 
Leadercast Live

Leadercast Live is the largest one-day leadership event in the world. Broadcast live each year from Atlanta to hundreds of Host Sites around the world, Leadercast Live assembles globally respected leadership experts on one stage to share knowledge and insights from their leadership journeys.
Leadercast Live dives into leadership issues relevant to today's leaders to provide solutions and inspiration to help attendees around the globe be better leaders. By bringing together top leadership experts with worldly perspectives, Leadercast provides leaders everywhere with the knowledge and tools to be leaders worth following.

Leading Healthy Teams
What defines a team's success? Is it based solely on achievement, or is there more to the story? The best leaders know a successful team is made when focus, care, attention and development is directed to its members. Healthy teams yield fulfilled employees, effective collaboration, high organizational engagement and greater long-term success.

In 2019, Leadercast Live will bring experts in organizational health to help attendees master the art and science of developing and leading healthy teams.

The registration fee is $50 per person, and includes lunch.

Calhoun Host Site
RCC - Blountstown
19359 FL-71
Blountstown, FL 32424
Call 850-674-4519 for more details.
Visit www.calcoleadercast2019.eventbrite.com to purchase tickets.

Jackson Host Site
RCC - Marianna
4534 Lafayette Street
Marianna, FL 32446
Call 850-482-8060 for more details.
Visit www.jacksoncounty.com to purchase tickets.

Washington Host Site
RCC - Chipley
1317 State Park Road
Chipley, FL 32428
Call 850-638-4157 for more details.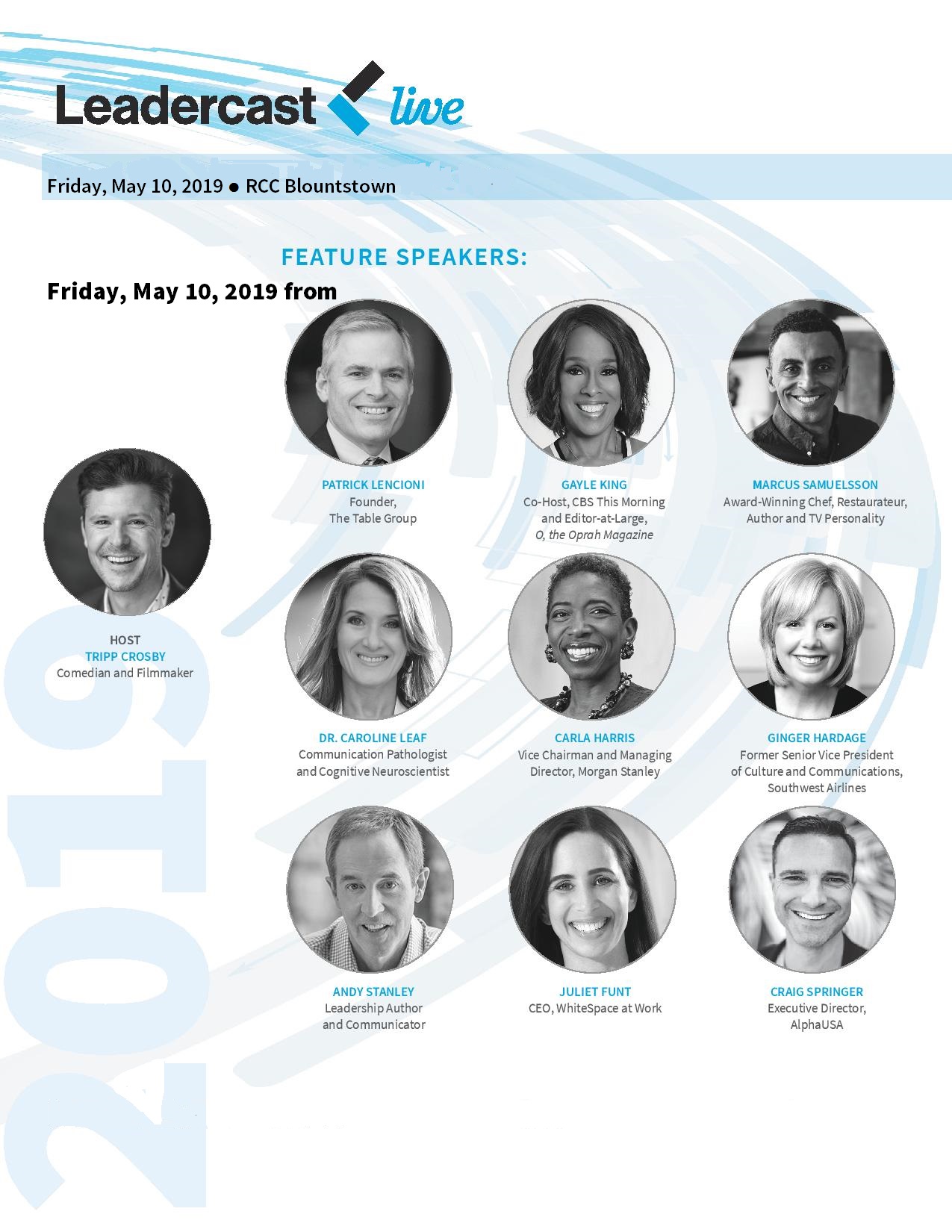 When & Where

RCC Blountstown
Calhoun County
19359 SR 71 N
Blountstown, Florida 32424


Friday, May 10, 2019 from 8:00 AM to 2:30 PM (CDT)
Add to my calendar
Organizer
The Chambers of Commerce in Calhoun, Jackson, and Washington Counties have partnered to bring LEADERCAST to our region.  We believe the nurturing and development of leaders can have a profound impact on our communities, and we are proud to host this dynamic event in Northwest Florida.