2019 Law Enforcement Behavioral Health Symposium
Description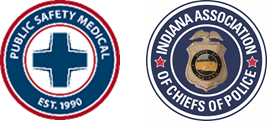 ---
Join the National Institute for Public Safety Health in an event to honor law enforcement officers by recognizing the day-to-day and cumulative effects of stress on health and providing resources to build resilience and well-being.
---
Date: Friday, November 8, 2019
Time: 8:00 AM - 4:00 PM
Goals of Symposium:
Raise awareness of behavioral and mental health issues among officers

Enhance understanding of the spectrum of officer mental health and resiliency

Facilitate department access to high quality behavioral health resources, including mindfulness
What You Get:
Expert, practical presentations specific to law enforcement

Immediately applicable ideas and techniques

Opportunity to interact with like-minded peers and exchange ideas

Opportunity to interact with presenters during panel

Resources to help you get started with developing or strengthening your program

A high quality tactical brain training workbook provided by Gina Rollo White

Refreshments and lunch provided by Panera Bread
Hotel Information:
Embassy Suites by Hilton Indianapolis North
3912 Vincennes Road, Indianapolis, Indiana 46268
Group rate: $149/night
Group name: NATIONAL INSTITUTE FOR PUBLIC SAFETY HEALTH
Group code: IFP
Reserve by October 7th to receive the group rate:

Book online by clicking here

Or call to book: 317-872-7700
Featured Speakers

Sgt. (Ret.) Christopher Scallon, MPsy, CCISM
Topic: Tools for building resilience in your department
Participants will end the day with:
a better understanding of the broad spectrum of law enforcement officer behavioral health issues

Improved skills for finding resources and interventions
Chris Scallon retired as a Sergeant at 24+years with the Norfolk Police Department, holds a Masters in Psychology, BS in Criminal Justice, and certified in Critical Incident Stress Management from the University of Maryland BC Emergency Health Services. He is the founder and creator of the Norfolk Police Critical Incident Stress Management /Peer Support Unit. Chris continues to work with first responders and veterans struggling with mental health and substance abuse.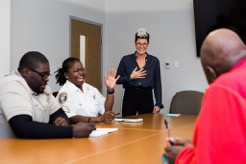 Gina Rollo White, MA
Topic: Tactical Brain Training: Mindfulness for First Responders
Participants will end the day with:
an improved understanding of how chronic stress affects the body and brain

increased knowledge of mindfulness as a tool to help regulate emotional states
Gina Rollo White is the founder and director of Mindful Junkie Outreach a not-for-profit organization. Gina has an MA in Mindfulness Studies, she is a mind-body teacher, educator, and author. Her emphasis is on first responders, and her graduate thesis was Mindfulness and Law Enforcement, An Effective Approach to Implementing Mindfulness for First Responders. Gina has over fifteen years of experience teaching mind-body, and she has spent the last five years developing and leading mindfulness trainings and workshops specifically for first responders (law enforcement, correctional, fire, etc.). She has worked with leadership teams from over a dozen police, sheriff, and fire departments to deliver mindfulness programs specifically tailored for first responders. Gina authored the Criminal Justice Mindfulness Training Curriculum, DCJS approved, which has been used as the backbone for all her first responder mindfulness trainings; Tactical Brain Training ™ - Mindfulness for First Responders.
Thank you to our event sponsors!