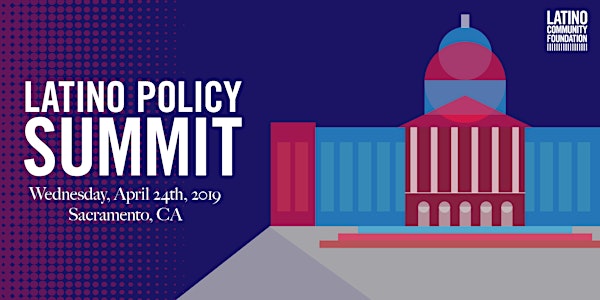 2019 Latino Policy Summit
When and where
Location
Golden 1 Center 500 David J. Stern Walk Sacramento, CA 95814
Refund Policy
Contact the organizer to request a refund.
Description
For 2019, LCF will host its most important Latino Policy Summit yet.
This is a monumental year to prepare California's Latino community for the 2020 Presidential Election and the 2020 Census. As the largest Latino voting bloc in the nation at 7.7 million eligible voters, we have the responsibility to advocate for meaningful change in our state and country. Influencing the outcome of this election is critical and Latinos have the power to do so.
Latinos will also play a pivotal role in ensuring California gets its fair share of representation and funding to meet the growing needs of our state. From Los Angeles and the Bay Area to the rural areas of the Central Valley, let's make sure all Latinos are ready to be counted in the 2020 Census to secure these rights for our communities and state.
Immediately following the Summit, we will bring the power of our community to the State Capitol by visiting the legislators we elected to represent our interests. After the Legislative Visits, all Summit attendees are invited to re-connect and convene with attendees and hear from Lorena Gonzales, Chair of the Latino Legislative Caucus at the Latino Leadership Reception at Cafeteria 15L at 5 pm.
Agenda

8:30-9:30am – Check-In & Networking
9:30-9:35am – Poem by Jose Cordon, One Day at a Time (ODAT)
9:35-9:45am – Welcome and Opening by Jacqueline Martinez Garcel, CEO
9:45-10:00am – Keynote by Ann O'Leary, Chief of Staff, Office of California Governor Gavin Newsom
10:00-11:00am – How the Latino Community Can Save Our Nation's Democracy
In 2018, California's Latino community came out strong. The state saw historic Latino voter turnout and more Latinos than ever won elected office across all levels of government in the state. But the work is not over yet. In less than a year, the Latino community will have the opportunity to make history again. This time, it will be through two acts of civic engagement that will define the next decade: the 2020 Presidential Election and the 2020 Census. With so much at stake, what does the Latino community in California need to know about the importance of 2020? And more importantly, how can we leverage our community's assets, from culture to storytelling, to mobilize Latinos across the state to flex their civic muscle at the ballot box and for the census? The fate of our state and our country will depend on our strong civic participation in the months ahead.
Moderator: Christian Arana, Policy Director, Latino Community Foundation
• Ditas Katague, Director, California Census Office
• Luis Sanchez, Executive Director, Power California
• Melina Sanchez, Program Officer, The James Irvine Foundation

11:00-11:15am – Break & Networking
11:15am-12:15pm – Running to Win: Latino Leadership in Today's Political Landscape
The 2018 Midterm Elections brought about a fundamental shift in California politics never seen before. Across the state, we saw a new wave of leadership that is younger, bolder, and more promising than ever before. What does this mean for the issues that will define California politics and policy across the state? From education to health care, how will this new crop of Latino leadership tackle the issues head on and what is there to be learned about what it means to be a Latino in politics?
Moderator: Gil Duran, California Opinion Editor, The Sacramento Bee
• Melissa Hurtado, State Senator, California State Senate
• Jewel Hurtado, Councilwoman, Kingsburg City Council
• Eddie Valero, Supervisor, Tulare County Board of Supervisors
• Bryan Osorio, Councilman, Delano City Council
12:15pm – Closing Keynote by State Senator Maria Elena Durazo and Vice Chair of the California Latino Legislative Caucus, Lunch & Networking
2:00pm – Walk to the State Capitol
3:00-4:45pm – Legislative Visits
5:00-7:00pm – Reception Honoring Latino Leaders
Cafeteria 15L
Sacramento, CA
Remarks by Lorena Gonzales, Chair of the California Latino Legislative Caucus