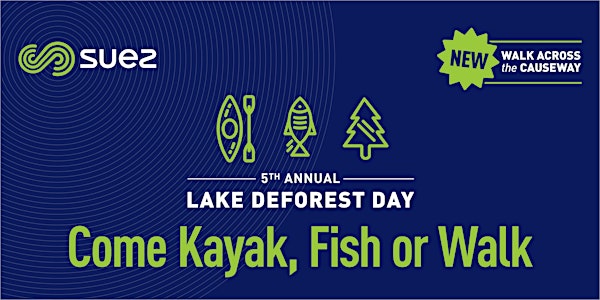 2019 Lake DeForest Day
When and where
Location
Lake DeForest 39 Strawtown Road New City, NY 10956
Description
5th Annual Lake DeForest Day -
ONLNE REGISTRATION IS CLOSED. LIMITED WALK-UP REGISTRATION MAY STILL BE AVAILABLE FOR SOME SESSIONS. PLEASE VISIT THE REGISTRATION TABLE FOR MORE INFORMATION.

Saturday, June 29, 2019
Rain or Shine!*

Presented by Hackensack Riverkeeper, SUEZ Water New York, Keep Rockland Beautiful, and Boy Scouts of America Hudson Valley Council
Now in its fifth year, Lake DeForest Day is a family-friendly day of paddling, fishing, and appreciating beautiful Lake DeForest in Clarkstown, NY. New this year – join us for a Family Walk over the causeway and Lake DeForest! The event is brought to you in partnership with SUEZ New York and is a fundraiser for Hackensack Riverkeeper and Keep Rockland Beautiful. The day will feature the always-entertaining Supervisor's Race and several open paddle sessions. Whether you're kayaking (your boat or ours!), walking, or fishing, we look forward to seeing you at Lake DeForest on June 29th!
**Please note: fishing permitted from the shoreline only! Thank you for your cooperation!

*** HAVE FUN FASTER! Print and sign SUEZ and Riverkeeper waiver forms ahead of time. Please note: skip Kayak Race/Open Paddle form if you are only participating in Fishing Derby/Family Walk. Download forms here.

Schedule
Check-in begins 30 min. prior to each time slot
7:00 a.m. - 10:00 a.m. - Youth Fishing Derby
8:30 a.m. - Supervisor's Challenge
9:00 a.m. - Opening Ceremony
9:30 a.m. - 11:00 a.m. - Family Walk
9:30 a.m. - 11:00 a.m. - Kayak/Canoe Session (rental) 1
11:30 a.m. - 3 p.m. - Bring your own Kayak/Canoe Session
11:30 a.m. - 1:00 p.m. - Kayak/Canoe Session (rental) 2
1:30 p.m. - 3:00 p.m. - Kayak/Canoe Session (rental) 3

*In the unlikely event Lake DeForest Day is cancelled due to extremely inclement weather, you may use your donation towards one of our other paddling events, special paddles, or at either of our paddling centers.
More info at www.hackensackriverkeeper.org.
Venue/Parking and Check-in
Parking and check-in for the event will be at the New City Little League field: approx. 39 Strawtown Road, New City, NY 10956, near the intersection of Strawtown Road and Fringe Court. Turn-by-turn directions here.

From the field, it's a short walk along the waterfront to the kayak launch/fishing derby/walk starting point. Shuttle buses will also be provided to take people to and from the field. Folks with their own boats must also check in at New City Little League Field before driving to the boat drop area.
GUIDELINES
All boats must be washed before entering the reservoir (we will have a wash station set-up for participants bringing their own boats).
All paddlers must wear a U.S. Coast Guard approved Personal Flotation Device (PFD), in good and serviceable condition and of appropriate size for the intended user for the duration of the paddle sessions.
Paddles, PFD's and whistles will be provided to those who rent a boat. Anyone bringing their own boat must provide their own paddle, PFD and whistle.
Safety boats will be on the water to provide assistance, however paddlers must stop to provide assistance to any other paddler who appears to be in distress.
AGE RESTRICTIONS
Children 5 and up may ride as a passenger in a canoe with two adult paddlers (two children passengers max). Children 8 and older can paddle in the front of a tandem kayak. Children 12 and older may paddle a single kayak, if they are accompanied and supervised by an adult while on the water.

REFUNDS
This event is a fundraiser, with all proceeds going directly to Hackensack Riverkeeper and Keep Rockland Beautiful to help continue our missions to protect, preserve, and restore the watershed and local environment. Your registration is a donation to these organizations and is non-refundable. In the event you are unable to attend, we will issue a voucher that you may use at either of our paddling centers or at a future 2019 or 2020 special event. This event is rain or shine and will only be cancelled due to lightning. Call 201-968-0808 within 48 hours of the event to release your rental and arrange for your voucher.
---
Lake DeForest Day is one of the few opportunities the public has to paddle Lake DeForest, one of its most important and picturesque natural resources. Thank you to SUEZ and the Town of Clarkstown for giving us the opportunity to enjoy this jewel of the Hackensack River Watershed.