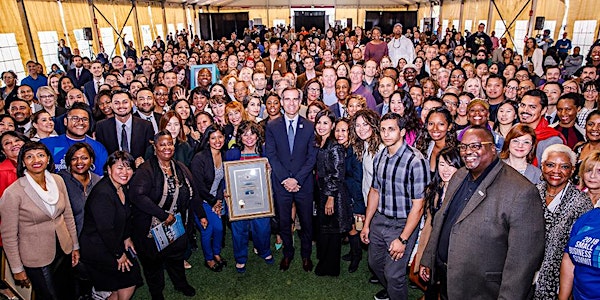 2019 LA Mayor's Small Business Summit
When and where
Location
Los Angeles Trade-Technical College - LATTC 400 West Washington Boulevard Los Angeles, CA 90015
Description
***This event is completely sold out.*** For early notification about all of our events, please sign-up for our mailing list at:

And, for event announcements and Facebook live coverage (when available), visit our Facebook page at:
https://www.facebook.com/LACommBiz/
***
In anticipation of US Small Business Week, Mayor Eric Garcetti will present his 2nd Annual Small Business Summit, a multi-faceted, free program with workshops, exhibitors, and hands-on contracting and certification assistance.
Agenda:
(subject to change)
9 am Registration and Networking
10 am Plenary Program with City of LA dignitaries and the US SBA
Mayor Eric Garcetti, City of Los Angeles
Victor Parker, District Director, Small Business Administration
Larry Frank, President, LA Trade Technical College
Francisco Rodriguez, Chancellor, LA Community College District
10:30 am Group Photo with Mayor Eric Garcetti
10:40 am Plenary Program with Guest Speakers
Patrick Niemann, Greater Los Angeles Managing Partner, Ernst & Young LLP
Erik Huberman, Founder & CEO of HawkeMedia, the 15th Fastest Growing Private Company in LA County
Noramay Cadena, Co-founder & Managing Partner, MiLA Capital, establishing tech-enabled startups, and Make in LA, an early-stage accelerator.
11:00 am - 3 pm Breakout Groups / Contracting Clinic / Resource Expo / Food Trucks open
Breakout Group I - Startup Track (capacity of 120 participants):

11 am Startup Funding Strategies

Moderator: Claudia Moreno, Small Business Majority
Monica Guevara, North and West Valley LA BusinessSource Center
Namoch Sokhom, Mid-City LA BusinessSource,
Santhosh Devati, SCORE and

Anamika Ventures

Connie Sparks, Round1 Funding
12 pm Earn Your First Major Contract

Moderator: Sky Kelly, Avisare

Arlene Apodaca, Partners in Diversity

Carmen Rad, CR&A Custom

Vanessa Ballesteros, Sunbox

Jack Ochoa, Infinity GPC

Michelle Quirante, LA Contractor Development & Bonding Program
1 pm Tech Tools and Digital Marketing

Moderator: Cassie Betts, Made in South LA

Kalika Yap, Citrus Studios

Jessica Reveles, J Squared Communications

Giselle Washington, We the Incubator
2 pm Start Your Business in LA

Moderator: Miki Reynolds, Grid 110
Ruben Sanchez, East LA BusinessSource
Monika McKnight, LA Office of Finance
Lorraine Garcia, South Valley BusinessSource
Breakout Group II - Growth Track:

11 am Growth Strategies for Established Businesses (over 2 years old)

Moderator: Todd Hitomi, LA Cleantech Incubator

Derek Kissinger, Hollywood & Harbor BusinessSource Centers

Mark Sogomian, Partner, Ernst & Young LLP

Alphonso Reed, Southeast LA WorkSource Center

Ann Kono, Leda Advisory Group

Michael Wedaa, Augmentus, Inc.
12 pm Promoting your Brand, Products & Services

Moderator: Hajj Flemings, Rebrand Cities

Ajay Relan, The Parlor, Hilltop Cafe, #hashtaglunchbag, and

The Magical Threads Company

Dara Toulch, Ballantines PR

Danetta Jackson, CA Dept of General Services

Jen Bilik,

Knock Knock and Who's There Group
1pm Growing Through Government Contracting

Moderator: Priscilla Chavez, PCL Construction

Karyn Son, Dept of Water & Power

Chamberlain Duru, LA World Airports

Aura Garcia, Bureau of Public Works

Ken Billups, Clark Construction
Tricia Carey, Port of LA
2 pm Establishing a Location in LA

Moderator: Bryan Schweickert, DWP

Sally Zesut, Avison Young

Andy Park, Partner, Ernst & Young LLP

Bob Duenas, LA Dept of City Planning

Adam Burgess, LA Dept of Building & Safety

Terri Billups, US SBA
Contracting Clinic

Get help applying for your Business License or certification as a small/diverse business
Get help registering or improving your profile to do business with the City of LA
Get help getting certified by the State of CA
Resource Expo
Network with 70+ exhibitors, including prime contractors, lenders, technical assistance providers and more
Food Trucks
No host on-site refreshments available for purchase at your convenience between 11 am and 3 pm.
3pm Event concludes
The program is presented in partnership with Small Business Majority with support from EY and the LA Department of Water & Power.
FAQs
Is there a cost to attend the event?
There is no cost to attend the event. Thanks to our partners and sponsors, the event is completely free to attend. However, registration is required.
Where should I park?
Free parking is available in the parking structure at 23rd Street, between Grand Avenue and Hill Street, at the the Southwestern corner of campus.
Will refreshments be provided?
Complimentary refreshments will not be provided. However, tables and chairs will be provided for those who choose to bring a brown bag lunch and food trucks will be available for purchasing refreshments after the plenary program.
How can I become a speaker at this event?

All speakers have been booked for this event. To be considered for future opportunities, please forward speaker qualifications to mayor.communitybusiness@lacity.org.
Are exhibit tables available for this event?
To maintain a non-commercial, robustly educational environment, exhibitors at this event are by invitation only. Space is reserved for government agencies, procurement and contracting decision-makers, lenders, providers of free to low-cost technical assistance, relevant nonprofits, and outreach partners. The exhibit area is now full.