Sales Have Ended
Registrations are closed
To register after November 3, please email Amanda Bagin: abagin@chw.org.
Sales Have Ended
Registrations are closed
To register after November 3, please email Amanda Bagin: abagin@chw.org.
Description
Purpose: This conference will bring together statewide Child Death Review (CDR) and Fetal Infant Mortality Review (FIMR) team members and other professionals with interest in injury prevention to explore trends in child death at local, state and national levels; learn best practice prevention strategies and collaborate with other CDR and FIMR teams in Wisconsin.
View the full conference program here
Schedule at a glance: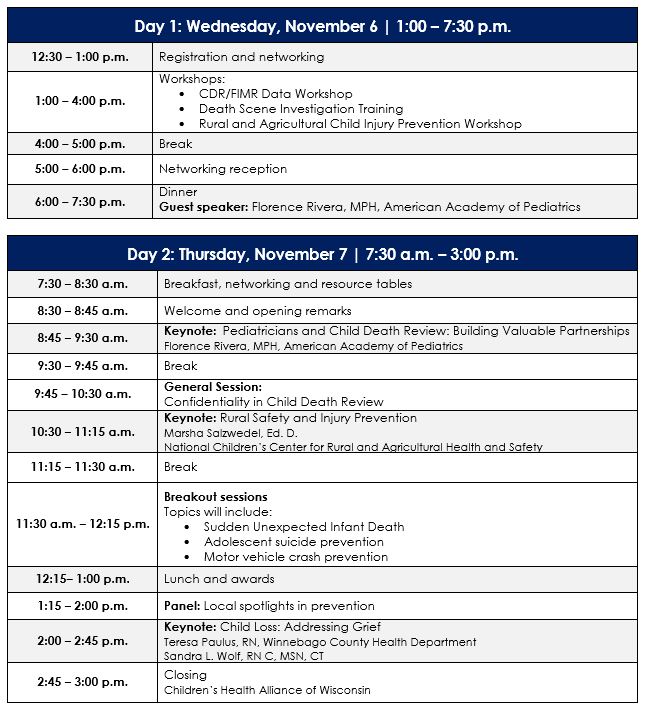 Location and hotel accommodations:
Phone number:(715) 387-2700
Group name: Keeping Kids Alive in Wisconsin Conference
Group rate: $82
Reservations must be made by October 7 to receive this rate.

Registration:
Conference registration is free. Pre-registration is highly encouraged. Please contact Amanda Bagin to register after November 3 at abagin@chw.org.
Workshops: November 6, 1:00 - 4:00pm
CDR/FIMR Data Workshop: Intended for CDR and FIMR team coordinators and data entry coordinators, attendees will increase familiarity with National Fatality Review Case Reporting System (NFR-CRS), acquire the ability to create cases from import in the NFR-CRS, and understand data completeness and timeliness measures for their local CDR team. Attendees will also learn about updates to the WISH database and how to use this data to improve prevention recommendations for their teams. Speakers: Pamela Imm, Wisconsin Department of Health Services and Esther Shaw, National Center for Fatality Review and Prevention
Rural and Agricultural Injury Prevention Workshop: Attendees will increase their knowledge of childhood agricultural injury prevention and will be provided with safety strategies and resources. Information from this workshop will inform and enhance community efforts in rural injury prevention. Speaker:

Marsha Salzwedel,

National Children's Center for Rural and Agricultural Health and Safety
Death Scene Investigation Training: Quality death scene investigations are critical for gathering complete and accurate information used to inform the death review process. Doll reenactments are a tool proven to aid in obtaining an accurate account of what happened. Intended for individuals who are first responders, including law enforcement, EMS, and medical examiners/coroners, attendees will learn to identify factors or circumstances related to an incident, including cases of abuse and neglect, the components of a complete autopsy investigation in determining cause and manner of death, and how to use doll reenactments in infant death investigations. A doll will be provided to each agency in attendance. Speakers:

Jim Holmes, Wisconsin Department of Justice and Amy Michalak, Milwaukee County Medical Examiner's Office
*Choose only one workshop when registering
Funding:
This conference is made possible by Children's Health Alliance of Wisconsin, in partnership with Wisconsin Department of Justice and Wisconsin Department of Health Services.
For information on available travel scholarships, please contact Amanda Bagin: abagin@chw.org.