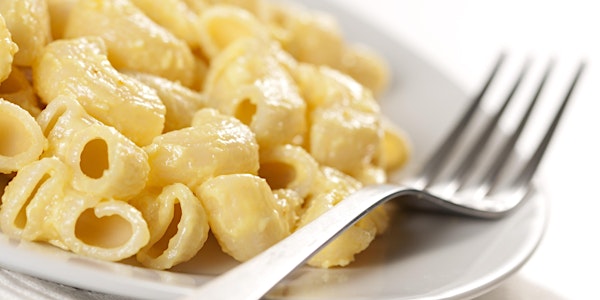 2019 Kansas City Mac & Cheese Festival
When and where
Location
Berkley Riverfront 1298 Riverfront Rd Kansas City, MO 64120
Description
The only event in Kansas City where you get to sample a huge variety of gourmet, chef-inspired twists on your childhood favorite: mac & cheese!

Local chefs and restaurants are cooking up their most creative and delicious mac & cheese while competing for the best mac in town. Be there to sample everything for yourself and cast your vote!


Session 1 - 12:30-3:30 pm (GA) 12-3:30 pm (Early Entry)
Session 2 - 4:30-7:30 pm (GA) 4-7:30 pm (Early Entry)
Your ticket includes:
Entry to the event
Unlimited sampling of mac & cheese
All-inclusive open bar
Commemorative spork

***All tickets are all-inclusive and include drinks at our bars and food sampling. No additional purchases are required once you enter the event!***
This event is for ages 21+ only. IDs will be checked at the door. No refunds will be issued. Event will go on, rain or shine. Be sure to use ride sharing services and never ever drink and drive. Know your limits, no extra points are awarded for getting sloppy.
---
The KC Mac & Cheese Festival is proud to support The Hope Center.
Over the last 20 years, The Hope Center has planted roots on Kansas City's east side so that east siders are rooted in hope. Because when hope roots, people rise.
The Hope Center mission is "to develop healthy communities in Kansas City where the vulnerable can have hope and flourish."
Currently, their out of school K-12th grade youth development program and family/community events impact almost 200 children and their families. Growth plans ahead include a new playground area to serve their campus and the community, extension of their Community Garden; continued property development; and – targeted over the next decade of service to the east side – an affordable housing initiative and a vision to renovate our existing church building into a community gathering and events center.
You're invited to be a part of this transformation through your financial investment to support these efforts.
Through our work together, the east side will flourish, not flounder. Though the east side may be vulnerable, it will also be victorious. Where we find hope, we will find unlimited potential and possibility. To learn more, visit their website at www.hopecenterkc.org
--
FAQs
How many samples are included with my ticket?
As many as you can handle! Your ticket is all-inclusive so that means unlimited food and drinks. However, we ask that all guests please drink responsibly.
What happens if it rains?
KC Mac & Cheese Festival happens rain or shine.
Are kids allowed?
No. This event is for ages 21+ only.
Are gluten free and vegan options available?
We do have one restaurant who is planning to make a gluten-free mac and cheese! However, please note this is not an allergen-free event. Additionally, we give our chefs and restaurants complete creative freedom over the dishes they prepare so that they can create something that represents their style. For that reason, we are unable to guarantee any specific dietary requests. However, in the past, there have been ample meat-free options.
What restaurants will be there?
Restaurants will be announced via email, Instagram, and Facebook in the weeks leading up to the event.
How do I get involved?
Email info@11creative.co for more information.
How do I get a refund?
Tickets are non-refundable.
Are tickets transferrable? Can I sell them or give them to a friend? Can I buy tickets from someone else?
Tickets are transferrable. You may sell or give your tickets to someone else, but please make sure they are over 21 years of age. The names on the tickets don't have to match. However, if you would like to change the names and have them re-sent to the new attendee, we can help! Please email us at info@11creative.co.

You can certainly buy them from someone else, but please be aware of scammers that are trying to sell fake tickets. Before you buy, you can verify that the tickets are legitimate by contacting us. We will be happy to help! Our email is info@11creative.co (not .com)
RSVP on Facebook for the latest event updates!
---
What Not To Bring
- Weapons of any kind. Weapons will not be allowed into the event.
- Illegal substances, including marijuana. Cigarette smoking is permitted 50ft away from the festival.
- Squirt guns, misters, spray bottles, etc.
- Laser pens and similar focused-light devices.
- Large bags and backpacks. No additional purchases are necessary once inside the event, so please bring minimal items to ensure quick entry!
- Water bottles. We will provide plenty of free water inside the event.
- Pets. Service animals are permitted.
- Drones.
- Bicycles, scooters, personal motorized vehicles. These may be parked outside of festival grounds.
- Fake IDs. This is a strictly 21+ event. No refunds will be issued for anyone attempting to violate this policy.
- Outside food or drink. We have plenty of food and drinks for you!