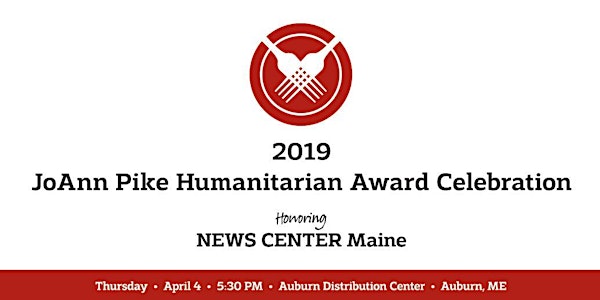 2019 JoAnn Pike Humanitarian Award Dinner Honoring NEWS CENTER Maine
When and where
Location
Good Shepherd Food Bank of Maine Auburn Distribution Center 3121 Hotel Rd Auburn, ME 04210
Description
Since 2005, Good Shepherd Food Bank has hosted the JoAnn Pike Humanitarian Award Dinner, named after our founder, JoAnn Pike. This year, we will once again host the event at the Food Bank's Auburn Distribution Center. On all other days, the facility functions as a warehouse, but on April 4, 2019, it will be transformed into an exquisite fine dining venue featuring local chefs from the region. This setting will provide guests with a unique experience and the opportunity for a truly behind-the-scenes look at our operations that supply over 28 million pounds of food to a network of more than 400 hunger-relief partners across the state.
This event also offers us the opportunity to honor an organization that shares our founder's passion for caring for our neighbors. We are pleased to announce NEWS CENTER Maine (WCSH 6 & WLBZ 2) as the 2019 JoAnn Pike Humanitarian honoree.
NEWS CENTER Maine has a long history of bringing awareness to the daily struggles that many Mainers face and has been a loyal friend and generous supporter of Good Shepherd Food Bank for more than a decade. Most recently, NEWS CENTER Maine launched the year-round Feed Maine program in 2017, with the goal of raising funds to provide one million nutritious meals to our neighbors struggling with food insecurity. Plans are well under way to provide another one million meals during the 2nd annual Feed Maine campaign this coming year.