2019 Jewish Sports Hall of Fame Induction Ceremony & Banquet
Description

Enjoy an Eventful Evening of Sensational Sports Stars, Stories, Students, and Scholarships.
Celebrity Reception: Have your photo taken with a sports legend.

Silent Auction: Bid on a variety of unique items and sports memorabilia.

Savor a five-star dinner, libations, and a whole lot more!
5:00 PM — Cocktails, Hors D'oeuvres, SIlent Auction
6:15 PM — Induction Dinner & Awards Ceremony

On Sunday, November 10, at the Four Seasons Hotel in San Francisco, the Jewish Sports Hall of Fame of Northern California (JSHoF–NC) will present its 13th Annual Induction Ceremony and Banquet of five admired honorees. Cocktails and the popular silent auction (including fine wines, sports memorabilia, and other unique items) begin at 5:15 pm. The Induction Ceremony and Banquet commences at 6:15 pm. Reserved seating for the event is available at bit.ly/jshof2019
Our outreach program of the Jewish Sports Hall of Fame of Northern California provides scholarships to deserving high school athletes and supports the UCSF Concussion Prevention Initiative.
This year's inductees include:
Dave Feldman – Celebrated, award-winning sportscaster


Pat Gallagher* – Sports marketing maven


Joc Pederson – An All-Star LA Dodger

Henry Schulman – A real newspaper man


Jerry Seltzer – The final owner of the original Roller Derby League

* Our Mensch Award is presented to an individual, not of the Jewish faith, who epitomizes the concept of Tikkum Olam — repairing the world through the generosity and charitable service to the community at large.
Along with these outstanding sports representatives, the organization also inducts high school student-athletes who are awarded scholarships on the basis of their athletic, academic and community service.
Your donation is tax-deductible to the fullest extent allowed by law and benefits our student scholarship fund and student athletic activities for Bay Area youth, as well as for our Sports Concussion Prevention Initiative. Visit the Northern California Jewish Sports Hall of Fame website for more information.
Short Profiles of the 2019 HOF Inductee
DAVE FELDMAN

Dave Feldman is currently a play-by-play announcer for ESPN's College Basketball Coverage and the host of Xfinity Sports Sunday, NBC's NFL post-game wrap-up show.
After working as an assistant basketball coach at Stanford University, in 1987 Feldman began his broadcasting career in radio at San Francisco's KCBS 740. The following year he segued to television as an anchor/reporter, spending a year at KTIV in Sioux City, Iowa, then another year at Monterey's KMST-TV, and finally landing at the Orange County News Channel from 1991-96. Next, Feldman joined ESPN for four years as the primary host of College Hoops 2Night on ESPN 2, in addition to his SportsCenter and ESPNews reporting and college basketball play-by-play announcing. Feldman's subsequent role took him to Washington D.C. for a dozen years, as a sports director and anchor/reporter for WTTG-TV, as well as a college basketball games announcer for the Mid-Atlantic Sports Network. The Palo Alto native returned home in 2012 to host all 49ers programming for NBC Sports Bay Area, where he also co-hosted the daily SportsNet Central with Ahmed Fareed.
Feldman has won eight Emmy Awards, including three for Best Sports Anchor, and was honored as the 2011 Washington D.C. Sportscaster of the Year by the National Sportscasters and Sportswriters Association.
PAT GALLAGHER (Mensch Award)

Pat Gallagher began his long San Francisco Giants career in 1976 as the team's marketing director, spoofing famously gusty Candlestick Park in a series of memorably funny campaigns. He also sparked initiatives to prevent the franchise's move to Toronto in 1976 and Tampa/St. Petersburg in 1992, rising to the rank of Senior Vice President of Business Operations.
Continuing as SVP under new ownership in 1992, Gallagher went on to help spearhead building the new, privately financed, waterfront ballpark, opened in 2000. He oversaw developing the Charter Seat, naming rights and founding sponsorship programs, as well as the industry's first electronically delivered secondary ticket marketplace. By the time he left in 2009, he was President of Giants Enterprises.
Gallagher co-founded the Alternative Golf Association and annual Emerald Bowl (AKA Kraft Bowl), and also helped to secure Super Bowl 50 for Levi's Stadium, becoming Executive Vice President of Marketing, Partnerships and Communications for the Host Committee. That triumph led to his co-authoring "Big Game Bigger Impact: How the Bay Area Redefined the Super Bowl Experience and the Lessons Learned That Can Apply to Any Business." Currently a management consultant, speaker, and mentor with college sports management programs in mind, in 2018 Gallagher launched a podcast series called "Life in the Front Office.
JOC PEDERSON

Joc Pederson plays outfield and first base for the Los Angeles Dodgers, following in the footsteps of his father, Stu, a 1985 Dodger. At Palo Alto High School, Pederson set records in both football, with 30 receptions for 650 yards and 9 touchdowns, and baseball, batting .466 with a .577 on-base percentage and a .852 slugging percentage, with 20 stolen bases in 22 attempts.
Pederson was named Minor League Player of the Year, and an All-Star in the Pioneer, Rookie, and Southern Leagues. After the 2013 season, when he was the youngest player on the Israel national team in the World Baseball Classic, Baseball America ranked Pederson the Dodgers' #1 prospect. In 2014, he was named the Pacific Coast League's MVP for 30 homers and 30 stolen bases, the first in 79 years. Additionally, he was designated Baseball America's AAA Player of the Year and made its All-Rookie team, and played the 2015 Major League Baseball All-Star Game.
The first Dodger to hit 25 home runs in each of his first two seasons, in 2017, Pederson tied a World Series record with five straight games with an extra base hit, and set a record with a hit and a run scored in each of his first six World Series games.
HENRY SCHULMAN
Henry Schulman has written about the San Francisco Giants for three newspapers since 1988, moving from the Oakland Tribune to the San Francisco Examiner before becoming a beat reporter for the San Francisco Chronicle in 1998. His career highlights include covering the 1989 "Earthquake World Series," the Giants' 2010, 2012 and 2014 World Series championships, and Barry Bonds' performance-enhancing drugs scandal contrasted with his victorious pursuit of home-runs, holding the Major League Baseball record with 762.
A lifelong sports enthusiast, Schulman always wanted to be a newspaperman, despite his parents' concerns about the low-paying vocation. Although he majored in Political Science rather than Journalism at UC Berkeley, he covered Berkeley City Hall for The Daily Californian, and after graduation, became the Berkeley stringer for the San Francisco Chronicle. His clips led to reporting jobs in Sacramento and the Central Valley before he realized his dream to become a sportswriter in the Bay Area.
Credited for his keen insight and sharp wit, Schulman makes frequent media appearances to talk about all things Giants, and is a prolific and popular Tweeter (@hankschulman). He is a correspondent for MLB Network and KNBR, and also hosts "Giants Splash," the SF Chronicle's podcast about the San Francisco Giants, featuring interviews and games analysis.
JERRY SELTZER
Jerry Seltzer successfully evangelized Roller Derby, his father Leo's transformation of roller skating endurance races into a competitive contact sport, which debuted in the Chicago Coliseum on August 13, 1935. After taking over as commissioner of the national league in 1957, he soon relocated it to the Bay Area and established the storied, longtime champion San Francisco Bay Bombers. At its peak, the league was broadcast on 120 television stations across the United States and Canada, and filled arenas from Madison Square Garden to the Oakland Coliseum. Seltzer left the league in 1973 as its final owner to co-found Bay Area Seating Service (BASS) Tickets, and a decade later went on to become a vice president of sales and marketing for L.A.-based Ticketmaster until 1993.
Seltzer returned to the Bay Area and joined popular luxury footwear line Bonjourfleurette.com as its marketing and sales director and COO. He lent his considerable expertise to Brown Paper Tickets as an Outreach and Sales Representative, co-founded the Sonoma Valley Film Festival (now Sonoma Filmfest), served on such community boards as the Bay Area American Red Cross, and volunteered as a consultant to emerging amateur roller derby leagues.
Seltzer was looking forward to his Induction, but sadly succumbed to pulmonary fibrosis on July 1, 2019.
JSHoF INDUCTION PRESENTERS (partial list):

Jay Bilas, Donald Drewry, Shawn Estes, Bob Lurie, Daniel Lurie, Carol 'Peanuts' Meyer Roman, Champ Pederson, Glenn Schwarz, John Shea, and Hal Silen.
MASTER OF CEREMONIES:

Mindy Bach
PANEL HOST:

Andy Dolich
The Jewish Sports Hall of Fame of Northern California was established in 2006 to pay tribute to Northern California's professional sports figures, award scholarships to student-athletes, and honor members of the community who have provided support, mentoring, and assistance for Jewish and non-Jewish youth participating in sports.
The Jewish Sports Hall of Fame of Northern California is a 501(c)(3) nonprofit, all-volunteer organization. There is no paid staff or administrative costs. All revenue is derived from sponsors, donations, event revenue, and charitable grants. The organization relies completely on members and volunteers for the time they devote to the events they present.


---

The Jewish Sports Hall of Fame of Northern California was established in 2006 to pay tribute to Northern California's professional sports figures, award scholarships to student-athletes, and honor members of the community who have provided support, mentoring, and assistance for Jewish and non-Jewish youth participating in sports.


Visit the Jewish Sports Hall of Fame Northern California's "Wall of Fame" on the Taube Koret Campus for Jewish Life in Palo Alto.
Our tax ID number is: 26-0493232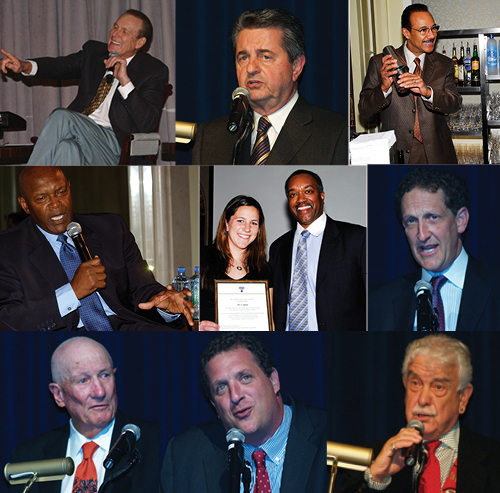 Row 1: Rick Barry, Carmen Policy, and Spencer Christian
Row 2: Vida Blue, Don Collins and award winning student, and Larry Baer
Row 3: Al Rosen, Harris Barton, and Jack Anderson, President of the JSHOF

Visit our website for inductee videos, upcoming events and lots more! • www.jshofnc.org