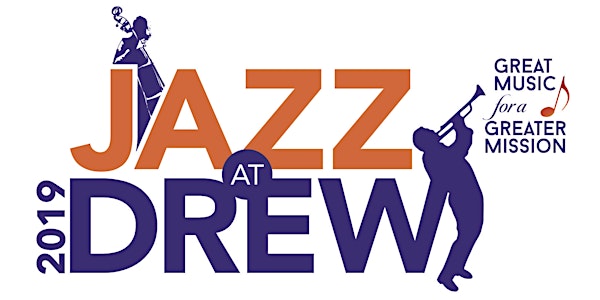 2019 Jazz at Drew
ALL AGES
Charles R. Drew University of Medicine and Science
Great Music for a Greater Mission
When and where
Location
Tammy Dickerson 10736 Jefferson Blvd. #659 Culver City, CA 90230
Performers
Headliners
More Performers
Ohio Players
Louie Cruz Beltran
NEXT
Lao Tizer
Karen Briggs
Eric Marienthal
About this event
Jazz At Drew is an all-day outdoor fundraising and community concert produced and hosted by Charles R. Drew University of Medicine and Science (CDU) featuring some of the most prolific names in Jazz and R&B. Jazz At Drew's emphasis on premier talent in South LA with international appeal has been the distinguishing factor that separates the event from larger Jazz festivals in Southern California. More importantly, it displays Jazz and R&B in a range of styles all while being surrounded by a burgeoning and ethnically diverse community.
PLEASE NOTE: Remaining tickets will be available for purchase at the venue on the date of the concert, October 5 beginning at 11 a.m. Tickets cannot be purchased online during the event.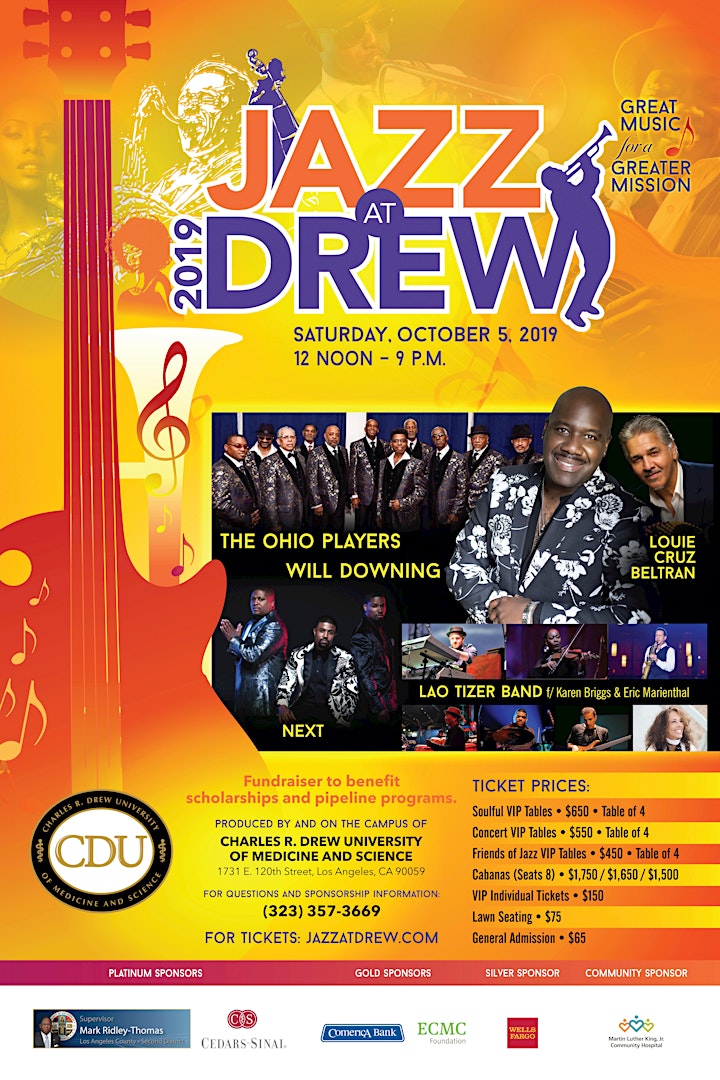 Now in its fourth year, the re-emergence of Jazz At Drew remains one of LA's best kept secrets as an established entity within the local community, and the Los Angeles Jazz and R&B scene. Jazz At Drew's mission is two-fold: to support CDU students in health professions and biomedical science through scholarships and professional development opportunities and to provide the South Los Angeles area with excellent entertainment as a commitment to engage the community.Proceeds from the Jazz At Drew fundraiser will also support CDU pipeline programs that seek to engage youth in math and science grades pre-K through 12 from underserved communities. CDU therefore values concert guests not only as customers, but as donors and supporters of CDU's mission of cultivating diverse health professional leaders who are dedicated to social justice and health equity for underserved populations through outstanding education, research, clinical service and community engagement.
Interested in becoming a Jazz at Drew sponsor? Click here to learn more about sponsorship opportunities or call 323/357-3669.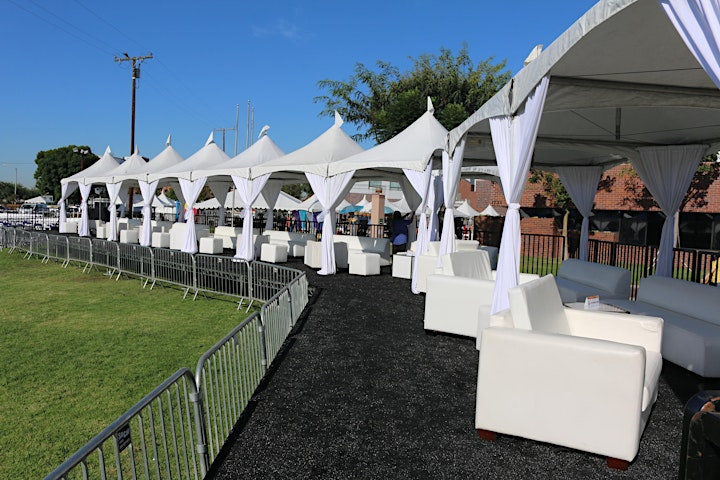 ALL SEATING OPTIONS AND PRICING ARE BASED ON LOCATION ~ SEE SEATING MAP
*****PLEASE NOTE***** If you purchase a table or cabana, you will initially receive a confirmation email that contains your first ticket. Depending on your purchase date, you will receive an additional email that contains your remaining tickets ON OR BEFORE July 31, August 30, or September 30. YOU WILL BE RESPONSIBLE FOR SENDING THE REMAINING TICKETS TO YOUR GUESTS .
IF YOU WOULD LIKE TO PURCHASE MORE THAN ONE TABLE OR CABANA, PLEASE CLICK ON THE "BUY ON MAP" BUTTON.
Note About Individual VIP Seating: Tickets purchased at this level will grant an individual one (1) VIP seat within the VIP individual section, not an entire table, unless additional tickets are purchased.
Note About Lawn Seating: No chairs with umbrella coverings or parasols will be allowed in this section - please scroll down for a full list of prohibited items.
For ticket information, please call 310/216-4722.
***Children aged 3 and under do not need a ticket to enter the venue and must be accompanied by an adult at all times. Children under the age of 3 may not occupy a seat during the show, they must sit in the lap of their parent/guardian.***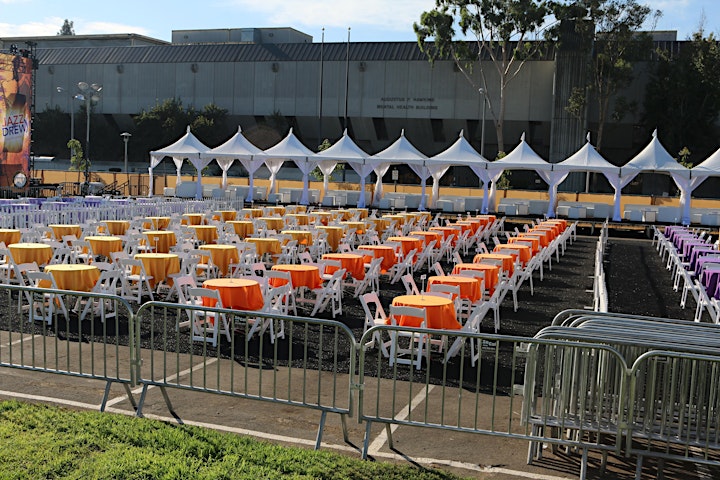 JAZZ AT DREW POLICIES
Jazz At Drew is held in an open-air venue. NO UMBRELLAS, PARASOLS OR LAWN CHAIRS WITH TOP COVERS - NO EXCEPTIONS. We encourage you to dress appropriately for the weather - large sunhats, caps, light clothing, etc. First-aid cooling sections will be available on-site for customers that may potentially become overheated.
Children under the age of three (3) years old do not need a ticket for festival entry. Children must be accompanied by an adult at all times. While every effort will be made to provide our guests with a safe environment, children remain the sole responsibility of their parents/guardians at all times during their attendance at the Festival.
The following items will be permitted for entry into the Festival:
Small Picnic Baskets – length must not exceed 15 inches
Coolers – not to exceed 20 quarts (5 gallons)
Plastic utensils and food containers
Factory-sealed plastic beverage containers
Lawn chairs without top covers - (for Lawn Seating only)
The below items will not be permitted into the festival . Guests who bring prohibited items will be asked to return them to their vehicles, as we do not hold items at the gate.
Prohibited Items – STRICTLY ENFORCED:
NO Weapons of any kind (e.g., Guns, Ammo, Pocket Knives, Pepper spray, etc.)
NO Smoking of any kind (tobacco products or E-cigarettes)
NO Outside alcoholic beverages
NO Aerosol products/aerosol cans
NO Glass or metal containers
NO Aluminum cans
NO Metal utensils or sharp objects
NO Coolers over 20 quarts (5 gallons)
NO picnic baskets over 15 inches
NO Drugs or drug paraphernalia
NO Open flame candles or lanterns
NO Professional cameras (with detachable lenses) or video equipment
NO Tents or canopies
NO Flammable or combustible items
NO Barbecue pits or Hibachi grills
NO Wagons or carts
NO Blow-up furniture or beach balls
NO Foot rests
NO Umbrellas or parasols
NO Thermoses
NO Fireworks or explosives
NO Musical instruments
NO Drones
NO Laser pointers or flashlights
NO Caution tape or ropes
NO Bicycles, skate boards or hoverboards
NO Roller skates
Pets are not allowed in the venue. Only SERVICE ANIMALS are permitted and must be:
1)Trained, legitimate ADA and CDPA assistive animals
2) With the handler at all times and remain leashed, tethered or harnessed or otherwise under the control of the handler through voice, signal or other effective commands
3) Vaccinated and tagged as a guide, signal or service dog as legally required Anyone bringing an animal to the venue will be responsible and liable for any damage or injury caused by the animal.
Any animal posing an immediate or direct threat to the safety or health of others will be removed from the venue. Emotional support or companion animals are not included as service animals and will be turned away.
Please note: All personal belongings will be searched at the entrance, so please adhere to all rules to avoid a delay to others during the entry process. All prohibited items will be collected at the gate before entry. Beer and Wine will be on sale at the festival site. ALL SALES ARE FINAL. NO REFUNDS OR EXCHANGES WILL BE ALLOWED. LOST TICKETS WILL NOT BE REPLACED. TREAT AS CASH. No refunds for any Artist Cancellation or Replacement. RAIN OR SHINE. You assume all risk and danger incidental to the event and you agree that the management, its agents, and the performers are not responsible or liable for any injuries resulting from such causes. No transmission or aiding in transmitting any description, account, picture, or reproduction of the festival or performance is allowed. You hereby consent to the reasonable search for alcoholic beverages, drugs, or weapons. You further consent to the use of your image or likeness incidental to any display, transmission, or reproduction of the event. Management reserves the right to refuse admission or eject any person whose conduct is deemed by management to be disorderly or who fails to comply with the terms and conditions herein. All acts advertised have confirmed their appearance; however, all acts and times are subject to change without prior notice.