2019 Iron Egg Weightlifting Championships in Ann Arbor
Description
The Temple of Exertion, Univeristy of Michigan Weightlifting & Great Lakes Barbell Club

Present

2019 Iron Egg Weightlifting Championships in Ann Arbor

Saturday, November 2nd and Sunday, November 3rd, 2019

Eligibility: This meet is limited to USA Weightlifting registered lifters. There are no qualifying totals. You will need your current USA Weightlifting member number and expiration date in order to register for this meet. If you are not a USA Weightlifting registered member, please sign up at: https://webpoint.usaweightlifting.org/wp/Memberships/Join.wp You must also present (at weigh-in) your current USA Weightlifting Member ID Card and government issued ID.

Order of Lifts: Snatch, Clean and Jerk. All weights in kilograms. A singlet (one-piece lifting suit) and weightlifting footwear required. For more information regarding IWF Technical and Competition Rules & Regulations: https://www.iwf.net/downloads/?did=598

Entry Fees: $75.00 per athlete which includes a soft tri-blend t-shirt with the 2019 Iron Egg logo on the front. Shirts will be available for pick-up at the meet.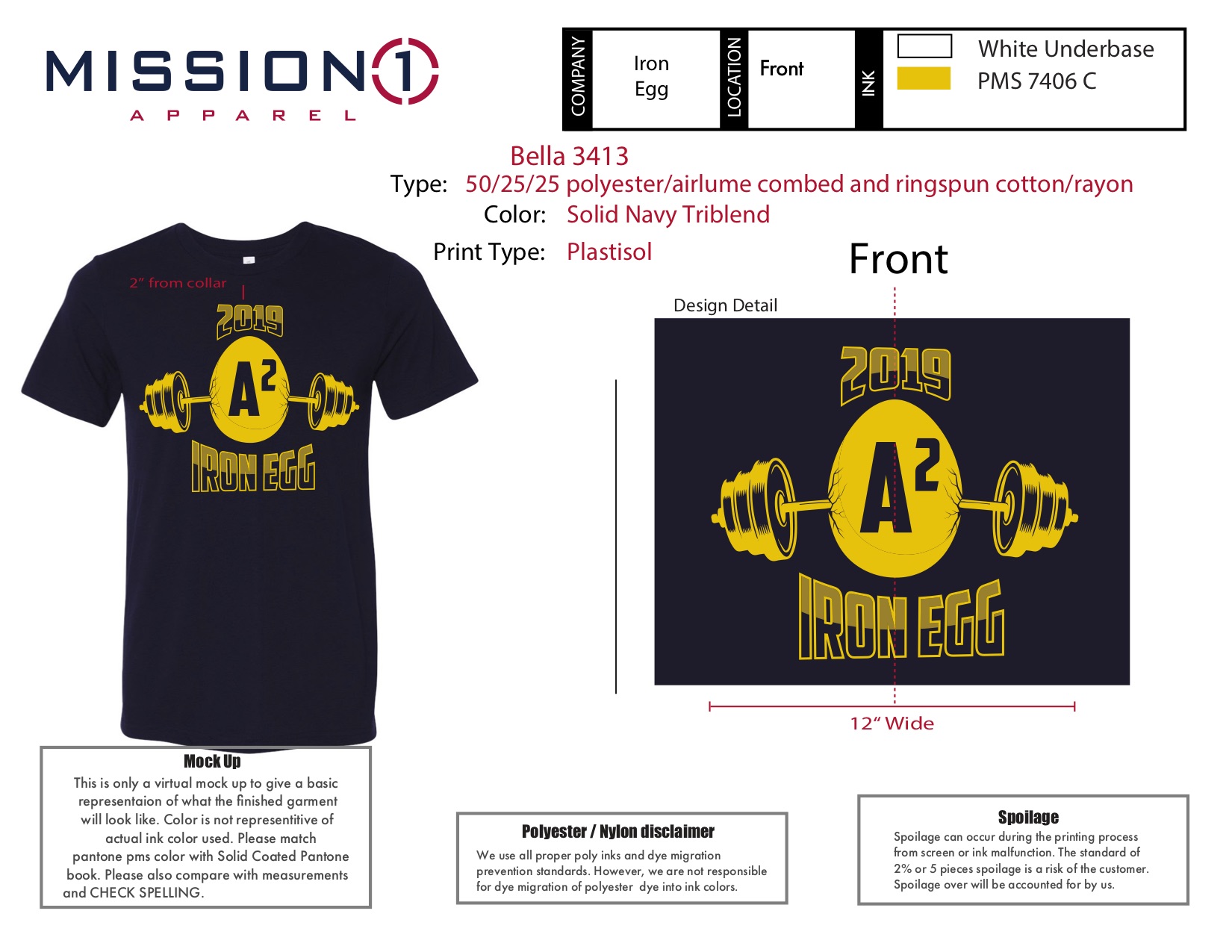 Entry Deadline: Noon, October 18, 2019. Online Entry: Athlete entries go on sale at noon on Friday, September 6th, 2019 on Eventbrite. Link will be available soon.
No Refunds.

Weight Classes:
Women - 45kg, 49kg, 55kg, 59kg, 64kg, 71kg, 76kg, 81kg, 87kg, +87kg

Men – 55kg, 61kg, 67kg, 73kg, 81kg, 89kg, 96kg, 102kg, 109kg, +109kg

Awards: 1st, 2nd and 3rd place for each Open Men/Women bodyweight class. Medal awards for top 3 Youth and Junior Men & Women and Masters Men & Women. Best Lifter Award for Men/Women with highest Sinclair Formula. All athletes will compete for place medals in open body weight classes.

Promotion: Fred Lowe, Meet Director, freddy687276@comcast.net and Debbie Hudson, Competition Secretary, gohudsons@yahoo.com, David Sawyers, Event Management

USA Weightlifting Sanction #: 19-19-250801

Athletes under 18 must have a parent or legal guardian submit their online entry form.
2019 IRON EGG A SQUARED SESSION LIST
Again, keep in mind that if you entered the wrong weight class on the entry or you don't make weight
at the weigh-in, your session remains the same.
Also, the listed entry total will be slightly less than what you submitted to avoid computer difficulties.
SATURDAY 11/02 WEIGH-IN 6:00AM LIFT 8:00AM WOMEN'S SESSION 1
(45) Madison Clapp – Youth 13&Under – Unattached – 23kg
(45) Finnigan Woznicki – Youth 13&Under - Forged Barbell – 30kg
(45) Grace Mendez – Youth 13&Under - Lily Weightlifting – 48kg
(55) Ember Lynch-Sailors - Youth 13&Under - Unattached – 66kg
(49) Naomi Linderman - Youth 16-17 - Ann Arbor Skyline Barbell Club – 74kg
(71) Lisa Scannell – Masters 40-44 - Y Town Barbell – 77kg
(76) Sharon Lapides – Masters 60-64 - 4 Star Strength – 81kg
(59) Rebecca Moore – Masters 35-39 - Y Town Barbell – 86kg
(76)Michele Wolf – Masters 50-52 - Y Town Barbell – 86kg
(55)Alison Kinning – Masters 35-39 - Unattached - 89kg
(81) Kristen Forth – Senior - Unattached – 90kg
SATURDAY 11/02 WEIGH-IN 8:30AM LIFT 10:30AM MEN'S SESSION 1
(55) Jacq Tchoryk – Youth 13&Under – Lily Weightlifting – 34kg
(102) David Peterson – Masters 70-74 – Shift Weightlifting Club – 97kg
(89) Mark Blough – Masters 65-69 – Libratum Strength and Conditioning – 103kg
(96) Nolan Vredevoogd – Masters 50-54 – Unattached – 130kg
(+109) John McNeal – Senior – West Michigan Muscle – 132kg
(81) Christopher Distephano - Masters 40-44 – Y Town Barbell – 134kg
(89) Martin Szeljack – Senior - Teneo Barbell Club – 135kg
(81) Jacob Anderson – Senior – Unattached – 135kg
(89) Manoj Saripalli – Senior – Unattached – 140kg
(81) Greg Karas – Masters 45-49 – Unattached – 145kg
(81) Jack Mosher – Masters 50-54 - Y Town Barbell – 148kg
SATURDAY 11/02 WEIGH-IN 11:00 LIFT 1:00PM WOMEN'S SESSION 2
(55) Emily Manship - Masters 35-39 - EmPowered Barbell Club – 91kg
(71) Olivia Shivnen – Senior - Unattached – 95kg
(49) Samantha Luckham – Junior – Michigan Barbell Club – 96kg
(59) Peighton Wells – Youth 14-15 – 8 Mile Barbell – 96kg
(71)Tina Fields – Masters 45-49 – Forged Barbell – 97kg
(64) Janet Aguilera – Masters 35-39 – EFD Holland Weightlifting – 98kg
(+87) Diane Nelson – Masters 50-54 – Le Cellier Lifting Club – 98kg
(64)Julia Woelmer - Junior – Michigan Barbell Club – 101kg
(+87) Charlene Brown - Senior – Libratum Strength and Conditioning – 101kg
(81) Shelley Wolff – Masters 45-49 – Y Town Barbell – 103kg
(71) Marianne Huebner – Masters 55-59 – Shift Weightlifting Club – 107kg
SATURDAY 11/02 WEIGH-IN 1:30PM LIFT 3:30PM MEN'S SESSION 2
(89) Rob Hodder- Masters 35-39 – Y Town Barbell – 148kg
(73) Tiacheng Zuo – Senior – Lily Weightlifting – 150kg
(81) Matthew Lucas – Masters 50-54 - Team Hercules- 150kg
(81) Tom Armstrong – Masters 55-59 - West Michigan Muscle – 160kg
(81) Kyle Vaughn – Senior - Michigan Barbell Club – 160kg
(81) David Sharp – Masters 50-54 – Unattached – 163kg
(89) Gregory Pernicano – Senior - Great Lakes Barbell Club – 175kg
(81) Jacob Terrell – Senior – Unattached – 176kg
(81) Junjie Guo – Senior -Michigan Barbell Club – 180kg
(81) Clark Peters – Masters 35-39 - Forged Barbell – 184kg
(+109) Anthony Surre – Masters 40-44 - Dignified Barbell Club – 188kg
SATURDAY 11/02 WEIGH-IN 4:00PM LIFT 6:00PM WOMEN'S SESSION 3
(64) Izabella Medley - Youth 13&Under – Unattached – 90kg
(71) Jamie Hodder – Masters 35-39 - Y Town Barbell – 104kg
(55) Mary Mendez – Junior - Lily Weightlifting – 107kg
(76) Kate Huffman – Masters 35-39 - Unattached – 107kg
(55) Jillian LeFevere – Youth 16-17 - Unattached – 110kg
(64) Danielle Labotka – Senior - Forged Barbell – 110kg
(55) Isabella Sherman – Youth 16-17 - Lily Weightlifting -111kg
(55) Vivian Matusko – Youth 16-17 - Ann Arbor Skyline Barbell Club – 115 kg
(64) Amanda Moon – Masters 35-39 - Great Lakes Barbell Club – 115kg
(49) Brandy Hobbs – Masters 35-39 - EFD Holland Weightlifting – 116kg
(71) Katherine Wolff – Senior - Michigan Barbell Club – 117kg
(55) Tiffany Redwine – Masters 45-49 - Great Lakes Barbell Club – 117kg
SUNDAY 11/03 WEIGH-IN 7:00AM LIFT 9:00AM MEN'S SESSION 3
(89) Jared Satkowiak – Senior - 810 CrossFit – 192kg
(61) Brandon Hobbs – Masters 35-39 - EFD Holland Weightlifting – 194kg
(109) Alexander Lutz – Senior - West Michigan Muscle – 200kg
(81) Derek Lukacz – Senior - Michigan Barbell – 200kg
(+109) Andrew Workman – Senior - Like Water Barbell – 202kg
(81) Jeremiah Dekam - Senior – Michigan Barbell Club – 205kg
(96) Hinton Rago – Senior - Michigan Barbell Club – 208kg
(81) Landon Weber - Senior - Michigan Barbell Club – 215kg
(73) John Kresila – Junior - West Park YMCA – 216kg
(89) Jared Jones – Junior - West Park YMCA – 217kg
(81) Mike Goddeeris – Masters 35-39 -Unattached – 223kg
(102) Justin Snowden – Masters 35-39 – Unattached – 230kg
SUNDAY 11/03 WEIGH-IN 9:30AM LIFT 11:30AM WOMEN'S SESSION 4
(71) Morgan Wing – Senior - Unattached – 117kg
(81) Rachael Thatcher – Masters 40-44 – 810 CrossFit – 117kg
(55) Josie Addison – Senior - Unattached -119kg
(64) Christie Jahn – Masters 40-44 - Like Water Barbell – 119kg
(71) Emily Sherman - Senior – Libratum Strength and Conditioning – 123kg
(64) Lauren Langille – Senior – Great Lakes Barbell Club -125kg
(71) Rebecca Schultz - Senior – Unattached – 130kg
(76) Julia Danon - Senior – Garage Strength – 132kg
(55) Kelly Todd - Senior – Temple of Exertion – 133kg
(55) Sophia Shaft – Youth 14-15 – Unattached – 135kg
(64) Emily Prostko - Junior – Michigan Barbell Club – 136kg
SUNDAY 11/03 WEIGH-IN 12:00 NOON LIFT 2:00PM MEN'S SESSION 4
(102) Simon Bradin - Masters 40-44 – Unattached – 237kg
(+109) Sean Sterling – Senior - Great Lakes Barbell Club – 238kg
(81) Jonathan Choi - Senior – Unattached – 240kg
(89) Mohan Dong - Senior – Michigan Barbell Club – 240kg
(109) Michael Mackie – Senior - Unattached – 240kg
(81) James Ondrus - Senior – Unattached – 241kg
(89) Calum McNamara – Senior - Michigan Barbell Club – 252kg
(81) Alexander Nelson – Senior - 1 Kilo – 255kg
(81) Daniel Eller – Senior - Lily Weightlifting – 255kg
(89) Brian Muscat – Senior - Lily Weightlifting – 260kg
(96) Joshua Hofmann – Senior – Unattached – 260kg
SUNDAY 11/03 WEIGH-IN 2:30PM LIFT 4:30PM WOMEN'S SESSION 5
(76) Selena Creed – Masters 35-39 – 4 Star Strength – 139kg
(+87) Samantha Sills - Senior – Unattached – 140kg
(87) Megan Durell - Senior – Unattached – 141kg
(64) Susan McGowan – Masters 40-44 – Unattached – 142kg
(71) Jessica Miletic - Senior – Michigan Barbell Club – 146kg
(76) Hannah Swirple - Junior – Michigan Barbell Club – 146kg
(71) Brittany KcKenzie - Senior – Michigan Barbell Club – 151kg
(76) Taylor Baroth - Senior – Lift Lab – 156kg
(55) Brittany Pray – Senior – Strength Ratio – 159kg
(71) Julienne Mixis – Senior – Team Hercules – 176kg
(76) Celia Gold – Senior – Redzone Weightlifting – 192kg