About this Event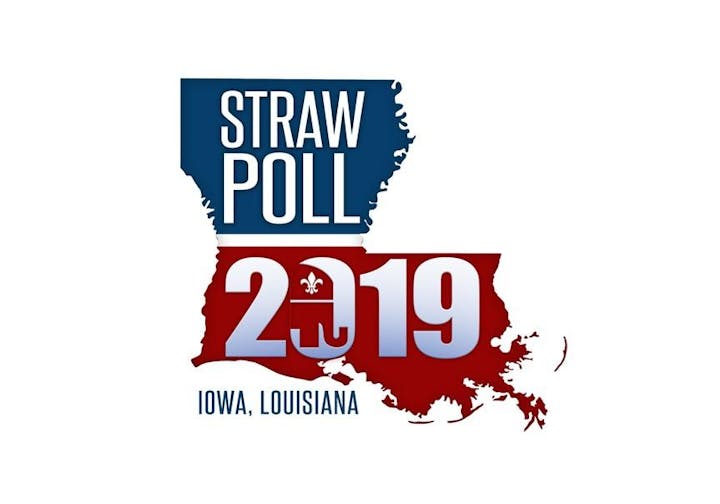 We are excited to be hosting the first ever straw poll in the state of Louisiana. There's no better place to have it than in Iowa, Louisiana which not only pays homage to the state of Iowa for being first in the nation for presidential primaries, but also the city of Iowa is a good representation of how the rest of the state will vote in the upcoming gubernatorial election.
Our goal is to highlight all of the excellent and well-qualified Republican candidates who will be on the ballot in October. We especially want to highlight two wonderful gubernatorial candidates in Ralph Abraham and Eddie Rispone. Our hope is to not only highlight their names and credentials to Southwest Louisiana voters, but to also give them an extra early boost to help their campaigns throughout the dog days of summer.
Ticket includes access to the event/speakers, jambalaya lunch plate cooked by local KC's (includes jambalaya, coleslaw, and black-eyed peas, drink, and dessert), and the ability to cast your vote in the first-ever Straw Poll! Cash Bar.
This is a joint effort put on by the Republican Women of Southwest Louisiana and the Republican Parish Executive Committee.
The Iowa Straw Poll will feature the following candidates.
• 12:15 PM Introductions/Thank You
• 12:30 PM Mark Abraham
• 12:45 PM Kevin Berken
• 1:00 PM Johnny Guinn
• 1:15 PM Mike Eason
• 1:30 PM Phillip Tarver
• 1:45 PM Marion Fox
• 2:00 PM Shalon Latour
• 2:15 PM Ralph Abraham
• 2:30 PM Eddie Rispone
• 2:45 PM VOTE
• 3:30 PM Results
If you wish to reserve your seat and pay at the door please email swlarepublicans@gmail.com with your name, telephone number, address and number of reservations to be held.
We look forward to seeing you there!