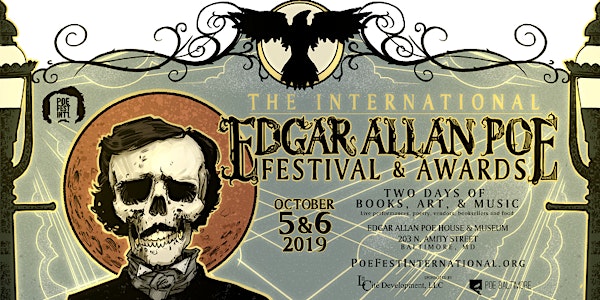 2019 International Edgar Allan Poe Festival & Awards
When and where
Location
The Edgar Allan Poe House & Museum 203 North Amity Street Baltimore, MD 21223
Description
Poe Baltimore invites you to darken Poe's chamber door at the second annual International Edgar Allan Poe Festival and Awards, October 5 & 6, 2019. This free, two-day outdoor event will feature Poe-themed performances, art, vendors and food, celebrating Poe's life, works and his influence in the arts. The festival will take place directly across the street from Poe House at 203 N. Amity Street in Baltimore, in the newly-built "Poe Park" at Center/West.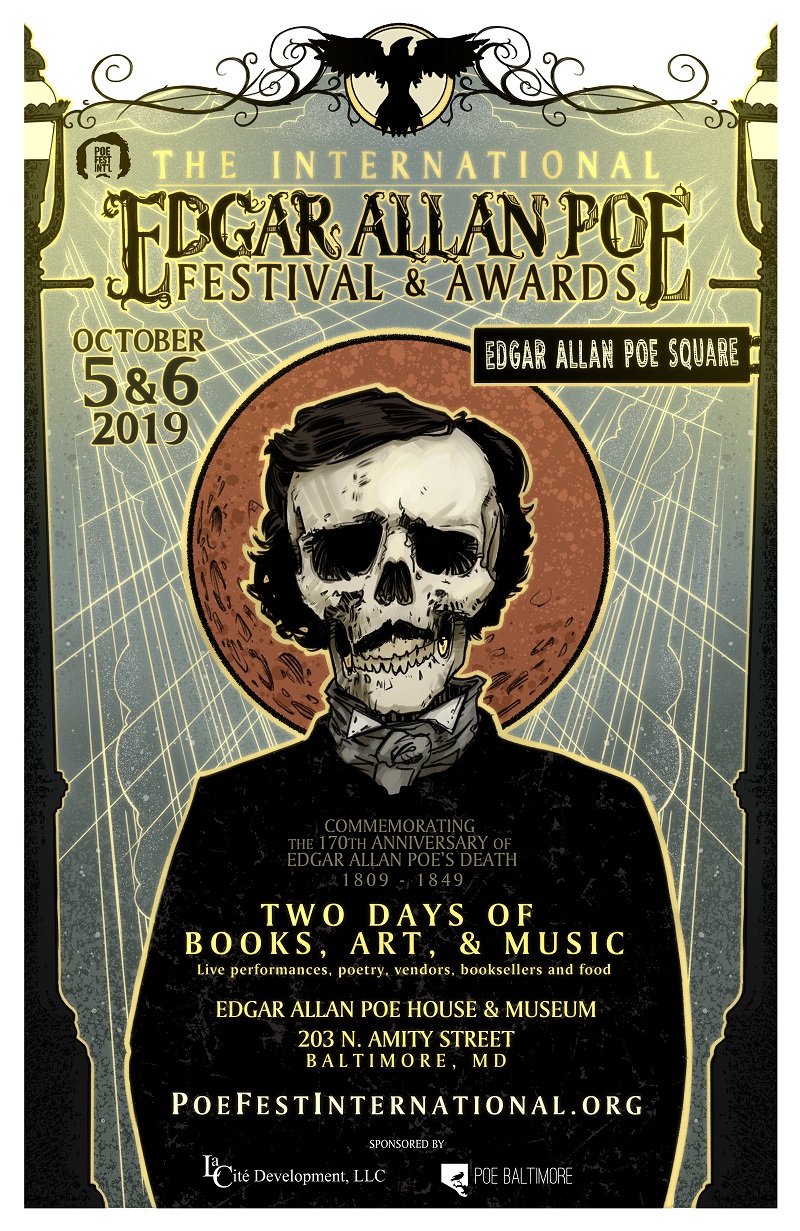 The festival includes Poe-themed performances, vendors, booksellers and music, plus family-friendly activities, poetry and art. Attendees will also get to learn about Poe's life and works from some of the United States' preeminent "Poe Places", with representatives from The Edgar Allan Poe House & Museum (Baltimore), The Poe Museum (Richmond, Virginia), The Poe Cottage (Bronx Historical Society, NYC), and The Edgar Allan Poe Society of Baltimore. October 5 & 6 is also "Death Weekend", commemorating the 170th anniversary of Edgar Allan Poe's death in Baltimore. Visit PoeFestInternational.org for more vendors and program details/schedule, even more TBA. Admission and festival parking are FREE.
Admission to Poe Fest International is FREE. Tours inside the Edgar Allan Poe House are not included as part of the general festival program and require paid tickets. To be sure you get in to see this precious landmark, check out the ticketed options below: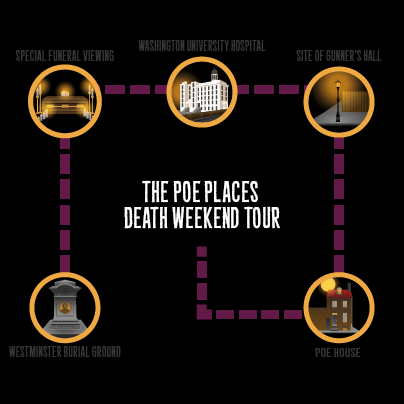 Explore the enduring mystery surrounding Poe's tragic death on a special VIP Death Weekend Bus Tour of Poe's Baltimore. The 2-hour tour ticket includes stops at four important Poe Places around Baltimore, including a tour of Poe House, Poe's grave, and the sites where Poe was found and passed away. Tickets also include a special funeral 'viewing' at the historic Carroll Mansion on Lombard Street. Tickets and times are limited so reserve your seats now!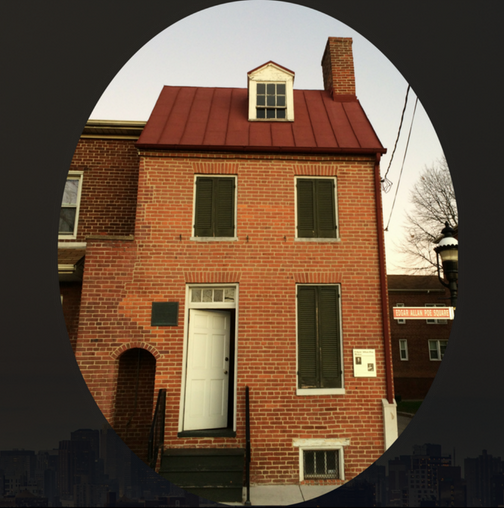 Edgar Allan Poe House Tours. Crowds will gather at the International Edgar Allan Poe Festival October 5 & 6, and Poe House will only be open to visitors for timed-ticket tours. Your ticket entitles you to "express entry" and includes a tour of the historic Edgar Allan Poe House, plus readings by a very special un-dead mystery guest. This tour is included with VIP bus ticket, or may be purchased separately.
And once night descends upon the City, the cats to come out to play: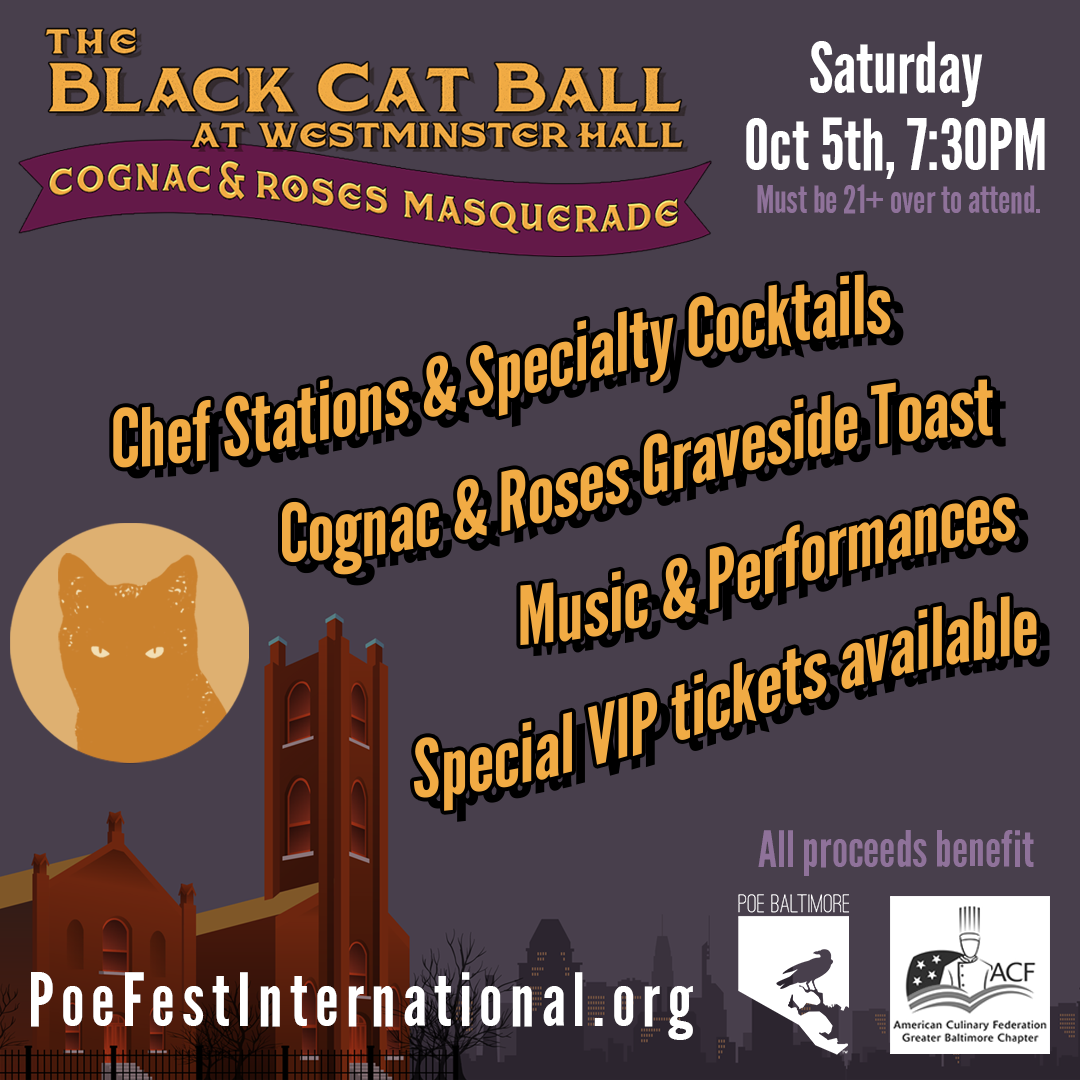 The Black Cat Ball at Westminster Hall is the Official Festival Party, Saturday, October 5th at 7:30 PM. Join us for a fantastical masquerade of the senses as we dance into the night, explore a garden of culinary delicacies, then raise a glass to the inimitable Edgar Allan Poe with a special grave-side toast! Guests will wander and sample delights at a dozen Chef stations, plus enjoy passed hors d'oeuvres and specialty cocktails highlighting the best food and spirits Maryland has to offer. Ticket options include General Admission and LIMITED Premium VIP Packages & Catacombs Tour. Must be 21+ over to attend. Dress to impress and walk our Gothic Red Carpet!
Ticket options include General Admission and LIMITED VIP & Catacombs Tours. Both packages are all-inclusive for food, cocktails, and entertainment. The evening's program includes:
Special entry march performed on the famous Westminster church organ
The Raven, interpreted by Calixta Starr
Actor Stephen Meade will allow the audience to vote for their favorite, The Raven or The Tell-Tale Heart, and perform the chosen piece live
Danse Macabre/Waltz of Death by Susan Zhang & Nick Luby (The Concert Truck)
Winners of the 2019 Saturday 'Visiter' Awards, presented by author Louis Bayard

(

The Pale Blue Eye

)

A grave-side cognac toast to Edgar Allan Poe, presented by Poe Baltimore and ACF Board Presidents
VIPs only: your package includes a private performance in the famed Westminster catacombs by David Keltz!
Note to festival attendees: the Black Cat Ball takes place away from festival grounds, at Westminster Hall & Burying Ground, 519 W. Fayette Street, Baltimore MD, 21223. MORE EVENT AND LOCATION DETAILS HERE.
This festival is made possible by grant funding from Maryland Heritage Areas Authority & The Baltimore National Heritage Area. Sponsorship and volunteers by Poe Baltimore, La Cite LLC & Center/West, Carroll Museums, Susan Jaffe Tane and RavenBeer.