Description
Southern California Marimba is excited to announce its first season of the International Artist Competition!
The competition will take place at Chapman University from May 31 - June 2, 2019, featuring judges Nick Terry, Nancy Zeltsman, Beverley Johnston, and Dave Gerhart. Competing in the semi-finals are 34 up-and-coming percussionists from all over the world, who will showcase their talents under three categories: Scholastic Solo, Collegiate Solo, and Open Duo.
As the audience, you are welcome to attend any of the competitive rounds, along with the judges' masterclasses and feature concert, as all of our events are open to the public!
Whether you are an aspiring percussionist or simply enjoy attending concerts, don't miss out on this vibrant weekend of live percussion music! You may also win some valuable percussion goodies from our sponsors through our raffle prizes.
Make the most out of the competition weekend with our All-Event Pass, just $40 for all 6 events (valued at $60)! All ticket types are available at the door at the listed rates below, but you can get your All-Event Pass on Eventbrite any time to skip the ticket line.
Fees can be waived with valid student ID for all events.
EVENT SCHEDULE
MAY 31
1:00 PM - 5:00 PM | Open Duo & Scholastic Solo Semi-final Rounds
7:30 PM - 9:00 PM | Masterclass with Nancy Zeltsman
JUNE 1
10:00 AM - 11:30 AM | Masterclass with Beverley Johnston
1:00 PM - 4:10 PM | Collegiate Solo Semi-final Round
7:00 PM - 9:00 PM | Judges Feature Concert
JUNE 2
1:00 PM - 5:00 PM | Final Rounds for All Categories & Award Ceremony
TICKET TYPES
SINGLE ENTRY: $10 per event
THREE-EVENT PASS: $20 for any three events
ALL-EVENT PASS: $40 for all six events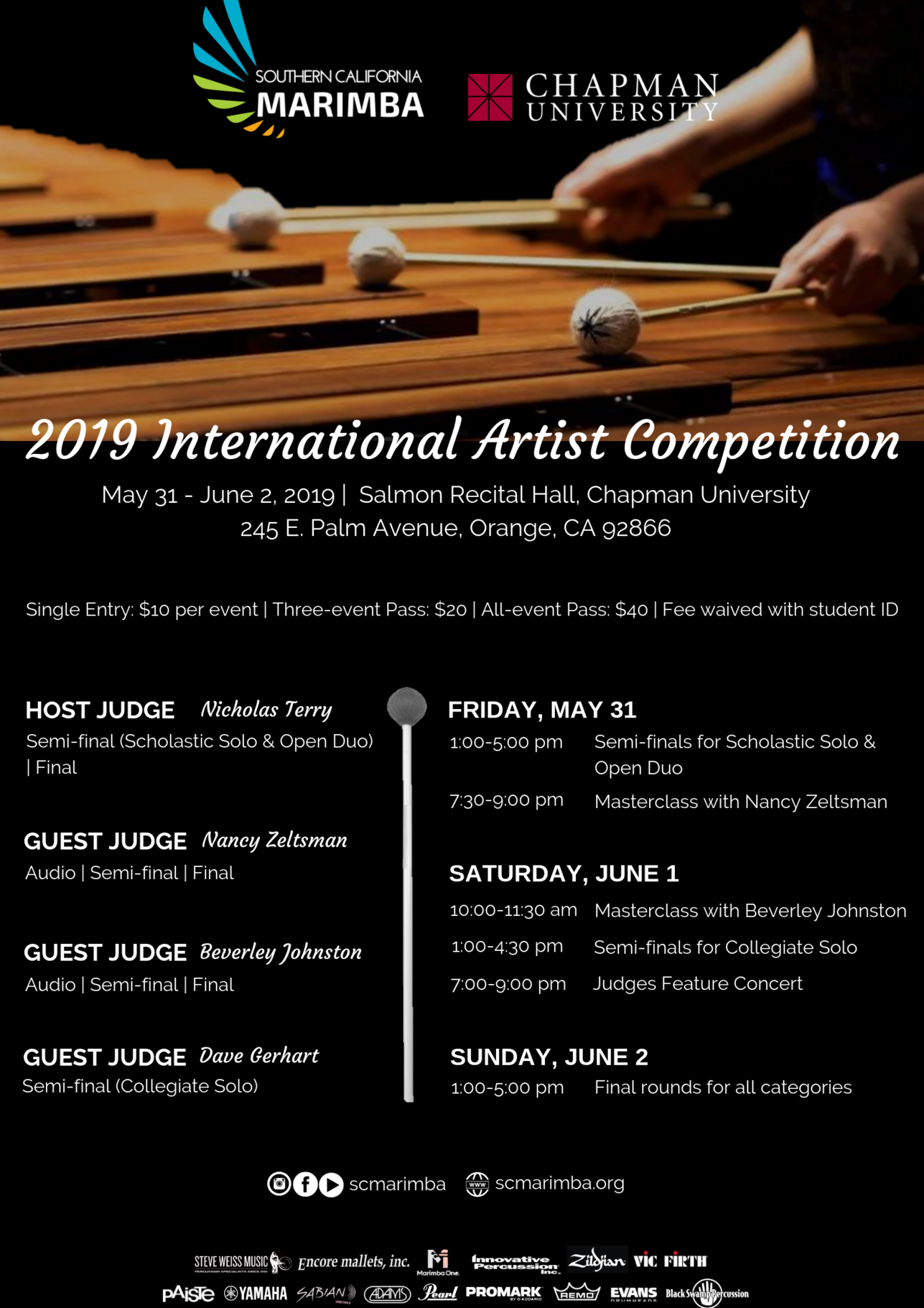 Organizer of 2019 International Artist Competition