The biennial Innovative Learning Conference provides meaningful resources and inspiring direction for educators and researchers everywhere.






Edward R. Amend

The Amend Group Clinical Psychologist

Tony Anscombe

ESET Global Security Evangelist

Jeremy Bailenson

Stanford University Professor of Communication; Founding Director, Virtual Human Interaction Lab

Lizzy Hull Barnes

San Francisco Unified School District Math Supervisor

Joel Baum

Gender Spectrum Senior Director of Professional Development

Akil Bello

Bell Curves Co-Founder & Former CEO

Melissa Beressi

Add a Little Happiness; Take a Mindful Moment Educator

Warren Berger

Author, Innovation Expert, and Questionologist

Marie Bigham

ACCEPT: Admissions Community Cultivating Equity & Peace Today Founder and Co-Leader

Martin Boroson

The One Moment Company Founder

Peter Bowers

WordWorks Literacy Centre Founder

Gavin Bradley

The Nueva School Director of College Counseling

Thomas E. Brown

Keck School of Medicine of USC Director of Brown Clinic for Attention & Related Disorders, Adjunct Clinical Associate Professor of Psychiatry & Behavioral Sciences

Zachary Brown

Inian Islands Institute Founding Director

Linda Burch

Common Sense Media Co-Founder and Chief Education and Strategy Officer

Erik Burmeister

Menlo Park City School District Superintendent

Carissa Carter

Stanford d.school Director of Teaching Learning

Gina Cherkowski

STEM Learning Lab Chief Educator Officer

Tara Chklovski

Iridescent Founder & CEO

Suzanne Crandall

Community Advocate

Dante D. Dixson

Michigan State University Assistant Professor of School and Educational Psychology

Greg Duncan

University of California Irvine, School of Education Professor

Diane Ehrensaft

University of California San Francisco Director of Mental Health, Child and Adolescent Gender Center

Curt Ellis

FoodCorps, Inc. Founder & CEO

David Foster

Silicon Valley Mathematics Initiative Executive Director

Shelley Friedkin

Mills College Senior Research Associate

Lisa V. Gale

StoryCorps Chief Program Officer

Dan Garcia

University of California Berkeley Teaching Professor

Christopher Gardner

Stanford Prevention Research Center, Stanford University Rehnborg Farquhar Professor of Medicine

Adam Gazzaley

University of California San Francisco Founder & Executive Director, Neuroscape; Professor, Neurology, Physiology and Psychiatry

Saba Ghole

Nuvu Co-Founder & Chief Creative Officer

Philippe Goldin

University of California Davis Professor

Cindy Goldrich

PTS Coaching: ADHD Education and Support ADHD/Executive Function Coach

Megan Gray

One Love West Coast Engagement Manager

Edward (Ned) Hallowell

Child and Adult Psychiatrist, Learning Differences Expert, Founder of The Hallowell Centers

Mark Hatch

Colorado College Vice President for Enrollment / Office of Admission & Financial Aid

Roxanne S. Higgins

Independent School Management President and Senior Consultant

Fumiko Hoeft

University of Connecticut; University of California San Francisco Professor & Director

Jonathan Howland

The Urban School of San Francisco Dean of Students

Matt James

GMMB Senior Counselor

Elizabeth Jones

Institute for Educational Advancement President

Scott Barry Kaufman

Psychologist, Professor, Writer, and Podcaster

Vivien Keil

Children's Health Council Clinical Director

Barbara A. Kerr

University of Kansas Williamson Distinguished Professor of Counseling Psychology

Chip Kimball

Singapore American School Past Superintendent

William S. Koski

Stanford Law School Professor of Law

David Levy

University of Washington Information School Professor

Catherine Lewis

Mills College Senior Research Scientist

Fei-Fei Li

Stanford University Co-Director, Human-Centered AI Institute and Vision and Learning Lab

Susanna Loeb

Brown University Director of Annenberg Institute, Professor of Education and International and Public Affairs
About this Event
Nueva hosted its first Innovative Learning Conference (ILC) in 2007 to gather thought leaders from around the country and share insights and research from innovative institutions with the broader educational community. Since then, the ILC has grown to feature more than 75 speakers and attract more than 1,200 attendees from around the globe.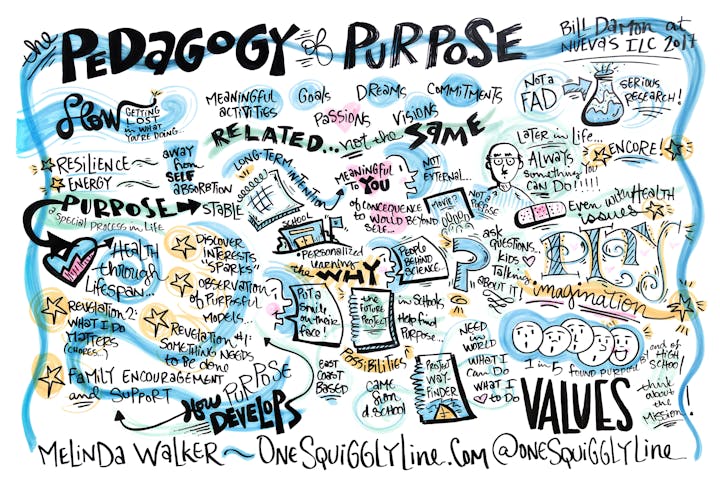 Learn more about our educator grants, and access the application here.
Location information:
On Wednesday, October 16, 2019, our conference is held at Hillcrest Elementary School in San Francisco.'
On Thursday, October 17, 2019, our conference is held on both campuses based upon grade level:
PreK - 8th educators at our Hillsborough campus at 6565 Skyline Boulevard, Hillsborough, CA, 94010.
9th - 12th educators at our San Mateo campus at 131 E 28th Avenue, San Mateo, CA, 94403.
On Friday, October 18, 2019, our conference is held at our San Mateo campus at 131 E 28th Avenue, San Mateo, CA, 94403
Refund information:
Registrations cancelled by 9/17/2019 will be refunded in the full amount.
Registrations cancelled between 9/18/2019 and 10/10/2019 will be refunded for the full amount minus $50 (processing fees).
Registrations cancelled after 10/10/2019 will not be refunded.
Learn more at www.innovativelearningconference.com