Description
Thank you for supporting the 2019 Indiana Sports Corp Pathfinder Award Luncheon presented by OneAmerica, recognizing champions for America's Youth. The annual fundraising event will be held at The Crane Bay Event Center on Friday, September 6, and will honor National Pathfinder Jeff Gordon, Indiana Pathfinder Cindy Simon-Skjodt and Inspiring Sports Storyteller Gregg Doyel.
Event Information:
In support of the Indiana Sports Corp Mission, tables of 10 seats are available for $2,500 and individual tickets can be purchased for $250. Following your purchase, please expect an email in the coming weeks with your specific table assignments.
Doors will open at 11:00 AM, and the program will begin at 11:30 AM.
For sponsorship information, please contact Mike Karnuta at mkarnuta@indianasportscorp.org or (317) 237-5004.
This event is an important fundraiser in support of Indiana Sports Corp's community-building Mission and efforts to create positive impact by hosting world-class sporting events. Thank you for your support!

---



National Pathfinder, Jeff Gordon
Jeff Gordon, a four-time NASCAR Cup Series champion, stepped away from full-time racing after the 2015 season and now serves as a NASCAR on FOX analyst. The NASCAR Hall of Famer, who was inducted earlier this year, amassed 93 victories – including three Daytona 500's and a record five Brickyard 400's – during 23 full-time seasons in NASCAR's premier division.
Off the track, Gordon established Jeff Gordon Children's Foundation in 1999, which supports pediatric cancer research and treatment, and has granted nearly $19 million to support children battling cancer. Additionally, Jeff Gordon Children's Foundation provides support to Jeff Gordon Children's Center in Concord, N.C., which serves children in the community regardless of their ability to pay.
Jeff Gordon Children's Foundation provided $1.75 million to establish the Butaro Cancer Center of Excellence (BCCE). Working in collaboration with Partners in Health, Dana Farber Cancer Institute and the Ministry of Health of Rwanda, BCCE has treated thousands of patients who otherwise would have no access to care. The country now boasts one of the highest-achieving cancer programs on the continent and is the only rural cancer center in East Africa.
Indiana Pathfinder, Cindy Simon Skjodt
Born in January, 1958 in Indianapolis, Indiana to Melvin and Bess Simon, Cindy has spent most of her adult life serving the Marion and Hamilton County communities. She graduated from Carmel High School in 1976 and earned her bachelor's degree from Indiana University in 1980. Cindy later earned her master's degree in Family & Marriage Therapy from Butler University in 1996.
Cindy continues to dedicate her time, attention, leadership, and financial resources to Central Indiana nonprofit charity boards as well as a few national and international charities that have touched her heart. She is often called upon to lead local philanthropic initiatives and campaigns because of her unparalleled track record of success as a leader and her fierce determination to make a difference. Besides striving to make the world a better place; her commitment to community has improved the lives of the underserved youth, filled the shelves of food pantries, championed for youth sports activities, and she has been a true advocate for the needs of mental health and psychotherapy. Cindy was a founding director of the Pacer Foundation in 1981 and remains actively involved today. Mrs. Skjodt also meets the demands of her beloved Samerian Foundation, of which she is Chairman.
---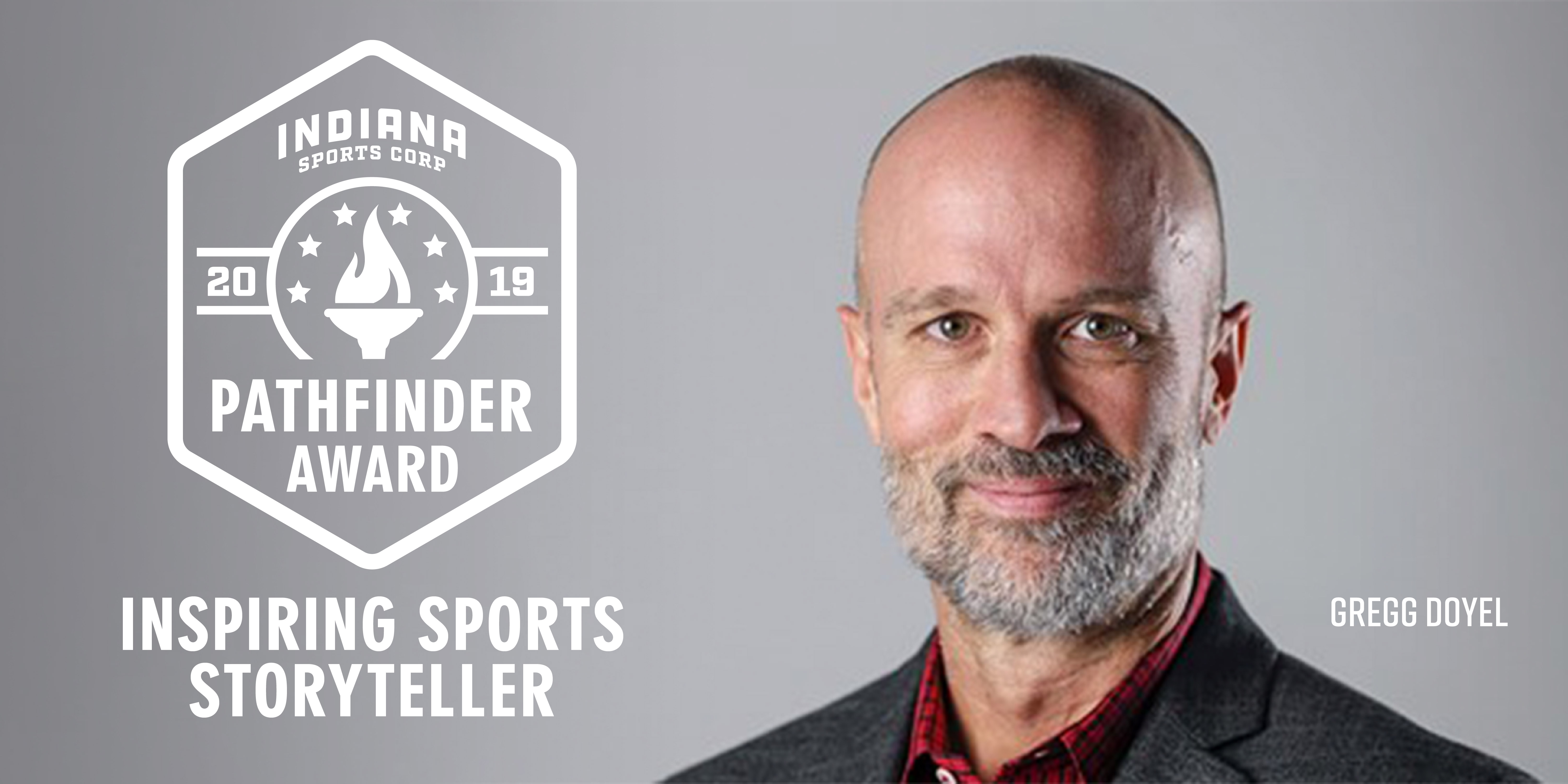 Inspiring Sports Storyteller, Gregg Doyel
New for 2019, the Inspiring Sports Storyteller Award seeks to recognize those who share stories that showcase how the power of sports can inspire people to take action and invest in their community. The Award honors a sports journalist whose contributions positively impact the narrative of sports as a force for change.
Gregg Doyel honored the life of Tyler Trent through a series of columns written for the IndyStar after having a longstanding relationship with the family. The articles chronicled Tyler's presence during Purdue football's miracle win over No. 2 Ohio State last year, Tyler's four-year battle with osteosarcoma and most importantly the legacy and lasting impact Tyler left the nation after his passing. Doyel immersed himself into Tyler's life and captivated his readers with Tyler's inspiring perspective and unmeasurable strength.
When choosing the first recipient of the Inspiring Sports Storyteller Award, Gregg's work with Tyler Trent and his remarkable story immediately came to mind. We were all inspired by Tyler, his perseverance and commitment to make a difference through the strength he showed during his battle with cancer. Gregg's words brought the story to life and helped recruit Tyler's #TylerStrong supporters that has now raised more than $1 million for cancer research.
Doyel has been a sports columnist for the IndyStar since October of 2014 and was previously a national sports writer for CBSSports.com. Doyel was named the country's top sports columnist by the Associated Press Sports Editors (APSE) in 2014 and 2017. In addition, he has earned 10 different APSE Top 10 Awards including six for columns he authored.