Description
2019 ICOM UK AGM
Until 17:30 Visit the Lee Krasner: Living Colour exhibition at the Barbican Art Gallery
https://www.barbican.org.uk/whats-on/2019/event/lee-krasner-living-colour
17:30 – 17:45 Arrival and registration
17:45 – 18:45 AGM Business
Welcome and Introduction
Minutes from 2018 AGM
Chair's Report
Update on ICOM UK Governance Review
Treasurer's Report - 2018 Independent Statement of Accounts / Financial overview for 2018-19 / Appointment of auditors for 2018-19
Membership Update
Next round of ICOM UK - British Council Travel Grants
Travel Bursaries
Questions from members
18:45 – 19:05 ICOM UK Members Soap Box
Series of short presentations by ICOM UK members highlighting international projects and partnerships followed by questions from members.
Dr Carol Ann Scott, ICOM Executive Board Member: Report on ICOM strategic planning and activities
Alice Lobb, Exhibitions Manager, Barbican Art Gallery
Matteo Aguello, Fashion and Popular Culture Scholar:

Corporate Museums: definitions, research and future developments
19:05 – 20:15 Refreshments, nibbles and networking
19:05 - 19:45 Meet up for Kyoto 2019 delegates. Meet by the Life Rewired Hub, Level G, Barbican Centre.
Until 21:00 Visit the Lee Krasner: Living Colour exhibition at the Barbican Art Gallery.
This exhibition celebrates the work and life of Lee Krasner (1908 – 1984), a pioneer of Abstract Expressionism. The first major presentation of her work in Europe for more than 50 years, the exhibition tells the story of a formidable artist, whose importance has too often been eclipsed by her marriage to Jackson Pollock.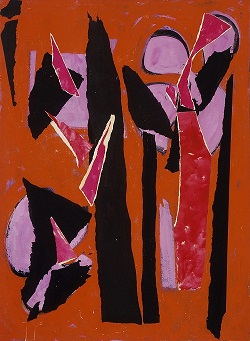 Lee Krasner, Desert Moon, 1955
Los Angeles County Museum of Art.
© The Pollock-Krasner Foundation.
© 2018. Digital Image Museum Associates/ LACMA/Art Resource NY/ Scala, Florence