2019 IAFPA Airport Rescue & Fire Fighting Conference
Description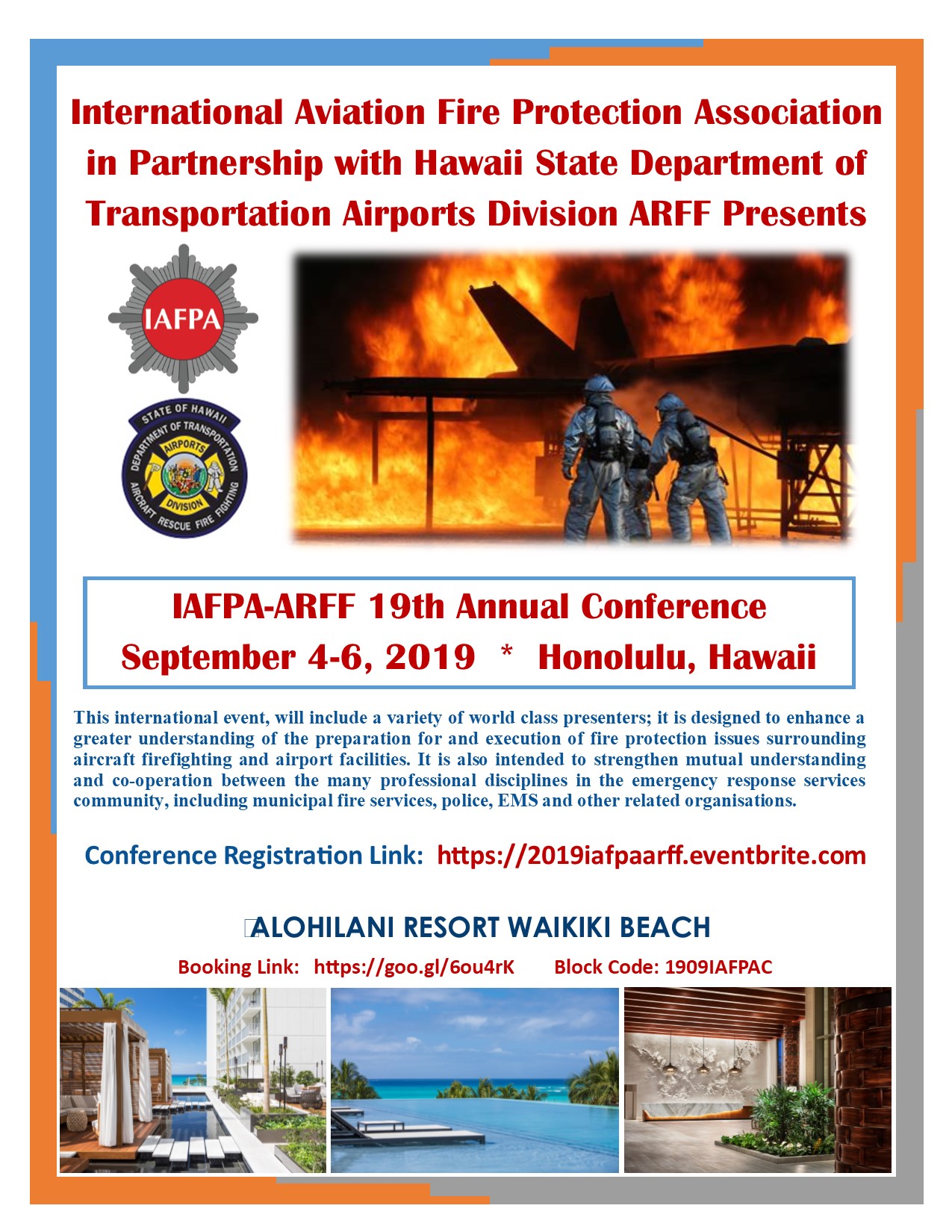 The international event, which will include a variety of world-class presenters, is designed to enhance a greater understanding of fire protection issues surrounding aircraft firefighting and airport facilities. It is also intended to strengthen mutual understanding and co-operation between the many professional disciplines in the emergency response services community - including municipal fire services, police, EMS and other related organisations.
The following are topic areas to be discussed.
· ARFF and mutual aid response or liaison
· Aircraft cabin material flammability and fire physics
· Incidents involving aircraft
· ARFF vehicles
· Aircraft fire detection design
· Operation and maintenance of aircraft hangar fire suppression and detection systems
· Environmental aspects of aviation fire protection
· Aviation fuels and fuelling operations
· Regulatory aspects of aviation fire safety
· Airport management and fire protection
· Aviation and aircraft related fire protection R&D
· Aircraft rescue and firefighting
· ARFF training, facilities and practices
· Aircraft fire protection and life safety
· Suppression agents used in aviation fire protection
· ARFF and terrorism
· New large aircraft firefighting
· Air passenger fire safety
· Positive pressure ventilation in ARFF
· Post aircraft crash critical incident stress
· Terrorism and ARFF operations
· International/national regulations
· Airport fuel depot firefighting
· New tools and equipment
· Hazmat, decon and ARFF
· Disaster exercise planning
· ARFF and interactions with airport management.
A preliminary agenda will be posted by mid February and emailed to each registered attendee.
For information on visiting or assistance in planning your trip to the State of Hawaii, please click on
https://www.gohawaii.com/ and https://portal.ehawaii.gov/visitors/
To learn more about the island of Oahu, go to https://www.gohawaii.com/islands/oahu
OR https://www.youtube.com/watch?v=kNyEI-2udxs