2019 IAFPA Airport Rescue & Fire Fighting Conference
Description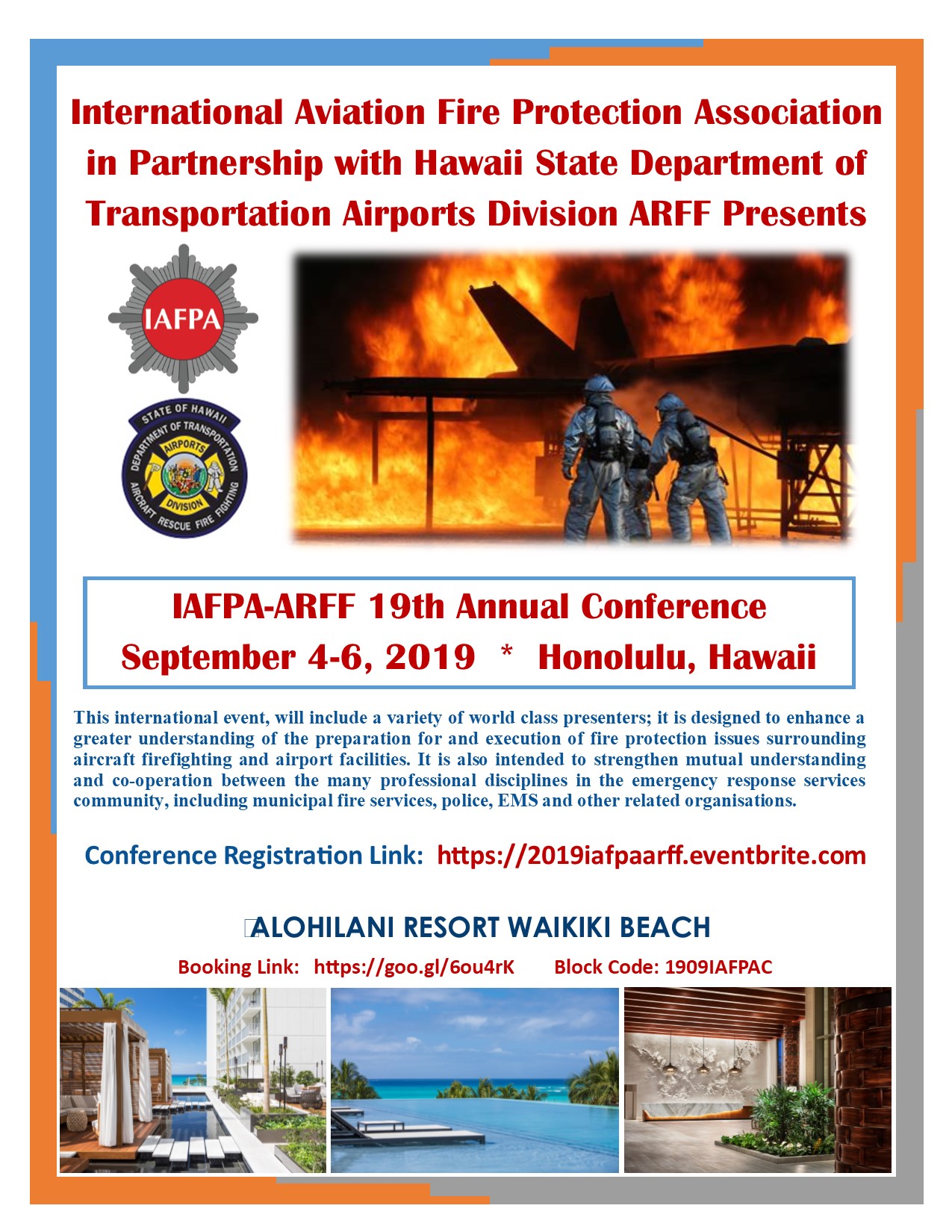 IAFPA has issued a call for papers for its Hawaiian Conference 2019. This, the nineteenth annual international conference, is being held on September 5 & 6th at the Alohilani Resort Hotel on Waikiki Beach, Honolulu.
The international event, which will include a variety of world-class presenters, is designed to enhance a greater understanding of fire protection issues surrounding aircraft firefighting and airport facilities. It is also intended to strengthen mutual understanding and co-operation between the many professional disciplines in the emergency response services community - including municipal fire services, police, EMS and other related organisations.
Speakers who wish to present a conference paper must submit a topic abstract no later than June 30, 2019. All abstracts should be limited to one single-sided page, listing the title of the topic, key words and contact name, affiliation, address, telephone and fax numbers, and email address. Formatted on A4 paper, all submissions should be single spaced with 12-point type and one-inch margins. The papers can also be submitted as an MS Word (.doc) format via email.
For accepted speakers, full presentation papers and PowerPoint presentations are required 45 days prior to the conference. No overheads or slide projectors are permitted.
All previously unpublished papers aimed at the technical and scientific advancement of ARFF, aviation fire safety, and improved airport fire protection are encouraged for submission. Papers may include the areas of basic research, application of new equipment, practices and ideas, or development of new approaches in equipment and hardware.
Acceptance of a topic will be based on quality, originality and advancement of the state-of-the-art from a technical basis.
The following is a partial list of topic areas that will be considered:
· ARFF and mutual aid response or liaison
· Aircraft cabin material flammability and fire physics
· Incidents involving aircraft
· ARFF vehicles
· Aircraft fire detection design
· Operation and maintenance of aircraft hangar fire suppression and detection systems
· Environmental aspects of aviation fire protection
· Aviation fuels and fuelling operations
· Regulatory aspects of aviation fire safety
· Airport management and fire protection
· Aviation and aircraft related fire protection R&D
· Aircraft rescue and firefighting
· ARFF training, facilities and practices
· Aircraft fire protection and life safety
· Suppression agents used in aviation fire protection
· ARFF and terrorism
· New large aircraft firefighting
· Air passenger fire safety
· Positive pressure ventilation in ARFF
· Post aircraft crash critical incident stress
· Terrorism and ARFF operations
· International/national regulations
· Airport fuel depot firefighting
· New tools and equipment
· Hazmat, decon and ARFF
· Disaster exercise planning
· ARFF and interactions with airport management
Other topics may also be considered, and authors are encouraged to submit papers for consideration on all associated areas of ARFF and airport fire protection related subjects. Conference speakers whose topics are selected for IAFPA Hawaiian 2019 The 19th Annual International Conference, will enjoy a variety of incentives for their participation.
All interested parties should send topic abstracts to John Trew, jt@iafpa.org. Or visit our website at: www.iafpa.org.uk
Corporate sponsors are welcome - email us to find out why your company should be a corporate sponsor.