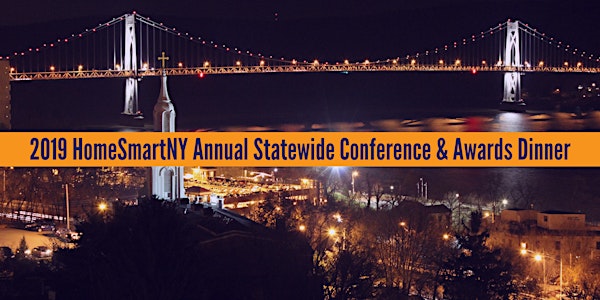 2019 HomeSmartNY Annual Statewide Conference and Awards Dinner
When and where
Location
Poughkeepsie Grand Hotel 40 Civic Center Plaza Poughkeepsie, NY 12601
Refund Policy
Refunds up to 7 days before event
Description
Description
Join HomeSmartNY's statewide network of over 80 nonprofit organizations for the 2019 HomeSmartNY Annual Conference & Awards Dinner on September 25-26, 2019 in Poughkeepsie, NY at the Poughkeepsie Grand Hotel.

Don't miss this opportunity! Two-day ticket includes training, networking events, meals, awards dinner, discussions and panelist sessions. Let's join together to make housing counseling work!

A limited number of scholarships are available for HomeSmartNY members if needed on request.

Join HomeSmartNY's statewide network of over 80 nonprofit organizations for HomeSmartNY Annual Conference & Awards Dinner 2019 on September 25-26 2019.
Ticket Includes:
September 25, 10 AM - 1 PM - Free Half-day Members' Trainings (choose one):
Climbing the Lending Ladder Training with Gabe del Rio, Homeownership Council of America
Is your organization ready to take the next step to begin or increase your lending activities? Now more than ever, nonprofit housing counseling organizations need a source of stable revenue. Lending may help you to achieve that while also increasing your affordable homeownership mission. This 3-hour training will walk participants through the steps for evaluating your organization's current and potential lending abilities. Learn how to build lending relationships and determine your individual lending potential. Steps from packaging loans to origination will open your organization to the possibilities of lending. Homeownership Council of America's CLIMB – Community Lending Initiatives in Mortgage Banking is designed to help nonprofits climb the lending ladder. Training is targeted to Executive Directors and Program Directors.
HUD Counselor Certification Exam Strategies by Teresa Bardwell, RCAC, a HUD Training Partner
Are you studying to take the HUD Certification Exam? Join us for an interactive workshop on strategies for taking the exam taught by a HUD Certified Counselor. We will look at studying and test-taking tips, the practice exam, the new knowledge assessment and how it can assist you, and how to get signed up for the exam. Please join us for an informative session to help you prepare for the HUD certification exam. Training is targeted to Housing Counselors.
Lunch will be provided for training participants.

September 25, 2 PM - 4 PM -Housing Counseling - Members' Planning Session
HomeSmartNY Updates and Plans for 2020
Planning and organizing for annual Communities First Campaign with Kirsten Keefe & Christie Peale - It's almost time to begin working on next year's round of funding. Let's plan and work together to reach our funding goals.
September 25, 5 PM - 8 PM - Third Annual Homer Awards Dinner & Reception
Network with our members, partners, and guests. Honorees include:
Christie Peale, Center for NYC Neighborhoods
Kirsten Keefe, Empire Justice Center
Jason Jefferies, Freddie Mac
Dinner will begin at 6 PM.

September 26, 9:30 AM - 3:30 PM - HomeSmartNY 2019 Statewide Conference

Breakfast will be served at 8:30 am

Discuss and learn about innovations and trends to help grow your housing counseling programs.

Morning
SONYMA Innovations
Hear about SONYMA's newest products designed to help your clients achieve homeownership.
Discussion Leader: Sherri Eckles, SONYMA
Untapping the Potential of Underserved Communities
Learn about loan incentives from Fannie Mae and Freddie Mac that open up lending opportunities for underserved communities. Brainstorm ways to help your organization and clients ability to access these loans Discussion Leaders; Jason Jefferies, Freddie Mac. Lynn Alley, Fannie Mae. Gabe del Rio, Homeownership Council of America
Lunch will be served at 12:00 pm

Afternoon
The HUD Certification Exam – Meeting the deadline
August 1, 2020! It is less than one year away. Let's get certified! This panel will feature representatives from HUD and RCAC, along with HomeSmartNY members who have successfully passed the exam. They will share their tips and strategies for taking the HUD Housing Counselor Certification Exam. Bring them your questions and ideas to help everyone achieve their certification. Discussion Leaders: Phyllis Ford, HUD. Teresa Bardwell, RCAC. Alexandria Carver, Better Neighborhoods, Inc. Yangchen Chadotsong, Chhaya. Conant Smith, Metro Interfaith Housing Corp. Julie Reynolds, Albany County Rural Housing Alliance
The Federal Home Loan Bank of New York's Homebuyer Dream Program TM
Creating affordable, accessible and sustainable homeownership opportunities has long been a focus of the Federal Home Loan Bank of New York. In 1995, we launched The First Home Club SM ("FHC") as a grant program to help first-time homebuyers achieve their dream of homeownership. Throughout the FHC's existence, we have been honored to join with our members and help more than 16,000 households become homeowners through more than $120 million in grants.

We are proud of the impact we have made through the FHC, and we believe that the Homebuyer Dream Program, a more modernized set-aside grant program to support first-time homebuyers across New Jersey, New York, Puerto Rico and the U.S. Virgin Islands, puts us in an even better position to meet the current and future homeownership needs of our District. Households currently enrolled in the FHC will not be impacted by the Homebuyer Dream Program, and will continue following their path towards homeownership with our full support.

The Homebuyer Dream Program provides down payment and/or closing cost assistance of up to $14,500 per eligible household. To be eligible, households must earn income equal to or less than 80 percent of the area median income and complete a homebuyer counseling program – for which an additional $500 defrayment of costs is available, bringing the total grant opportunity to $15,000.

Join us at our session and learn how to access this viable source of funds for your clients and help them to achieve their dream of homeownership.
Don't miss this opportunity to learn and grow your New York housing counseling program!
Scholarships may be available on request.
Hotel Block
Reservations at the Poughkeepsie Grand Hotel can be made online at pokgrand.com or by calling 845-485-5300.
Use Group Code HOMESM to receive confererence rate.
Conference rate will be held until August 24, 2019.

FAQs
Is my registration fee or ticket transferrable?
Yes, tickets can be transferrable until September 24. To transfer your ticket, please email info@homesmartny.org.