2019 HISTORICALLY BLACK UNIVERSITIES AND COLLEGES TOUR MARCH 24- MARCH 30
Description
Urban League of Greater Cleveland presents the 2018 HBCU Historic & Cultural Engagement Tour March 24– March 30, 2019
The Urban League of Greater Cleveland will present the 30th Historically Black Colleges and Universities Tour, March 24-30, 2019 It is part of the educational exposure for our youth to educate them on the benefits of attending an HBCU.
EXPOSURE, ENGAGEMENT, and EXPERIENCE is the core thread for the tours. Exposure consists of taking young people and providing them an opportunity to see what post-secondary options can bring. Engagement pertains to the actual campus and the activities within. Our youth are able to envision themselves on these campuses as future students. Walking the campus, in the classroom, and in the community our students are totally immersed in and gain a uniquly designed Experience on our HBCU E3 Tour. "You may start this tour undecided. You will return focused and determined."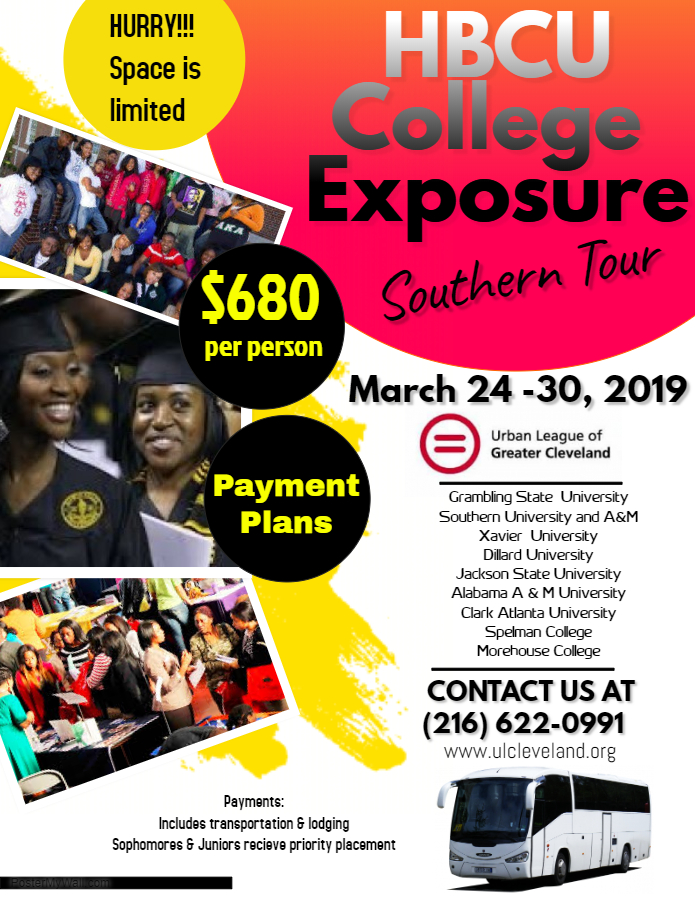 FULL PAYMENT $680.00 OR THE PAYMENT PLAN BELOW:
PAYMENT PLAN
$100 DEPOSIT TO RESERVE YOUR CHILD'S SEAT. Deposit must be paid within five (5) business days of your registration. Deposits will be deducted from the total balance due.
If you register after installment plan due dates first payment will equal total missed payments.
~~~~~~~~~~~~~~~~~~~~~~~~~~~~~~~~~~~~~~~~~~~~~~~~~~~~~~~~~~~~~~~~~~~~~~~~~~~~~~~~~~~~~
1st Installment $145.00 MUST be received by December 14, 2018
2nd Installment $145.00 MUST be received by January 15, 2019
3rd Installment $145.00 MUst be recieved by February 15, 2019
Final Installment $145.00: MUST be received by March 15, 2019
~~~~~~~~~~~~~~~~~~~~~~~~~~~~~~~~~~~~~~~~~~~~~~~~~~~~~~~~~~~~~~~~~~~~~~~~~~~~~~~~~~~~~
Parent and student must attend MANDATORY meeting on Saturday, February 17th, 2019, 10:00 am to 1:00 pm at the Urban League of Greater Cleveland.
NO PAYMENTS WILL BE ACCEPTED AT THE PARENT MEETING.
FAQs
Is there a minimum age requirements to enter the event?
Yes, the student must be at least 15 years old and/or in thr 9th grade.
How can I contact the organizer with any questions?
For more information call 216-622-0991 or email Ms. Lockhart at dlockhart@ulcleveland.org
What's the refund policy? Is my registration fee or ticket transferrable?
All payments are NON-REFUNDABLE and NON-TRANSFERABLE (WITH THE EXCEPTION OF EVENT CANCELLATION).