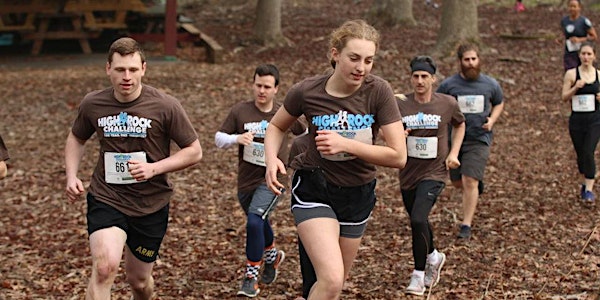 2019 High Rock Challenge - 10K Trail/Adventure Race
High Rock Challenge 10K Trail/Obstacle/Adventure Race for Two-Person Teams
When and where
Location
Greenbelt Trails, Staten Island, New York Henry Kaufman Campgrounds 1131 Manor Road Staten Island, NY 10314
About this event
HIGH ROCK CHALLENGE 10K TRAIL: Staten Island's classic trail race for two-person teams
Supporting the Greenbelt Conservancy
Saturday, April 27, 2019
Staggered Start Times Begin at 9 am
(you will choose your start time at registration)
This is a two-person/team race (fee is for two runners)
Start/Finish: Henry Kaufmann Campgrounds and on to the Greenbelt Trail System
Our first three heats are for competitive runners - male, female and co-ed (9 am, 9:15 and 9:30). Please make sure you belong in that category and classification. The heats that follow are "open category" for all runners.
CLICK HERE FOR RACE DAY GUIDELINES: PLEASE READ TO ENSURE A SAFE AND FUN EXPERIENCE
During the High Rock Challenge, two-member teams run together along Greenbelt trails competing in mystery events and physical obstacles which are located throughout the approximately 10K course. Events are cleverly designed to encourage teamwork as well as physical and mental stamina. Events are not revealed until race day when you're on the marked course!
The course is scenic and rustic. You will encounter single track trails, rough terrain, streams and ponds, inclines/declines, and incredible vistas - especially for New York City! The Greenbelt is protected parkland that requires much care and maintenance. Our runners are stewards of the trail system, helping to keep it alive while respecting its fragile ecosystem.
The race is professionally timed using race chips. Each runner will receive a finisher's medal, high quality wicking material race shirt and post-race snacks and beverages, including cold beer from our sponsor Manhattan Beer Distributors, for those 21 and over. An awards ceremony, music and festival atmosphere completes the day.
Race bag pick up is Thursday, April 25, 2019 from 4 - 7 pm at Henry Kaufmann Campgrounds, same site as race day. Stop by and mingle with your fellow runners, or have a friend pick up your bib and shirt for you.
Train with us: Saturdays, April 13 & 20 at 10 am in High Rock Park, 200 Nevada Avenue, Staten Island, NY. These are free and no registration is required. Show up early with water and dressed for the weather and terrain. You'll run portions of the trails and pick up many tips for race day from our instructor.
New This Year: Become A Fundraising Team!
Earn incentives and promote Staten Island's Greenbelt Conservancy by raising funds to support your participation. Reach certain milestones and be rewarded and compete for the grand prize and title of "Top Fundraising Team." Incentives include: additional team swag ($250 raised), complimentary entry into the race - yes, that's right - raise this amount, and we'll refund your registration fee! ($500 raised), and a name listing on the event t-shirt plus tickets to the 2019 Blue Jean Ball ($1,000). For more information, please select "Yes" to the fundraising question during registration and a member of our team will reach out to you!
Click here to learn more about becoming a fundraising team or email Meghan Wood, Director of Development, at wood@sigreenbelt.org.
On-line registration will close on Friday, April 26 at 4 pm. Same day registration is available for later heats and for a slightly higher cost. Shirt size and goody bag not guaranteed for same day registration.
We will send you emails announcing any pre-race training runs and other updates.
Race updates and training sessions will be also posted on the Greenbelt's website at sigreenbelt.org and on the High Rock Challenge facebook page.
The High Rock Challenge is held in memory of NYPD Officer John Kelly. Proceeds support the Greenbelt Conservancy, a non-profit organization that works in partnership with NYC Parks to maintain Greenbelt parks and trails, and support environmental education and stewardship.
Visit the Run and Shoot Photography facebook page here to scroll down and view several albums from past years' races.
Please note that there are absolutely no refunds issued for the High Rock Challenge. You may transfer your ticket to another runner by Monday, April 23, 2019; Contact us via email.
If you or your business is interested in sponsorship opportunities, contact Meghan Wood, Director of Development for the Greenbelt Conservancy at wood@sigreenbelt.org or by phone at 718-667-2165, ext. 104.
Thank you to our 2019 sponsors and supporters
JAG-ONE Phystical Therapy
Manhattan Beer Distributors
Orange Theory Fitness
The Spine and Pain Institute of New York
Fidelis Care
Run & Shoot Photography
Trader Joes
Core Hydration
If you or your group is interested in volunteering for the High Rock Challenge, please email us at volunteer@sigreenbelt.org or by phone at 718-667-2165, ext. 115.
Thank you for supporting the High Rock Challenge and the Greenbelt Conservancy.