About this Event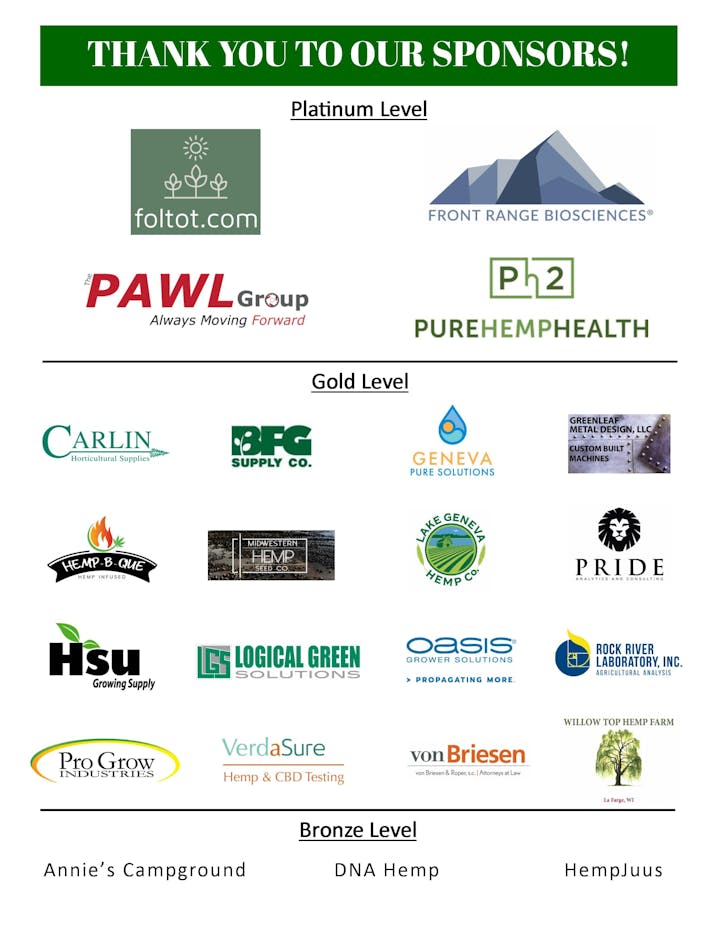 Who should attend?
The meeting is being hosted by Extension Brown County but is open to anyone interested in learning more about hemp and looking to help cultivate relationships within the industry. The focus will be on CBD production, but grain and fiber will also be discussed.
Registration (Click Tickets button)
Registration fee includes continental breakfast, lunch, social hour refreshments, and printed proceedings. Early bird registration fee is $45 and due by November 18. General registration fee is $60 starting November 19. If you are a hemp buyer, you may be eligible for a free registration. See "For Hemp Buyers" section below for more details.
Hotel Accommodations
A block of rooms has been reserved at the Holiday Inn & Suites Green Bay Stadium (2785 Ramada Way). The group block has been built and is ready for reservations. You have 3 methods to make your reservation:
1. Visit the following link with our special group code and enter in your arrival and departure dates: https://www.holidayinn.com/redirect?path=hd&brandCode=HI&localeCode=en&regionCode=1&hotelCode=GRBHW&_PMID=99801505&GPC=BCE&viewfullsite=true
2. Call the reservations number at: 1-888-HOLIDAY
3. Call the hotel directly at: 920-569-4248
When calling, please make sure to mention the Brown County UW-Extension Block or group code BCE. In order to get the special rate, please make your reservations no later than Friday, November 15th, 2019. If you don't call by this date, we can't guarantee the special group rate will be available.
A credit card will be required at the time the reservation is made, however, no charges will be ran until departure. After they make the reservation, if the guest needs to cancel for any reason, they must do so before 6:00pm on the day prior to arrival in order to avoid the cancellation charge.
*Hotel block available evenings of Dec. 4 and/or Dec. 5.
For Hemp Buyers
This is for anyone looking to purchase hemp biomass, smokable flower, CBD isolate, or other hemp product that a grower may have produced. The first 25 people who submit a completed buyer profile will receive one complimentary registration ticket. Buyer profiles will be printed in participant handouts to help streamline the information sharing process and help connect buyers and growers. If you know of anyone who may be interested, please share this information with them.
Sponsorship
A limited number of sponsorship are available and are still being accepted. Registration and logo must be received by November 1 to be included in the flyer. November 22 is the deadline to be included in the printed proceedings (was extended from 11/18). Sponsors will be included on this eventbrite registration page and given recognition at the meeting. Sponsors will be introduced at the beginning of the program, and representative(s) from each sponsoring organization will be given the opportunity to stand or wave when their organization is called. A sponsor recognition slide will also be shown during the meeting. Participants will have time during registration, lunch, afternoon break, and social hour to network with each other and visit sponsor booths. Cash bar will be available during the social hour. Estimated attendance is 300-500 people.
Bronze sponsor ($150): 1 complimentary ticket, name on eventbrite registration page, small logo in program (if received by Nov 22), and recognition during program
Gold sponsor ($300): 2 complimentary tickets, 6-ft table for booth space, logo on eventbrite registration page, medium logo in program (if received by Nov 22), recognition during program
Platinum reserved table sponsor ($500): 6 complimentary tickets at reserved table, 6-ft table for booth space, logo on eventbrite registration page, large logo in program (if received by Nov 22), recognition during program
Click on the "Tickets" button to register as a sponsor and purchase additional registrations beyond the complimentary number included in the sponsorship level. Complimentary registrations will be reserved automatically by the meeting organizer.
Questions?
Contact Liz Binversie, Agriculture Educator, Extension Brown County, at 920-391-4612 or email eybinversie@wisc.edu.