About this Event
2019 Harvard Women and Power Global Leaders' Summit – Navigating to Success
May 29th – June 1st in Newport, Rhode Island, USA
Kick Off Speaker Dr. Hannah Riley Bowles, Harvard Kennedy School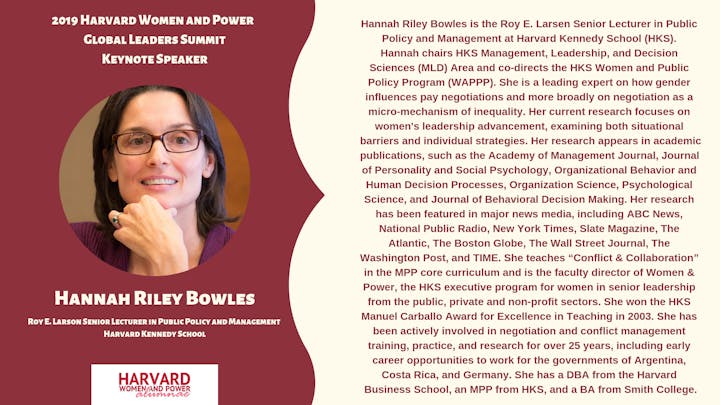 The Harvard Women and Power Summit (HWP) is a vessel for re-connecting and developing new successful networks with fellow HWP alum and an opportunity to share effective leadership strategies! This year's summit will be held at the Newport Marriott in the heart of historic downtown Newport. Our own Hannah Riley Bowles will be our kick off speaker followed by regional speakers, panels and two professional development workshops.
Registration includes conference materials, a welcome wine & cheese reception on Wednesday evening, breakfast and lunch on Thursday, breakfast Friday, a festive Long Wharf Lobster Boil dinner Friday night and a farewell New England Brunch on Saturday. We have even left room in the agenda for you to explore beautiful Newport. Please take advantage of the Early Bird Registration price!
*Please note for planning purposes there is a $50.00 fee per registrant for cancellations before April 28th. Cancellations received after April 28th, 2019 are non-refundable.
Hotel Reservations:
Our conference will take place at the Newport Marriott Hotel, 25 America's Cup Avenue, Newport, Rhode Island 02840. Unfortunately, the special hotel room block pricing for our event has now expired but the there are still rooms at the Marriott at higher rates. Alternatively, the conference location is in the heart of historic downtown Newport and there are several Hotels and Inns within walking distance or a short Lift/Uber ride away. Some suggestions: Hotel Viking, Americas Cup Inn, Jailhouse Inn, Cleveland House and Yankee Peddler Inn.
Speakers:
Dr. Hannah Riley Bowles, Roy E. Larsen Senior Lecturer in Public Policy and Management at Harvard Kennedy School (HKS). Hannah chairs HKS Management, Leadership, and Decision Sciences Area and co-directs the HKS Women and Public Policy Program
Jeanne Cola, Executive Director of Local Initiative Support Corporation, Rhode Island, previously SVP and Director of Community Investment at Citizens Bank, N.A.
Barbara S. Cottam, Chair of the Rhode Island Board of Education and Executive Vice President and Head of Corporate Affairs at Citizens Bank
Beth Lindstrom, Board member MassINC, Former U.S. Senate Candidate, Former Executive Director of the Massachusetts Republican Party
Jesse Mermell, President at the Alliance for Business Leadership, former Communications Director for Governor Deval L. Patrick, former State Director of the Massachusetts Association for the Blind and Visually Impaired
Wilnelia Rivera, Principal at Rivera Consulting, Inc., specializing in political strategy, integrated voter engagement and candidate campaigns. Previous experience includes Director of External Affairs for Governor Deval L. Patrick and senior organizer for Neighbor 2 Neighbor
Martha Parker, Accomplished sailor and CEO of Team One Newport the leading outfitter for the world's best sailors
Suzy Leech, World Champion Sailor, Member Board of Directors Conanicut Island Sailing Foundation and Oakcliff Sailing Center, Aerospace Engineer and owner of Leechline Communications
Dr. Barbara Roberts, first female cardiologist in Rhode Island, author of The Truth About Statins and author of upcoming book The Doctor Broad, A Mafia Love Story.
Workshops:
Drs. Lisa Dorsey (HWP 2011) & Jessica Perolio of Eloquentia Consulting, LLC will present a workshop to engage participants in reflecting on the foundations of your leader self-efficacy, maximizing your leader self-efficacy, and thinking outside the box about your professional trajectory.
Sandy Coletta (HWP 2013) author of The Owl Approach to Storytelling Lead with Your Life will present an entertaining and informative session focusing on how to use your personal stories to enhance employee engagement and achieve organizational goals.
Planning Committee:
Darlene Allen, Executive Director, Adoption Rhode Island, Rhode Island, HWP 2017
Georgia Berner, President and CEO, Berner International, Pennsylvania, HWP 2003
Sandy Coletta, Retired, President Kent Hospital, Rhode Island, HWP 2013
Lisa Dorsey, Assistant Professor, Department of Physical Therapy & Athletic Training, Saint Louis University, and President/Co-Founder Eloquentia Consulting, Missouri, HWP 2011
Katrica Charley, Director, Global Supply Chain, Sherwin-Williams, Illinois, HWP 2008
Margaret Medellin, Utilities Portfolio Manager at City of Aspen, Colorado, HWP 2009
Rebecca Partington, Chief of the Civil Division, Office of the Attorney General, Rhode Island, HWP 2015
Carol Richter, Director, Office of the Deputy Vice-Chancellor, Queensland University of Technology, Brisbane, Australia, HWP 2013
Nancy Riddle, Chief Financial Officer, WestEd, California, HWP 2002
Anne Scully, President, Storm Trysail Consulting, California, HWP 2005
Joanne Sullivan, Vice President and Director, Government & Community Relations, Federal Home Loan Bank of Boston, HWP 2005