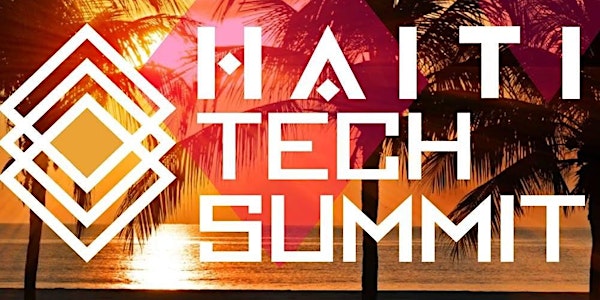 2019 HAITI TECH SUMMIT
When and where
Location
Decameron Beach Resort Cotes des Arcadins Haiti
Description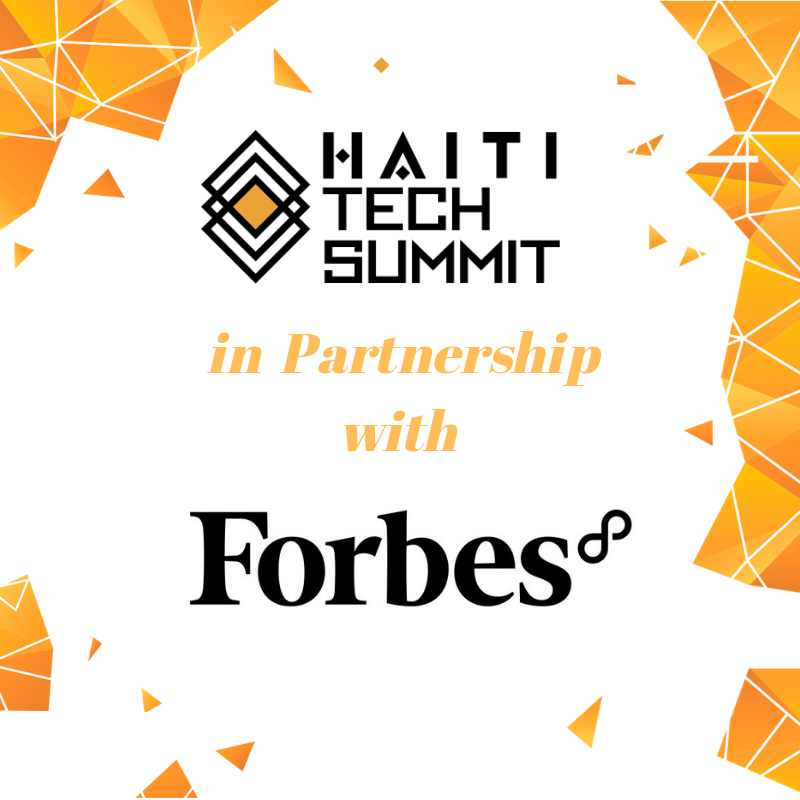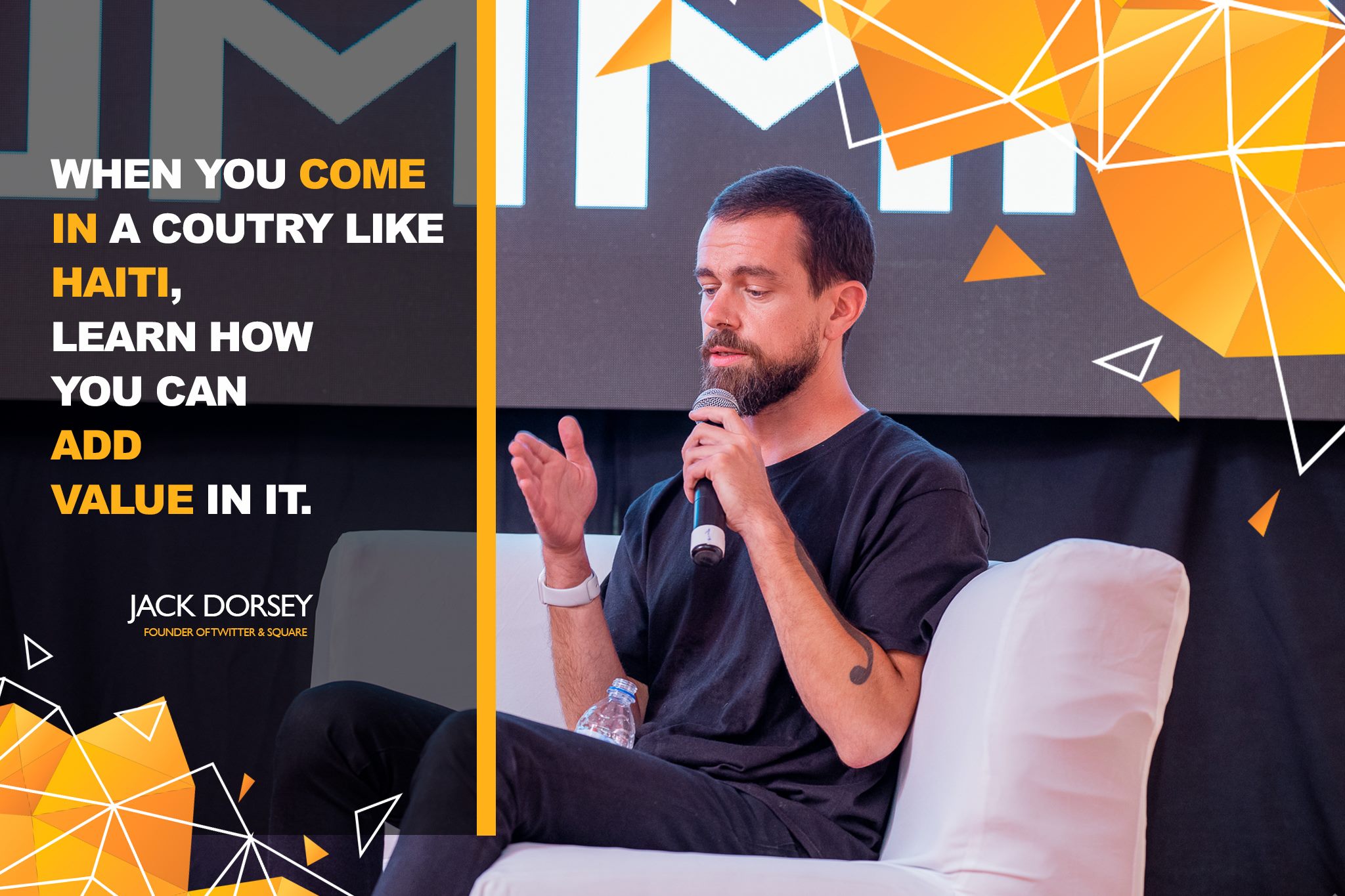 Haiti Tech Summit, founded by Forbes 30 Under 30 Entrepreneur, Mother and Wife, Christine Souffrant Ntim, is a 13- year initiative of the Global Startup Ecosystem (GSE) which brings together hundreds of entrepreneurs, investors, digital marketers and creatives together to Haiti to accelerate tech, innovation and economic development within the country.
In 2017, Haiti hosted 100 global speakers from around the world. The summit generated over 83 million social media impressions, 87 global press mentions and welcomed over 500 guests for 2 historic days tuning it into the region's largest tech gathering and Haiti's first major international global summit. The summit returned in 2018 with 100 global speakers and 750 guests featuring the headline keynote - Jack Dorsey the founder of Twitter and Square.
Hosting an event of this magnitude in Haiti not only aims to revitalize economic activity in the country but to also provide a new narrative for Haiti and emerging markets. "Haiti is not open for business. Haiti is open for disruption" Christine Ntim (Founder).
---
2019 Agenda
June 20, 2019 :
12pm-6pm International and local arrivals + registration

6pm-9pm Welcome Ceremony

9pm- Until After Party
June 21, 2019 :
9am-6pm Main Stage Event + Partnership Roundtables + Workshops

6-9pm VIP dinner for VIP, Speakers, Sponsors,Celebrities + Government Officials ONLY

9pm- Until After Party
June 22, 2019 :
9am-6pm Main Stage Event + Partnership Roundtables + Workshops

6pm-9pm Splash Networking Event

9pm - Until Beach Party
June 23, 2019
Shuttles to airport in PAP/ FLy out
Ecosystem Tour + Impact Day Activities (for those who chose to stay in PAP for an additional night at their own expense)
---
Top 5 Reasons to attend Haiti Tech Summit this year?
Access- No other event in Haiti has the same number of international corporations as does Haiti Tech Summit. We bring founders, VPs and C- level suite executives from Google, Facebook, SAP, Dell, Mastercard, Amazon Web Services etc. Make business relationships here in Haiti. You don't need to travel to New York, Silicon Valley or London to meet these decision makers.

Exposure- With over 80+ press mentions annually and 32 media partners for 2019- you can get opportunities to get featured at the summit.

Training- We have over 100 speakers for panel talks and 20 major workshops that train on business, marketing, funding and more.

Networking- This is the ultimate networking event of the year with all the major local and international brands. From the expo fair, the parties to the dinner ceremonies- you will have plenty of time to make powerful relationships for life.

Inspiration- The US Embassy of Port Au Prince returns with major support this year - sponsoring 25 entrepreneurs from Haiti and the entire Caribbean. Come meet future pioneers who will inspire you with their business solutions for Haiti.
Finally- because Haiti deserves better!
The world re-connects with Haiti each year via the Haiti Tech Summit to find partners, influencers and disruptors. We hope to be that platform of opportunity for you and Haiti! #BelieveinHaiti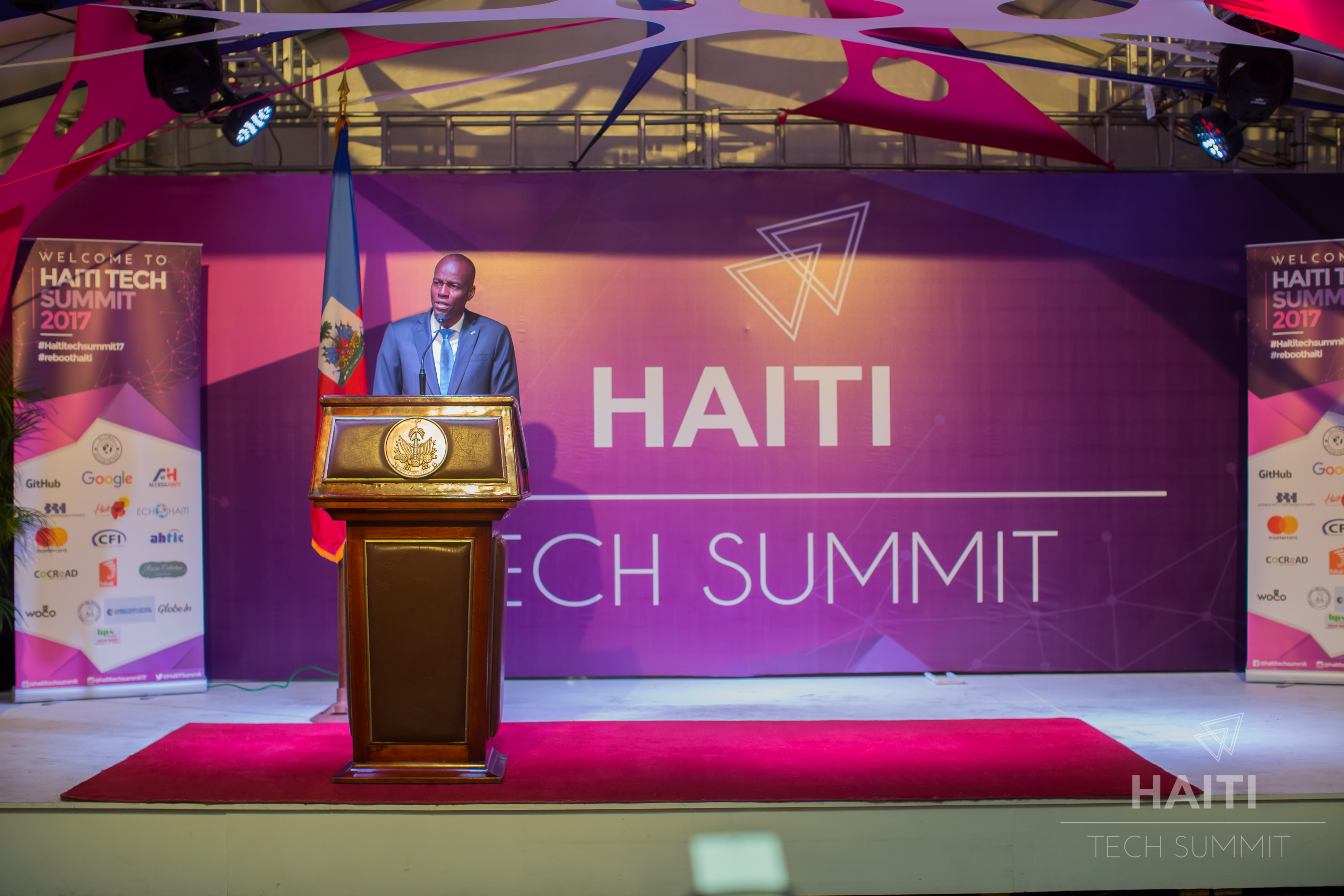 ---
TICKET DETAILS
Standard Access

Event Access ONLY from 9am-5pm
Lunch each day
This ticket DOES NOT include Hotel Stay, Beach Resort Activities, Dinners or Beach Party access
Bronze All Access

Event Access
3 meals per day
3 nights stay in SHARED ROOM at the Decameron Beach Resort with roommate
Group airport transfer to and from the Decameron Beach Resort for international guests
Access to Beach Resort Activities, Dinners and Beach Party
General seating
Gold All Access

Event Access
3 meals per day
3 nights stay in PRIVATE ROOM at the Decameron Beach Resort
Group airport transfer to and from the Decameron Beach Resort for international guests
Access to Beach Resort Activities, Dinners and Beach Party
General seating
Platinum VIP All Access
Event Access
3 meals per day
3 nights stay in PRIVATE ROOM at the Decameron Beach Resort (rooms are standard for all guests)
Group airport transfer to and from the Decameron Beach Resort for international guests
Access to Beach Resort Activities, Dinners and Beach Party
Front-row seating and access to VIP Investor dinner
Exhibitor Package

Event Access (includes 2 tickets)
3 meals per day (for each exhibitor guest)
3 nights stay in SHARED ROOM at the Decameron Beach Resort
Group airport transfer to and from the Decameron Beach Resort for international guests
Access to Beach Resort Activities, Dinners and Beach Party
Includes access to VIP Investor dinner
Haiti Tech Summit Team | info@haititechsummit.com
*Please note that there are absolutely no refunds. As a 13 year initiative, we do offer the opportunity to transfer your ticket to the next year if needed.
For more information go to www.haititechsummit.com/faq. Please also view Youtube Information Session here: https://www.youtube.com/watch?v=uDcDaOhhutg
---
3RD ANNUAL SUMMIT IN PARTNERSHIP WITH FORBES ANNOUNCES AGENDA- ROADMAP TO 2030
May 15, 2019 [Port au Prince, Haiti] Haiti Tech Summit is pleased to announce that the 3rd Annual Summit will be in partnership with Forbes8 and the US Embassy of Haiti. The agenda will be the first crowdsourced agenda – Roadmap to 2030– bringing decision makers together to transform Haiti's 10 major industry sectors via technology. Discussions and outcomes of round table meetings will be officially published to Haiti Tech Summit's global media partners of over 46 magazines, newspapers and social networks. Over 100 global speakers will convene to launch partnerships to accelerate: Tourism, Education, Agriculture, Finance, Media, Energy, Health, Fashion, Real Estate, and Music. RSVP to join us on June 20-22, 2019.
Deemed the "Davos of the Caribbean" Haiti Tech Summit brings together thousands of entrepreneurs, investors, pioneers, and creatives under one roof to address humanity's greatest challenges via technology. With previous headliners such as Jack Dorsey (Founder of Twitter), Ben Horowitz (Investor Twitter, Facebook), Tim Draper (Investor in Skype, Hotmail etc), the President of Haiti Jovenel Moise, Vicky Jeudy from Netflix Orange is the New Black, and VP+CEOs from Google, Facebook, Airbnb, Uber and more- the summit will return with 3 major developments for 2019:
Haiti Tech Summit will partner with Forbes Magazine to live stream the event and feature stories of speakers and attendees on their website and community app.

Haiti Tech Summit will feature major experts and speakers to train, discuss and partner with local stakeholders on projects covering 10+ major industry sectors: Tourism, Education, Agriculture, Finance, Media, Energy, Health, Fashion, Real Estate, and Music. Round table meetings will be facilitated with stand by moderators to issue policy reports post the summit. The goal is to position Haiti to leverage the 4th Industrial Revolution and accelerate Haiti into the Digital Age. Thus partnerships with the 2030 Sustainable Development Goals will be in effect.

Haiti Tech Summit will offer the largest series of training workshops on personal branding, business financing, and digital marketing in Haiti's history. Workshop sessions will cover 3 tracks:
Individual track- Learn how to build and monetize your personal brand in the digital age.

Business track- Learn how to build startups that leverage future technologies or learn how to optimize your current business with the best digital tools available today.

Ecosystem track- Learn how to start and scale a movement. From training on how to launch an incubator to how to launch tech events- we reveal the top strategies influencers can leverage to scale Haiti's tech ecosystem.
In addition to galvanizing stakeholders at the largest summit in the country, Haiti Tech Summit has grown its ambassador network to facilitate travelers coming to Haiti despite the annual travel warning placed on the country. With sponsorships from the US Embassy flying in 25 entrepreneurs from across the Caribbean, to features with airline partners to support the 1000 participants flying into Haiti for the event- Haiti Tech Summit aims to break its previous record of 123 million social media views to #ChangetheNarrative about #Haiti to revitalize the tourism sector.
****Please note the adjusted speaker line up and new additions for this year. 100 Speakers in total for 2019. See Current Agenda now.
Chief Marketing Officer @ Forbes Magazine- Tom Davis
Kim Hangoc, Vice President of Digital Partnerships for the Latin American and Caribbean Region @ Mastercard
Chief Digital Officer @ Essence Magazine - Darlene Jean
Ambassador Michele Sison U.S. Ambassador to Haiti
Jon Piechowski Deputy Assistant Secretary overseeing public diplomacy in the Bureau of Western Hemisphere Affairs
Kofi Tonto- Head of Information & Public Affairs - Embassy of Ghana in USA
Carlos Sanvee- Secretary General of YMCA - From Geneva, Switzerland
Tessa Jacques- Director at the Center for Financial Investment
Cassandre Charles Vice President, Brand Marketing @ Essence Magazine
Ann Rosenberg Senior Vice President, Global Head of SAP Next-Gen
Tyrona (Ty) Heath Global Lead for Agency and Partner Education at LinkedIn
Daraiha Greene- Google: Global Head of Strategic Partnerships, Community Inclusion
Minister Bocchit Edmond from Ministry of Foreign Affairs
Leigh-Ann A. Buchanan Founding Executive Director of Venture Café Miami.
Cody Simms - Managing Director at Tech Stars
Jana Landon, HBCU Outreach Specialist at Google, Inc
Phil Delvecchio - Head of Ambassador Programs at Global Startup Ecosystem
Derk Van Lomwel- Corporate Partnerships Manager at Plug and Play Tech Center
Sandra Moerch- Chief Content & Purpose Director at SAP Next Gen
Brandon Greer- Head of Hubspot Ventures
DJ Forza Director of Partnerships and Collaborations @ YMCA
Vania Andre Editor in chief of the Haitian Times
Einstein Ntim Partner at Africa Future Fund
Christine Coupet Founder & CEO of Dagmar Marketing Agency
Guy François Jr Ministre Délégué auprès du Premier Ministre en charge de la Citoyenneté et du Patriotisme
Ryan Foland Founder of InfluenceTree/ Entrepreneur Magazine as a Top Personal Branding Expert
Marc Alain Boucicault Founder of Banj
Carel Pedre- Haitian radio and TV personality, journalist, social media specialist; Host of Haiti's number one morning show on Radio One, Chokarella
Alice Bonhomme-Biais - Former Team Lead @ Google
Jeanne L. Clark - Public Affairs Officer @ US Embassy of Port Au Prince
Gregory Constantine- Forbes' 30 under 30/ Co-Founder and CEO of Air Co.
Bie Aweh- Co-Founder of HBCUtoStartup
Sandra Florvella Founder Haitian-Businesses.com
Daphnee Charles- Startup Grind Haiti Director/ Co-founder of COCREAD
Alexandria Lafci is the Head of Operations and Co-Founder of New Story
Hollie Haggans Global Partnerships Manager @ DigitalOcean
Gianluca Galletto Partner at Global Futures Group / Smart City
Skyler Badenoch Chief Executive Officer of Hope for Haiti
Florcy Morisset Manager, Integrated Software Portfolio@ Dell
DJ Forza Director of Partnerships and Collaborations for the World Alliance of YMCAs
Edwin C. Aristor Relationship Manager with Linkedin
Keith Bernard Programmatic Sales Lead at LinkedIn
Omoju Miller - Machine Learning Engineer with Github
Sandy Sophia Laborde- Haitian-American Talk Show Host, Afro TV of Comcast NBC Universal
Christina Glancy- Head of Global Community at Global Startup Ecosystem
Wendell Theodore Media Influencer- Host at Le Point TV
Frantz Duval Media Influencer Ticket Magazine/Le Nouveliste
Clifford Reginald Nau-Director of the Economic Promotion Division at the Ministry of Economy and Finance and Economic Adviser of the Presidency of the Republic of Haiti
Maryse Penette Kedar Founder and President Progress and Development Foundation (PRODEV)
Max Larson Henry - CEO TRANSVERSAL/ TRANSVERSAL LLC
Stanley Goldman- Developer with Github
Shayla Mars Marketing Consultant
Rose Desaugust Impact Entrepreneur | Agile Coach | Promoting Conscious Capitalism
Michael Akindele Innovation and Experience Planning
Sabine Bernard, MPH Senior Associate, Malaria United Nations Foundation
Dave Fils-Aime, Haiti Project manager, Clean cookstoves
Paul Auxilla Senior consultant, United Nations Foundation
Christian Roy Fombrun Commercial Director @ Decameron
Hajj Flemings, Founder and CEO of Brand Camp University + Rebrand Cities
Jhonson Napoleon President/CEO Azure University, Haiti/ Media personality
Danielle Saint-Lôt Haiti Women's Foundation Ambassador at large for Women's Empowerment, Republic of Haiti
Patrice Bayard- Access Haiti
Rock Andre- Founder of CEDEL HAITI (Center d'Entrepreneurship et de Leadership en Haiti)
Stephane Dubois- Founder at Ed Tech Summit
Fabiola Coupet (Bibi)TV & Radio Personality Bibinetalkole
More on the website.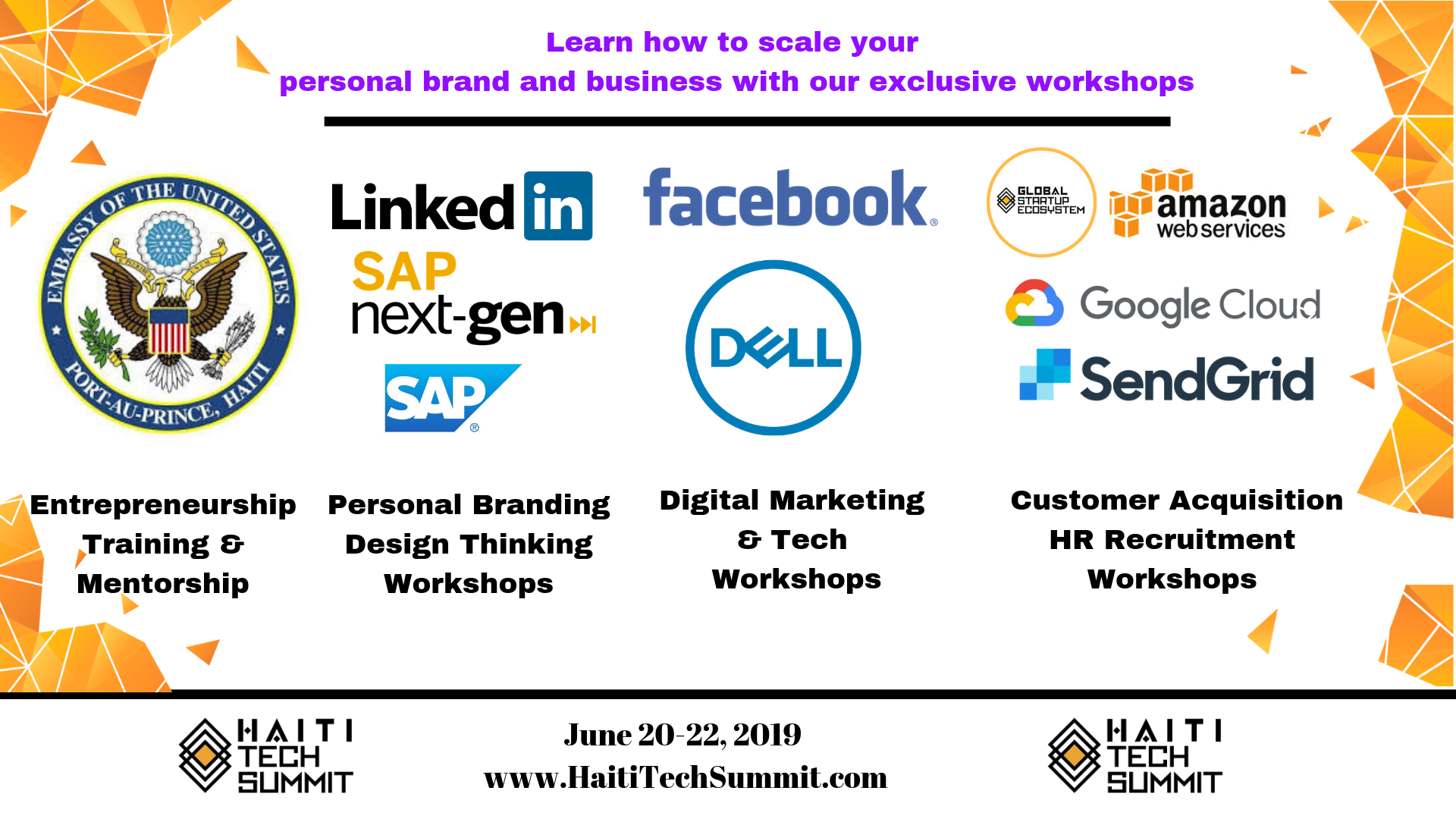 20+ Workshops Announced
Want to build your personal brand?
Trying to scale your business?
Struggling to recruit, hire and train employees?
Haiti Tech Summit is pleased to announce a full 6 hour series of workshop trainings for the 3rd annual summit. Valued at over $13,000 in training materials- you won't want to miss the opportunity to learn from experts flying in from Linkedin, Facebook, Dell, SAP, GSE and more! Our partners want to see you succeed. Come learn from the best!