Description
We are excited to announce our next Serenity Retreat will take place on the Outer Banks of North Carolina back at the Ramada Plaza Nags Head. Deo Volente Gulls Serenity Retreats have been held on the Outer Banks of North Carolina since 1966. Over the years, thousands of women have attended our retreats, experiencing the joy and fellowship we have been privileged to enjoy.
Theme: Roads to Recovery - Experience is our Best Teacher
Director: Bonnie Corcoran, C.A.C

I picked up my chip in March of 1974 and attended my first Gull retreat in April 1974! One month old. After 6 years of sobriety, I left the business world and began working as a substance abuse counselor in New Bern, NC in 1980. I subsequently worked as a family counselor at Camp Lejeune, went on to work inpatient in Durham and ended up at Pinehurst Treatment Center as the director of counseling and eventually program director from 1986-1991. I then began a private practice in Pinehurst where I remained happily until I retired. Yes, I had two sponsors, Marge Henderson and Rosemary Dunford (Co-Founder) and am happy to give them much of the credit for everything I learned. I was the first chairman of the board of Deo Volente which was formed primarily to obtain and care for a retreat house. The Gulls retreat, in and of itself was a huge success where people from Carolina, Virginia, DC and Maryland came together usually twice a year to compare spiritual growth, and renew our spirits. My hope is that we can return to focus on fellowship and spirituality. Women today are short on time, money and quiet peaceful places to retreat. I see an old fashioned Gull retreat as just the answer!
---
Hotel: Ramada Plaza Nags Head (252-564-7222) - Register by March 6, 2019 to get rate discounts.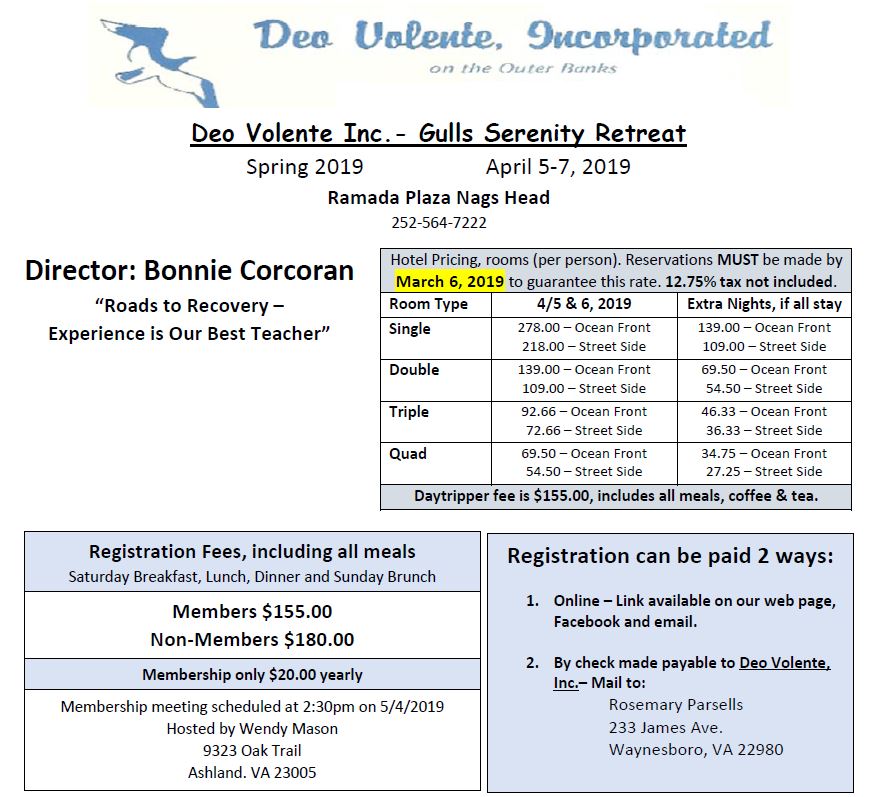 ---
A personal note from the Board of Directors for Deo Volente:
Dear Gullfriends,
I hope this letter finds you well. On behalf of the Board of Directors of Deo Volente I want to take this opportunity to fill you in on what has been happening behind the scenes as of late, and where we envision DV going in the future. Before we get to any of that you need to know that without YOU there is no DV.
If you have been involved with DV and the retreats at any point in its amazing history you remember the days of fighting for seats at the hotel, anxiously waiting for the registration to show up in the mailbox, and the overwhelming excitement of spending a weekend with some pretty special women. Who couldn't wait to get to Nags Head? All of the details would work themselves out and we'd arrive with a carton of cigarettes ready to hang out with great friends in the smoking room until we couldn't breathe from laughing so hard! Not from the cigarettes of course.
While those days are not that far behind us the retreats have had declining attendance over the past several years for a variety of reasons. Historically these semi-annual retreats have been our largest revenue source for the organization and have helped sustain annual operations which included the upkeep on the retreat house in Colington Harbor. With the recent decline in attendance combined with a decrease in membership DV became strapped financially. Previous discussions over the years by members included selling the retreat house, but letting go was hard. It's still hard as we all have some wonderful memories in that house! The cost to repair and maintain the home has become overwhelming. The flood insurance alone was almost $3,000 per year. In the fall of 2018 the house in Colington Harbor was put on the market in an effort to stabilize DV for the long-term, but not before the board reached out to all current members (approx. 50) to get their votes. The closing took place on Monday January 7, 2019 and the retreat house now has a new owner that can give the home the structural attention it needs. Several members went down to the house prior to closing to pack up the library as well as other special items such as pictures to keep until a decision is made on whether to purchase another property. However a decision won't happen anytime soon as we need to shift our focus for now to the retreats.
I want to remind everyone that while the retreat house was a very special place for a lot of us it is not the core of DV. You are! The mission is! The steps, principles and traditions are! Helping the woman coming to her first retreat after relapsing for the 5th time, or the woman who made the decision to leave her alcoholic spouse IS the core of DV. The heart and soul of the Gulls rests in helping another woman impacted by the disease directly, or indirectly, find the support she needs for a lifetime. That is why I showed up to my first retreat, and probably why a lot of you showed up too. You needed us and we needed you! We still need you!
We want the spring retreat the weekend of April 5-7, 2019 to be the start of the next chapter for DV. We want to make every attempt to keep DV around for the next generation and to reaffirm our commitment of being there for each other. I found this quote by Abraham Maslow that seems appropriate – In any given moment we have two options: to step forward into growth or step back into safety. How many of us in our recovery journey made the decision to take a leap of faith? Took a risk? Made a change? Decided on growth over safety? Well that is where DV currently sits. We can't keep doing the same thing over expecting different results. We all know what that means. We need to change the packaging while keeping the true gift on the inside the same.
Our world is very different from the one in June 1974 when Deo Volente, Inc. became official. What has not changed is our purpose:
The purpose of DEO VOLENTE, INC. is to be a servant organization, bringing into being a fellowship of concern among women and their families involved in an anonymous program of education in recovery from the disease of alcoholism, experience together the universal love of God, providing an anchor in acceptance of a spiritual program to be shared as the result of healing experiences, and the desire to grow in serenity.
We would love for you to join us in April for our spring retreat. Whether you've been coming all along or whether you've stepped away for while we want to see you. The fledglings need to see you. Think for a moment about some of the people you have met at those retreats and all the times you have shared. The times you cried at the burning bowl ceremony because you finally were able to let something go. Those moments we can have again. If you haven't been to a retreat in a while please consider giving it some prayerful thought. The rooms of our respective programs need us to keep coming back for the newcomer. It's the same with DV. Someone was there when you showed up and for me those women are still a very important part of my life. Come back home and join us.
With love and blessings,
Margaret Phillips
Spring Retreat Chair / Co-Chair:
Mary Ann Lambert-Quick / Tina Motley
2018-2019 Board of Directors
Wendy Mason, Chair
Margaret Phillips, Co-Chair

Rosemary Parsells, Treasurer
Chanda Bass, Secretary
Pat Smith, Co-Secretary
Marilyn Hundley, At Large
Marie "Chap" Chappell, At Large

Board Advisors
Jane Anderson
Marga Fowler
Patti Higginbottom
Claire Schoenfeld
Joyce Stein