Description
On May 18, 2019, The Groveland Trail Heads in partnership with the Stanislaus National Forest, Yosemite Lakes RV Resort and Campground, and the Adventure Sports Journal present the 2019 Groveland Grind, a Yosemite area Adventure Ride! This is a multi terrain (pavement, broken pavement, gravel, small rocks and dirt) adventure ride that takes riders through some of the most beautiful and historic sections of the majestic Stanislaus National Forest. All three routes are truly special as they hug the border of Yosemite National Park! With some sections on the original road and railroad to Yosemite!
The town of Groveland is a short 2.5 hours away from the Bay Area and Sacramento, and offers an abundance of activities for both riders and non-riders alike.
MISSION
The GROVELAND TRAIL HEADS mountain bicycling club, a non-profit educational association whose mission is to create, enhance and preserve great trail experiences has been partnering with the Stanislaus National Forest, Groveland Ranger District to develop a public use, mountain biking specific trail system in Groveland, CA. The proceeds from this event support this mission as the project has recently been approved and we are able to start the process of building mountain bike trails!
2019 PARTNERS AND SPONSORS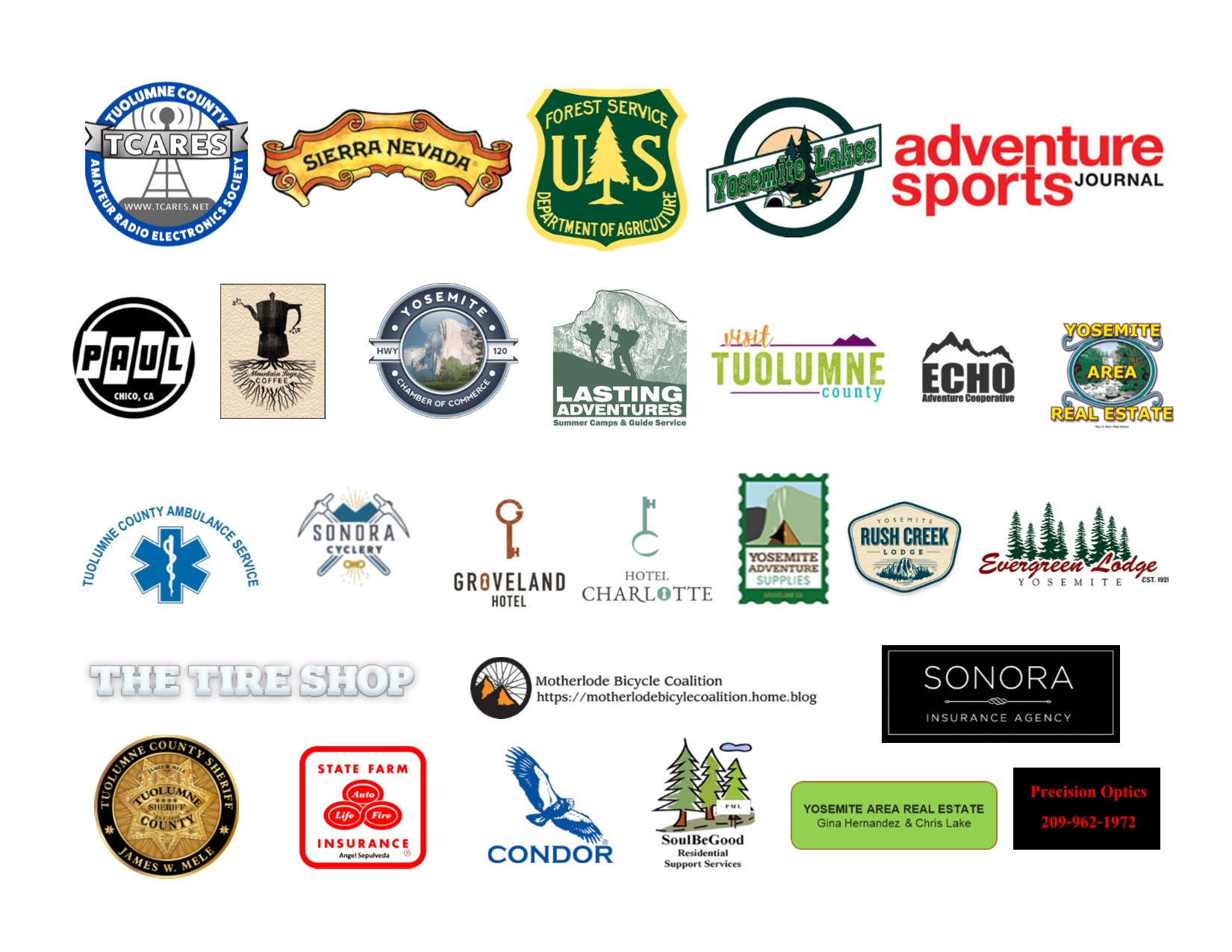 There will be 2 aid stations with a first aid volunteer at each aid station, 1 main medical tent, route marshals and motorized transportation if needed.
NOTE: ROUTES ARE NOT OPEN IN THEIR ENTIRETY AND RIDERS WILL BE SUBJECT TO CITATION AND EVENT WILL BE CANCELLED IF SIGNAGE IS IGNORED PRIOR TO EVENT. There are 2 sections (detailed in red) that require permits and written permission for access. We only have the permits and written permission for the day of the event. Please respect the private land owner's privacy and the Forest Service's permit process by not pre-riding those sections of the the course. Start and Finish are at the same location.
You must be in good physical condition for all routes.
The short route is 21.5 miles with approximately 2,100 feet of climbing. The red lined Forest Service road may not be ridden before the day of the event.

The medium route is 30 miles with approximately 3,300 feet of climbing. The red lined Forest Service road and private property road through Hazel Green Ranch may not be ridden before the day of the event.

*18 miles of the original long route has been impacted by a Forest Closure Order due to the Ferguson Fire last year. We have worked with the Forest Service on a reroute of the closed section. The reroute is awesome! This new section added takes you to Pilot Peak Spring then past Pilot Peak, then down into Big Creek Basin and then climb out! We're super excited about this new section we added! We apologize for the timing of this, it is out of our control but not a bad thing ;) The red lined Forest Service road and Private Property road through Hazel Green Ranch may not be ridden before the day of the event. With the new section the long route is 40 miles with approximately 5,000 ft of climbing

The medium and long routes have a special surprise section for riders as well as going through the beautiful Hazel Green Ranch private property which borders Yosemite National Park! This area is not impact by the Forest Closure Order :)

For more detailed information regarding route elevation, please visit our event site at: http://grovelandtrailheads.org/groveland-grind-2019/
Until we get more details for elevation gained on the new long route section we added you may use the medium route information for at least 30 miles of the long route. Thanks!
A few pictures from the routes-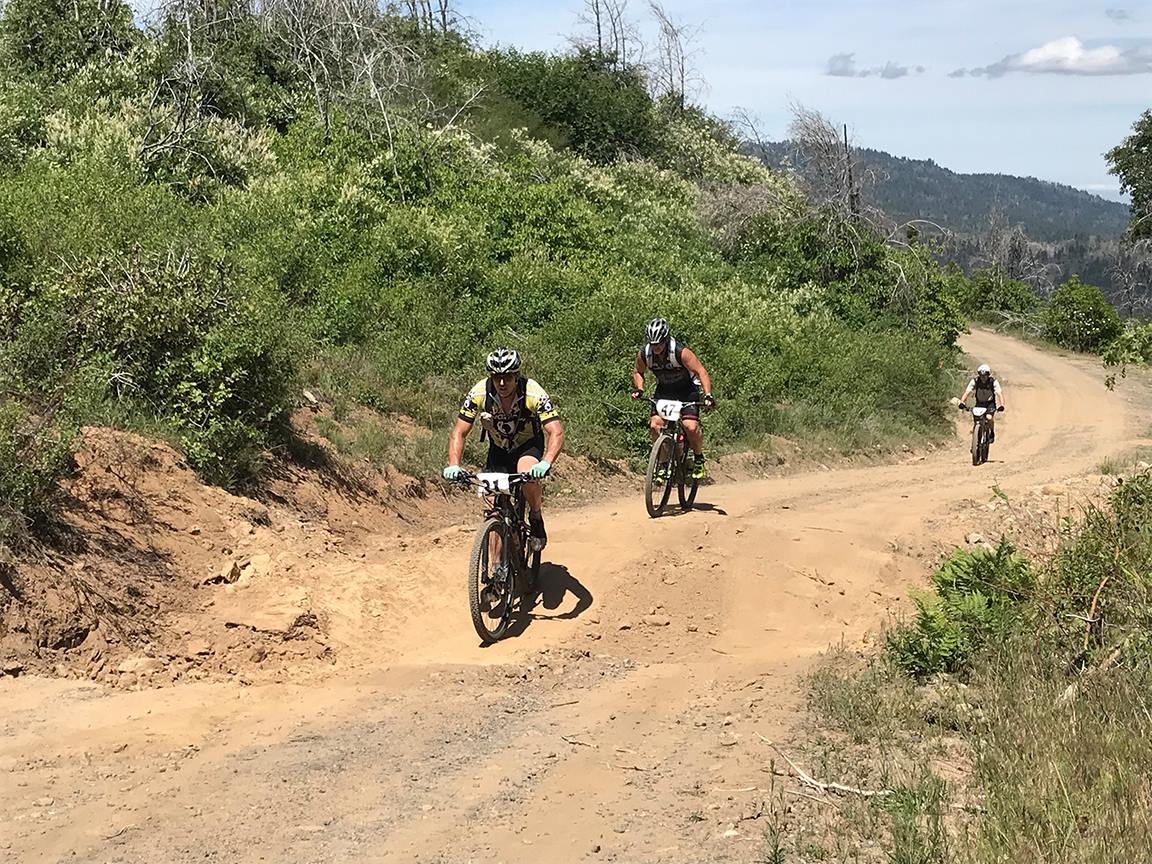 CATEGORIES
Women - Beginner, Sport and Expert/Pro

Men - Beginner, Sport and Expert/Pro


TIMING AND AWARDS
This is a timed ride with awards for 1st, 2nd and 3rd places in each category. (Note, there is NO cash purse for this event.)
TESTIMONIALS FROM THE 2018 GROVELAND GRIND
"Super ride yesterday! Loved having the Gatorades at the rest stops!!!! Plenty of rest stops! Planning on next year already. We went up the easterly route to 5 Corners and down the westerly, dirt road from 5 Corners. Really like that direction as the downhill on the dirt road is the best!!!!!! The view from Trumbell Lookout was beautiful. We have been meaning to get out there for years....thanks to you guys.....we finally dragged our butts out there :) Thank you for a wonderful day, and thank you for planning such perfect weather!"
"Epic ride! Beautiful scenery. Couldn't get enough pictures!"

"The fun of the whole ride was the unknown! You explained everything perfectly. This type of riding took me out of my comfort zone and I am so glad I did it. Thank you for introducing me to a whole new type of riding."
"By far, the best grass-roots event I've been to in years!"
"Thanks for putting on a great event. I'd definitely do it again next year."
FEE
$85 for all attendees. Includes: Post ride meal, non alcoholic beverages, snacks and a raffle ticket. Registration is transferable. T shirts will be ordered April 15th so we'll have them before the event.

Registration packet pick up available day before and morning of event at Yosemite Lakes RV Resort and Campgrounds check in- 31191 Hardin Flat Rd., Groveland, CA 95321

Start time: 9am
Ride check in starts: 6:30am


ADDITIONAL INFO
A post ride party will top off the day, complete with food, beverages (yes, beer!), a few vendor booths and a super sweet raffle! Onsite accommodations at Yosemite Lakes RV Resorts and Campground will include 50 campsites(2 tent capacity, one vehicle per site), 20 RV spots, and 10 Yurts available at a 20% discount! Yosemite Lakes RV Resort and Campground is part of a large corporation- Encore RV Resorts and Thousand Trails Campgrounds, they have a national call center for reservations. In order to receive the 20% discount call 877-570-2267 and mention Groveland Grind.
Also, you'll be only 5 miles from the entrance to Yosemite National Park with YARTS, public transportation to Yosemite Valley on site at Yosemite Lakes RV Resort and Campgrounds! Think about making this a Friday night through Sunday adventure… so much natural beauty surrounds this area. The Stanislaus National Forest and Yosemite National Park are our backyard.
Alternate Lodging
If you prefer to stay elsewhere, click here for links to lodging close to the event. Also, check out Stanislaus National Forest, Groveland Ranger District campsites here.
We recommend you make your accommodations/reservations ASAP because May is the busy season and places to stay fill up fast!
Refunds - Refund requests will be considered on a case by case basis prior to April 15, 2019.
Questions regarding the Groveland Grind email- dwight@grovelandtrailheads.org