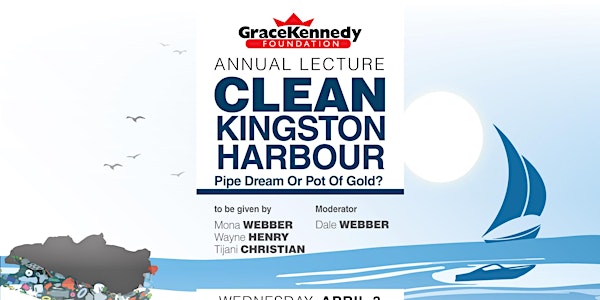 2019 GraceKennedy Foundation Annual Lecture
2019 GraceKennedy Foundation Annual Lecture: Clean Kingston- Pipe Dream or Pot of Gold?
When and where
Location
The Jamaica Pegasus Hotel 81 Knutsford Boulevard Kingston 5, Kingston 876 Jamaica
About this event
As Jamaica moves towards achieving developed country status within the context of Vision 2030 Jamaica, a concerted effort is required from government, the private sector and citizens to clean up the Kingston Harbour. A vibrant economy within the Downtown area can play a key role in propelling sustainable growth for the economy.
The lecture is intended to inform and stimulate public discussion on this critical topic. Each speaker has been carefully selected to address three critical areas: the environment, the economy, and human capital.
The lecture is a free public lecture. If you cannot make it in person you can stream live on our YouTube channel at www.youtube.com/watch?v=9jC3z8mJcuw