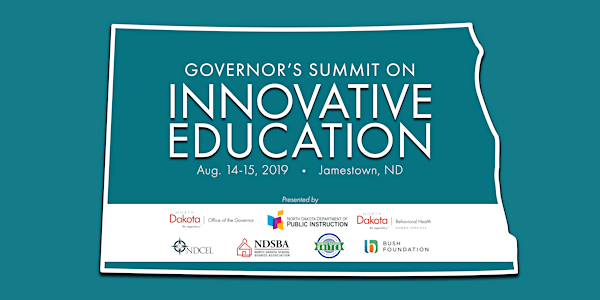 2019 Governor's Summit on Innovative Education
When and where
Location
Jamestown High School 1509 10th Street NE Jamestown, ND 58401
Description
Join us for the 2019 Governor's Summit on Innovative Education August 14-15 at Jamestown High School in Jamestown, ND. We are excited to listen, learn and grow along with teachers, students, administrators and community leaders as we discuss the importance of innovation, behavioral health in an educational setting and the future of North Dakota's schools.
We have strong schools in North Dakota, but it's clear that we can better support our educators and adapt our educational system to meet the opportunities and demands of the 21st century. Help us shape educational innovation in North Dakota and empower those wanting to creatively, meaningfully and effectively engage our students. Our state, economy and future depends on it.
Travel and lodging scholarships are available at the state reimbursement rate from the Department of Human Services Behavioral Health division. Find out if you are eligible by filling out this short form.
---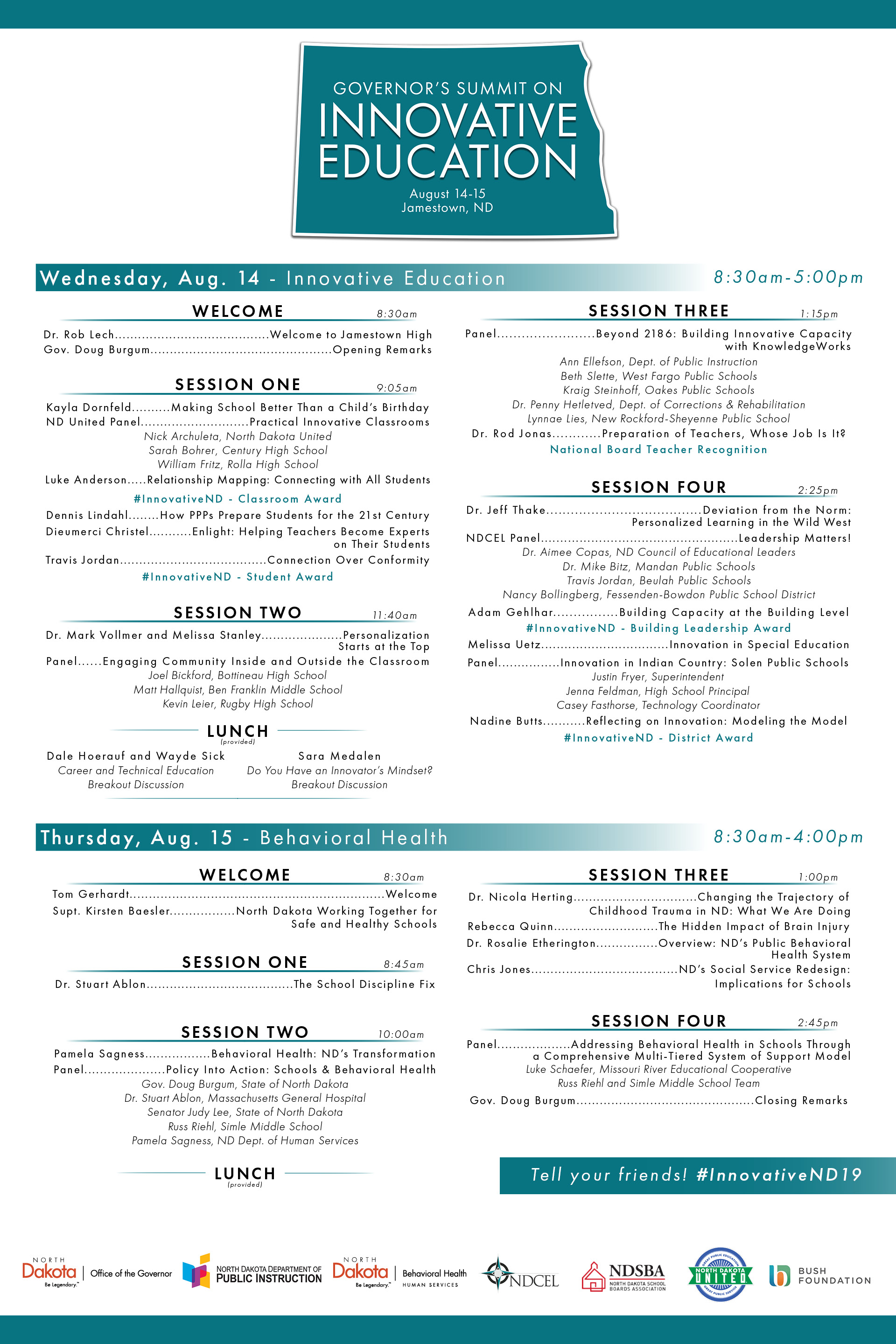 ---
Grateful for the partnership of:
North Dakota Governor's Office
North Dakota Department of Public Instruction
North Dakota Department of Human Services - Behavioral Health Division
North Dakota Council of Educational Leaders
North Dakota School Boards Association
North Dakota United
Powered by the Bush Foundation
---
Featured Presenters



Dieumerci Christel (Chris)

North Dakota State University Entrepreneur & Student

Dr. Stuart Ablon

Massachusetts General Hospital Director of Think:Kids

Luke Anderson

William S. Gussner Elementary Principal

Nick Archuleta

North Dakota United President

Joel Bickford

Bottineau High School Principal

Nadine Butts

Legacy High School Assistant Principal

Dr. Aimee Copas

ND Council of Educational Leaders Executive Director

Kayla Dornfeld

2019 North Dakota Teacher of the Year

Ann Ellefson

ND Dept. of Public Instruction Director of Academic Support

Dr. Rosalie Etherington

ND State Hospital Superintendent

Casey Fasthorse

Solen Public School District Technology Coordinator

Jenna Feldman

Solen High School Principal

Justin Fryer

Solen Public School District Superintendent

Adam Gehlhar

Jamestown High School Principal

Tom Gerhardt

North Dakota United Director of Public Affairs

Dr. Nicola Herting

Red River Children's Advocacy Center Mental Health Director

Dr. Penny Hetletved

ND Dept. of Corrections & Rehabilitation Director of Education, Staff Development & Training, & Core Correctional Practices

Dale Hoerauf

Bismarck Public Schools Director of CTE

Dr. Rod Jonas

University of Mary Dean of the Liffrig School

Chris Jones

ND Dept. of Human Services Executive Director

Travis Jordan

Beulah Public Schools Superintendent

Senator Judy Lee

ND State Senate

Kevin Leier

Rugby High School Social Studies Teacher

Lynnae Lies

New Rockford-Sheyenne Public School Personalized Learning Facilitator

Dennis Lindahl

Dakota Strategic Communications President

Sara Medalen

Sunnyside Elementary School Reading & Math Interventionist

Rebecca Quinn

UND School of Medicine & Health Sciences Center for Rural Health Director

Russ Riehl

Simle Middle School Principal

Pam Sagness

ND Dept. of Human Services Behavioral Health Division Director

Luke Schaefer

Missouri River Educational Cooperative Executive Director

Wayde Sick

ND Dept. of Career & Technical Education State Director

Dr. Beth Slette

West Fargo Public Schools Superintendent

Melissa Stanley

Minot Public Scool District District Professional Learning Coordinator

Kraig Steinhoff

Oakes Public Schools Superintendent

Dr. Jeff Thake

Williston School District #1 Superintendent

Melissa Uetz

West River Student Services Director of Special Education

Dr. Mark Vollmer

Minot Public School District Superintendent