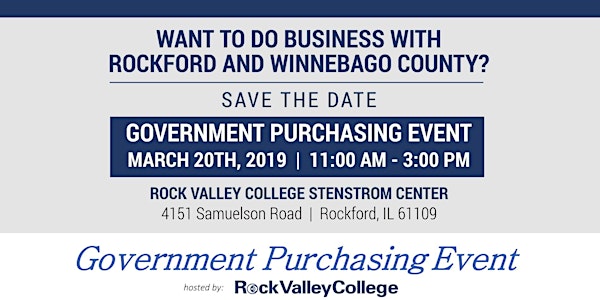 2019 Government Purchasing Event | City of Rockford and Winnebago County Illinois
When and where
Location
Rock Valley College Stenstrom Center for Career Education 4151 Samuelson Road Rockford, IL 61109
Description
***Please note: Online registration/ticketing is closed - you may still attend the event and register at the sign-in table. We will have blank name tags that you can fill out.
***Exhibitor registration is closed - all booths are filled.
Please join us at the Government Purchasing Event on March 20, 2019 from 11AM-3PM

!
The event is open to anyone in the region, in any field, to attend to learn more about purchasing/procurement opportunities in the City of Rockford and Winnebago County, Illinois.
Location:
Rock Valley College Stenstrom Center
Address:
4151 Samuelson Road, Rockford IL 61109
Agenda:
- Distribution of capital spending plans
- Networking sessions with regional agencies/vendors on purchasing/procurement opportunities in the region
- Breakout sessions/panels throughout the day (varied topics)
- FREE to participate! Local gift card raffles for registered attendees!
For more information, please contact Erin Violette: 708-709-3791, eviolette@prairiestate.edu.
List of Confirmed Exhibitors:
City of Rockford Community Development

City of Rockford Public Works

City of Rockford Purchasing Department

Construction Business Development Center

Heels & Hardhats Contracting Corporation

Illinois Central Management Services

Illinois Department of Transportation

Jackson Corporate Law, P. C.

McDonagh Demolition

Mechanical Incorporated

Metra

Project First Rate

Rock Valley College

Rockford Mass Transit District

Rockford Park District

Rockford Public Schools

Rockford Small Business Development Center

Stenstrom Construction

The Blue Book Building & Construction Network

The Illinois State Toll Highway Authority

The Law Office of Sonia D. Coleman, P.C.

United States Environmental Protection Agency, Region 5

US Small Business Administration

V5 Systems

Value Management Resources

William Charles Construction

Winnebago County Highway Department

Winnebago County Housing Authority

Winnebago County Purchasing Department