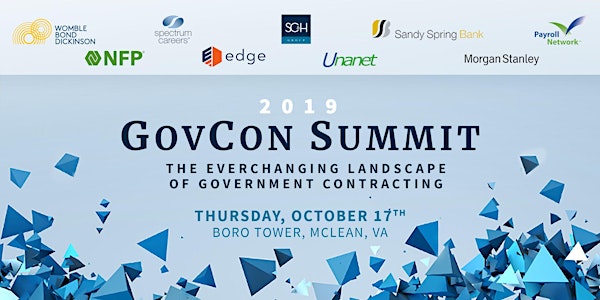 Event Information
Location
Boro Tower
8350 Broad St
McLean, VA 22102
Description
CPE Session SOLD OUT. Tickets for networking still available.
Join SC&H Group, Spectrum Careers, Unanet, Womble Bond Dickinson, Edge, Morgan Stanley, Sandy Spring Bank, NFP, and Payroll Network for the 3rd Annual GovCon Summit to be held Thursday, October 17th at the Boro Tower in McLean.
This annual government contractors only event enables industry leaders and executives to stay plugged in to the constantly evolving and shifting landscape of government contracting and recognize the leading Mid-Atlantic government contractors.
Best Practices in Creating Deal Value in the GovCon M&A Market - Key value drivers and strategies critical to a successful M&A deal amidst the current "frothy" market

Current Trends in Government Contracting - Expected Plan for 2020 Budget/Spending, Contract Consolidation, Executive Branch Initiatives, OTAs, and more
EVENT DETAILS
Thursday, October 17, 2019
2:30PM - 7:00PM
Earn 2 free CPE credits

LOCATION
Boro Tower
8350 Broad Street
McLean, VA 22102

AGENDA
2:30 pm – 3:00 pm: Registration

3:00 pm – 4:00 pm: Session 1 – Best Practices in Creating Deal Value in the GovCon M&A Market

4:00 pm – 5:00 pm: Session 2 – Current Trends in Government Contracting

5:00 pm – 7:00 pm: Cocktail Hour, Networking, & Awards Honoring Leading Government Contracting Companies
Date and time
Location
Boro Tower
8350 Broad St
McLean, VA 22102