Description
Join Yai Vargas, founder of The Latinista and Judge Victoria Pratt at Luminary for a 2019 Goal-Setting Workshop on Feb 19th!
As we enter into a new year, it's important to take some time and reflect on what you'd like to accomplish personally and professionally. We here at The Latinista are invested in your goals and want to help you plan strategically so that you can accomplish as much as possible - It's setting the intention, understanding your SMART goals and following your reasons WHY that really make the difference. You're going to hear all about Judge Victoria's career goals and you'll be absolutely inspired to start your roadmap.

At the end of this workshop, participants will:

1) Have clarity on the results they actually want

2) Understand WHY they need to accomplish that particular goal

3) Know how to map out a strategic plan to accomplish the goal
Venue: Luminary - https://www.luminary-nyc.com/
1204 Broadway - NY, NY (Between 29th/30th Street)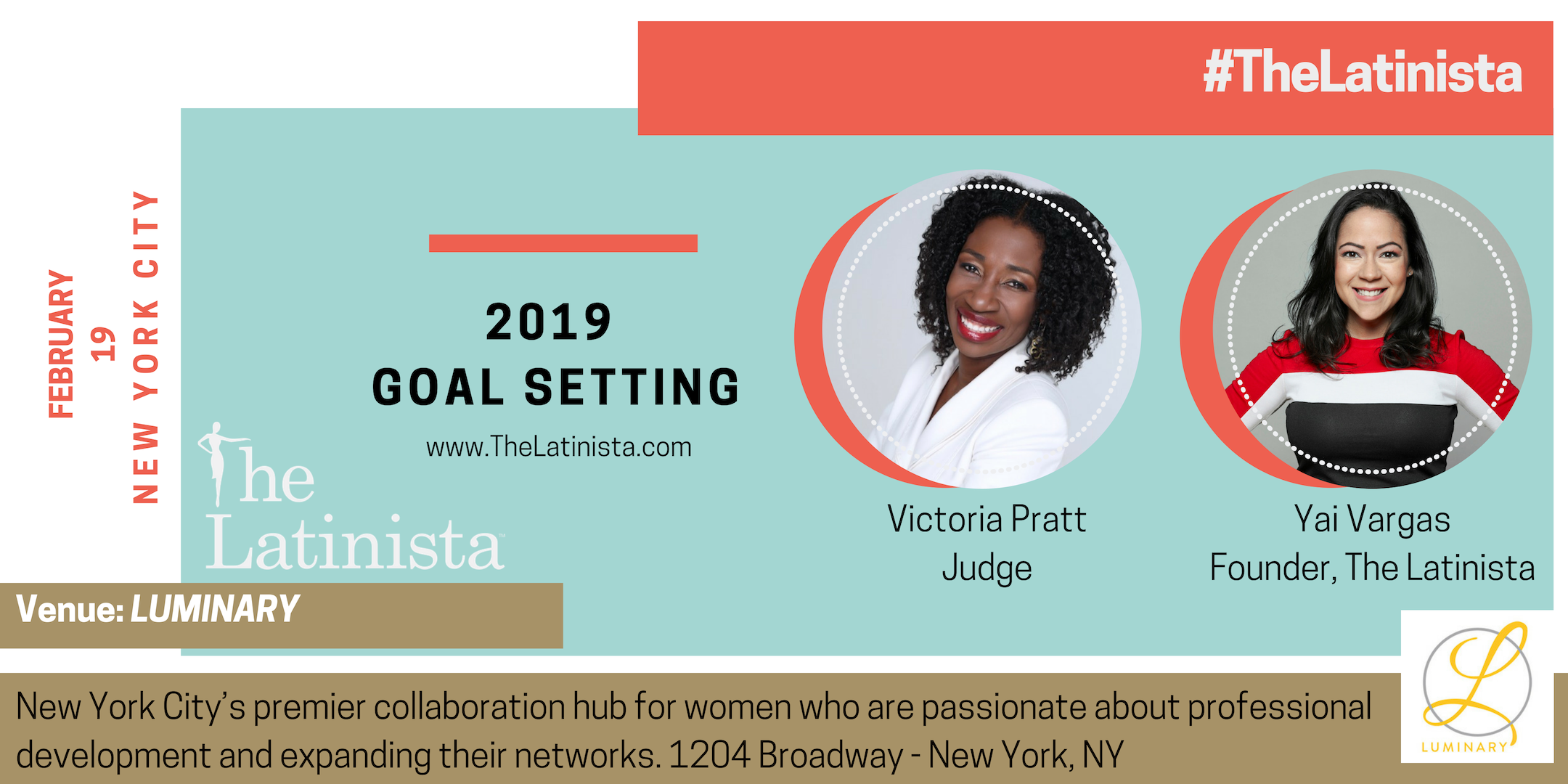 About Judge Victoria Pratt: www.judgevictoriapratt.com/bio
Judge Victoria has gained national and international acclaim for her commitment to reform the criminal justice system. As the Chief Judge, in Newark Municipal Court in Newark, New Jersey, she spent years gaining a deep understanding of how justice could be delivered to individuals in a manner that increased their trust
in the legal system and changed their behavior. While presiding over Newark Community Solutions, the Community Court Program, she used creative problem solving to provide alternatives to jail to low-level offenders.
Judge Pratt was born in the Dominican Republic to Dominican and African American parents.
About The Latinista: www.TheLatinista.com
The Latinista is a national network of women and Latina professionals invested in career and leadership development. With chapters in New York City, Chicago and Miami we host monthly workshops for upskilling and career growth!
Join us! www.TheLatinista.com