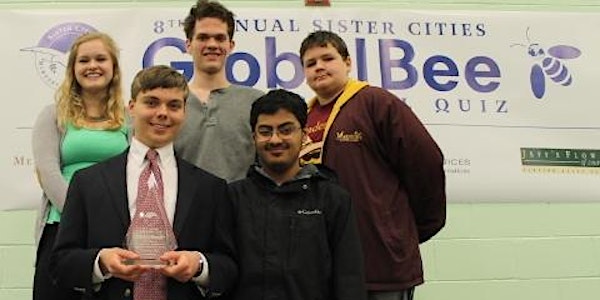 2019 GLOBALBEE INTERNATIONAL QUIZ
When and where
Location
Midtown Community Center 570 McLawhorne Drive Newport News, VA 23601
Description
Register your team to compete at the 11th Annual Global Bee International Quiz! Teams consist of up to five (5) members (4 players and 1 alternate).
$50 per team (up to five players) & Includes lunch

FREE Registration for High School teams (Yes - includes lunch!)

$10 Observer Fee for Non-team members such as friends, parents, teachers (observer fee is required whether or not your supporters eat lunch).

GENERAL RULES OF PLAY
The GlobalBee has a silent quiz format — teams answer on paper, not verbally. The contest consists of 10 "Rounds" of questions broken into two "Sessions" — each round has 10–20 questions. Some questions will be multiple choice, others fill in the blank. The rounds are intended to get harder as the competition progresses.

At the beginning of each Session, teams will be given an envelope containing the questions for that "Session". Only 4 team members can participate during each quiz round. If a fifth player is present, they can only be substituted in at the beginning of the next round. Each team must select a scribe to write down their answers and sign the answer sheet. Each team has 5 minutes to answer the questions given in Session #1 and 7 minutes for question in Session #2. All teams will get the same questions. At the end of Session #I we will grade and reveal the rankings based on the number of correct answers. There is no elimination process. All teams will compete until the end. Lunch will be provided after Session #2 and the final scores tabulated.
The team with the most correct answers will be awarded the "Bill Williams Cup of Global Knowledge". Trophies will also be presented to the top scoring College and High School Teams (these teams could technically win 2 trophies!). If a tie exists, it will be settled by a "Best Of" set of questions until a winner is determined.
Categories
Geography • Social Sciences • Current World Events • Newport News Sister Cities • World History • International Sports • People and Places • Customs • World Religions