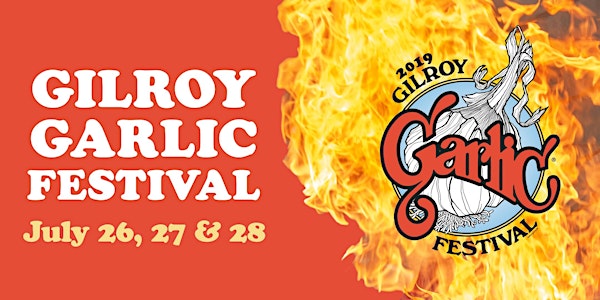 2019 Gilroy Garlic Festival
When and where
Location
Christmas Hill Park 7050 Miller Ave. Gilroy, CA 95020
Description
Come to the 2019 Gilroy Garlic Festival (July 26, 27 and 28) for great garlicky food, live entertainment, cooking competitions, and more!
The heart of the Garlic Festival is Gourmet Alley, the gigantic outdoor kitchen where the world-famous "Pyro Chefs" put on a spectacular flame-up show while preparing garlic-laced calamari and scampi in huge iron skillets. Other Festival favorites include pepper steak sandwiches, pasta con pesto, and fried calamari, as well as Gilroy garlic fries and garlic bread. And you've got to try the only-in-Gilroy garlic ice cream!
Don't miss the special Saturday evening concert with Colbie Caillat featuring Gone West! The concert is included with Festival admission, and the park will stay open until 8pm so you can stay to enjoy the show and all the Festival has to offer.
On Sunday, we're celebrating 15 years of partnering with KRTY Hot Country 95.3 with up-and-coming country stars King Calaway, Waterloo Revival, and Caylee Hammack.
Over on the Challenge Butter Cook-Off Stage, you'll see exciting cooking contests and culinary superstars like Top Chef head judge Tom Colicchio, MasterChef Season 9 winner Gerron Hurt, and Rosewood CordeValle Executive Chef Alexander La Motte.
Visit Garlic Grove to make your own garlic braid for a fun, free souvenir and watch garlic topping demonstrations by Christopher Ranch!

Sample award-winning wines from Santa Clara Valley vineyards at the outdoor Wine Garden and try the 2019 signature Whiskey Daisy cocktail.

For more information please visit:
www.gilroygarlicfestival.com
DATES & TIMES:
July 26, 27 & 28, 2019
Friday, July 26: 10:00 am - 7:00 pm
Saturday, July 27: 10:00 am - 8:00 pm
Sunday, July 28: 10:00 am - 6:00 pm
(Entrance gates close one hour prior to event closing time)

DIRECTIONS:
Watch for the electronic signs on Hwy 101 or 152 as you enter Gilroy. Follow the signs and watch for traffic control officers on roadways. As you approach Gilroy DO NOT use your GPS to navigate to the Festival grounds as nearby streets are blocked off. All traffic is directed to Festival parking lots.
TICKETS:
Online tickets available until July 28, 2019 at 4:00PM.
Regular ticket prices at the gate: (Save $2 when purchased online in advance)
• Adults (ages 17-59) - $20.00
• Senior (ages 60+) - $15.00
• Youth (ages 10-16) - $10.00
• Children age 9 and under admitted free with an adult
• Gourmet Alley Combo Plate - $15.00 (Save and additional $2 when purchased online in advance)
• Parking - $15.00
Gourmet Alley Combo Plate: ½ Peppersteak Sandwich, Calamari, Pasta con Pesto, Garlic Bread.

The admission price includes musical entertainment, cooking demonstrations, and a children's area. Food and beverages may be purchased from Gourmet Alley or the vendors. Prices range from $2 to $15 or more depending on the item, which is typically a full-size serving, not a sample.
Ride the Garlic Train to the Festival!
You can ride the Caltrain "Garlic Train" to the Garlic Festival on Saturday, July 27 or Sunday, July 28. This is the easiest and most relaxing way to get to the Festival from the peninsula.
A chartered special event train will depart San Jose Diridon Station at 10:00 am, arriving non-stop in downtown Gilroy an hour later, where a bus will shuttle you to the Festival. At 3:00 pm you can board a bus to return from the Festival to the Gilroy Caltrain station, where the train will depart at 4:00 pm, returning you non-stop to the Diridon Station in San Jose one hour later.
This special round-trip ticket is only available online in advance and includes Festival admission. This ticket is not available for purchase from Caltrain or at the train station.
There are no refunds or exchanges for Gilroy Garlic Festival tickets purchased online. All sales are final.
The Festival is held in a park. It is all outdoors with mostly turf and some compact dirt and asphalt walkways. There are natural shade trees, and many shade tents with tables and benches.
Shirt and shoes are required.
Christmas Hill Park rules prohibit bringing the following items on Festival grounds:
Alcohol of any kind
Bottles, glass and cans
Coolers – large or small
Frisbees and water projecting devices
Pocket knives and weapons of any kind.
Please be advised that the City of Gilroy park rules prohibit dogs and other animals from being brought into the park, except Service Dogs.
The Gilroy Garlic Festival is a celebration of food, fun and family. It is the Garlic Festival's policy to provide a safe, family-friendly atmosphere for all Festival patrons and volunteers. Therefore, the Garlic Festival refuses entry or admission to anyone wearing clothing or paraphernalia indicating or signifying membership in a gang, including a motorcycle club. This policy is applied equally to all persons, regardless of their sex, race, color, religion, ancestry, national origin, disability or medical condition.
Ticketing FAQs:

I ordered my ticket online, how will I RECEIVE my ticket?
Tickets ordered online are e-tickets. Check your email inbox for your Order Confirmation from Eventbrite. Your e-tickets will be attached to your order confirmation email. Make sure to print them out and bring them to the event. IMPORTANT: if you do not see your order confirmation in your inbox, make sure to check your junk/spam folder.

Do I need to PRINT out my tickets?
Please print and bring your ticket(s), sent to you as an e-mail attachment, to the event entrance, or be prepared to display your barcoded e-ticket on your smartphone or tablet.

I still don't see my order confirmation, what should I do?
I am having trouble printing my PDF ticket, what should I do?
Please click here for more information on finding your order confirmation or printing your ticket(s). For non-technical ticketing questions or other information about the event click here or call: (408) 842-1625 M-F, 10:00am-4:00pm.

I bought two tickets and they both have my name on them. Will this be a problem?
No. Online general admission tickets are transferable. The name on your ticket only signifies who purchased the tickets. Just make sure the bar code on your ticket(s) are not damaged when you print them out. If you would like to update the name or email address on your order, click here.