About this Event
Plan for Your Future, Not Your Past
You wouldn't drive your car across the country in reverse looking through your rearview mirror. But that's what we do with our plans - we base them on the past instead of the future.
You need a better way to anticipate your future. You need Futurist Camp.
What is Futurist Camp?
Futurist Camp is not lecture-based or theoretical. It's applied, hands-on, learn-by-doing training. Your instructors include Fortune 500 leaders, professional futurists, subject matter experts, military personnel, and Rebecca Ryan.
By the Numbers:
4 days in the woods of Wisconsin
5 nationally acclaimed instructors, including Futurist Rebecca Ryan
6 months of post-Camp webinars, office hours and coaching
9 amazing, locally sourced meals prepared on-site
1 epic workbook of materials, tools and resources
0 power-points, conference rooms or dried out bagels
In-Depth:
Futurist Camp is a six month, all-access program that teaches you:
the tools that professional futurists use to figure out the future
how to develop a futurist's mindset, so you can spot opportunities and threats that others miss
how Fortune 500 companies, the military, the energy sector and entire countries use foresight to innovate and adapt
how to apply foresight to your project or organization (a powerful alternative to "strategic plans")
how to facilitate a long-range foresight project with a broad stakeholder group
why people are afraid of the future and how to make people comfortable using foresight
and more…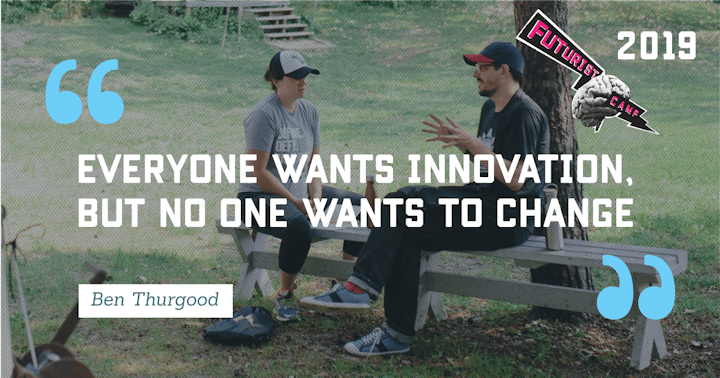 WHAT TO EXPECT:
Futurist Camp is a 4-day deep dive into the art and science of foresight work. You will build community, networking with like-minded Campers from across the United States. You'll be given group facilitation tools, and learn how to use them to facilitate conversations and work about the future. You will complete a project near and dear to your heart for personal and/or professional gain. After Camp is done, you will continue to learn via 6-months of post-Camp support as you bring your new-found skills back to your real-world projects. You will have access to recent research, publications, and resources to support you in your foresight work.
In addition, you'll have monthly office hours with Rebecca Ryan and quality facetime with nationally recognized leaders in the field.
Camp is an Intimate learning environment- we cap attendance at 24 campers. You will be glamping at its best, eating local epicurean dining alfresco with premium vegetarian options and sipping a daily signature cocktail. Get ready to perfect the art of the sling shot and beat your best canoe racing time. You will nap in hammocks under the trees, and roast marshmallows over a 12-foot bonfire.
Most importantly, you will leave ready to get some serious shi*t done, to create a brighter future.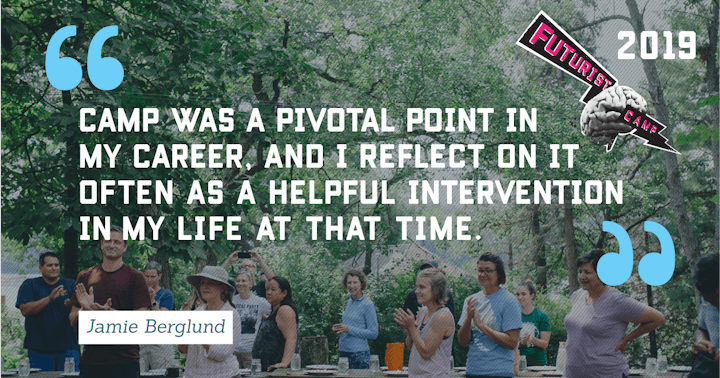 WHO ATTENDS FUTURIST CAMP?
Past attendees have included Executive Directors of national nonprofits, city planners, CIOs, public health professionals, college professors, budget analysts, leadership and workforce development professionals, Chamber of Commerce directors, and City Administrators. Many of our attendees work closely with the public sector, economic or community development, and local government.
If you want to create a future that works better for more people, FUTURIST CAMP IS FOR YOU.
Scholarships and volunteer opportunities also available. Contact gp@rebeccaryan.com to learn more!
BRING A BUDDY; SAVE MONEY!
We know how rewarding Futurist Camp is. But we also know that after you get home, it can be downright lonely if you're the only futurist-in-training. So here's a deal for you and your buddies: if you and a colleague* sign up for Futurist Camp, you both get $500 off the general cost of tuition. There's no limit to the number of buddies you can bring. Just use 'buddysystem' as a discount code when you register. We can't wait to see you in August!
***"Colleague" is someone who works for the same organization or with you on the same initiative.
Contact Gregg Potter, gp@rebeccaryan.com, with questions.
PRE-CAMP EVENING IN MADISON
Camp Director Gregg Potter and Rebecca Ryan will host a reception for Campers who come to town early. Drinks, appetizers and get-to-know-each-fun are planned for Sunday, August 18th at the Edgewater in downtown Madison.
This added night is $300 and will include:
One night hotel accommodations
Reception with cocktails and appetizers
Breakfast
Lunch
Parking
The bus to Camp on Monday, August 19 will leave from The Edgewater Hotel, 1001 Wisconsin Ave, Madison, WI 53703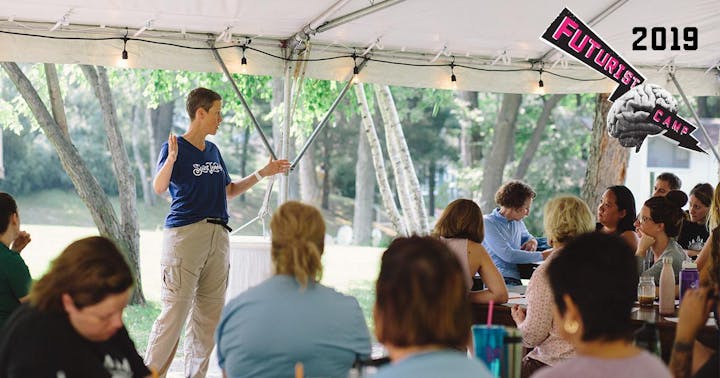 TERMS & CONDITIONS
Full payment due at the time of registration.
The refund schedule is as follows. If you are not able to attend (life happens!) you are welcome to send someone in your stead. Please contact the organizers directly to make arrangements.
A 50% refund minus a service fee of 3% is available for cancellations made before July 1, 2019
After July 1, 2018 no refunds are available.