Description
The Future with Hope Women's Conference is an opportunity for Catholic women over 40 to connect with each other and the Lord. This will be our 4th fall conference. Come, Holy Spirit!
We will open Friday night with heavy hors d'oeuvres and beverages, an icebreaker, and a speaker. Saturday will feature an opportunity for confession, Mass, three speakers, small-group discussion, full breakfast and lunch, a visit to the adoration chapel if desired, and time with exhibitors.
The 2019 speakers:
Carolyn Bassett, Word Among Us contributor and author of A Season of Grace: Embracing God's Gift in the Autumn of Our Lives.

Judy Keane, communications director for the U.S. Conference of Catholic Bishops and the author of Single and Catholic: Finding Meaning in Your State of Life.

Christine M. Eberle, author of Finding God in Ordinary Time and longtime higher education campus minister.

Rose Folsom, Lay Dominican and owner of Virtue Connection, a ministry that helps people bring virtues into their daily lives.

Coming from a distance and can't swing the hotel price? Live near St. Agnes and willing to host another conference attendee in your home? Email info@futurewithhopewomen.com and we'll do our best to connect you with each other.
See the FAQs for a special attendee table rate!
Please note: We are unable to provide refunds. However, you may be able to resell your ticket via our Facebook page if you will be unable to use it.

Register early... and come join us!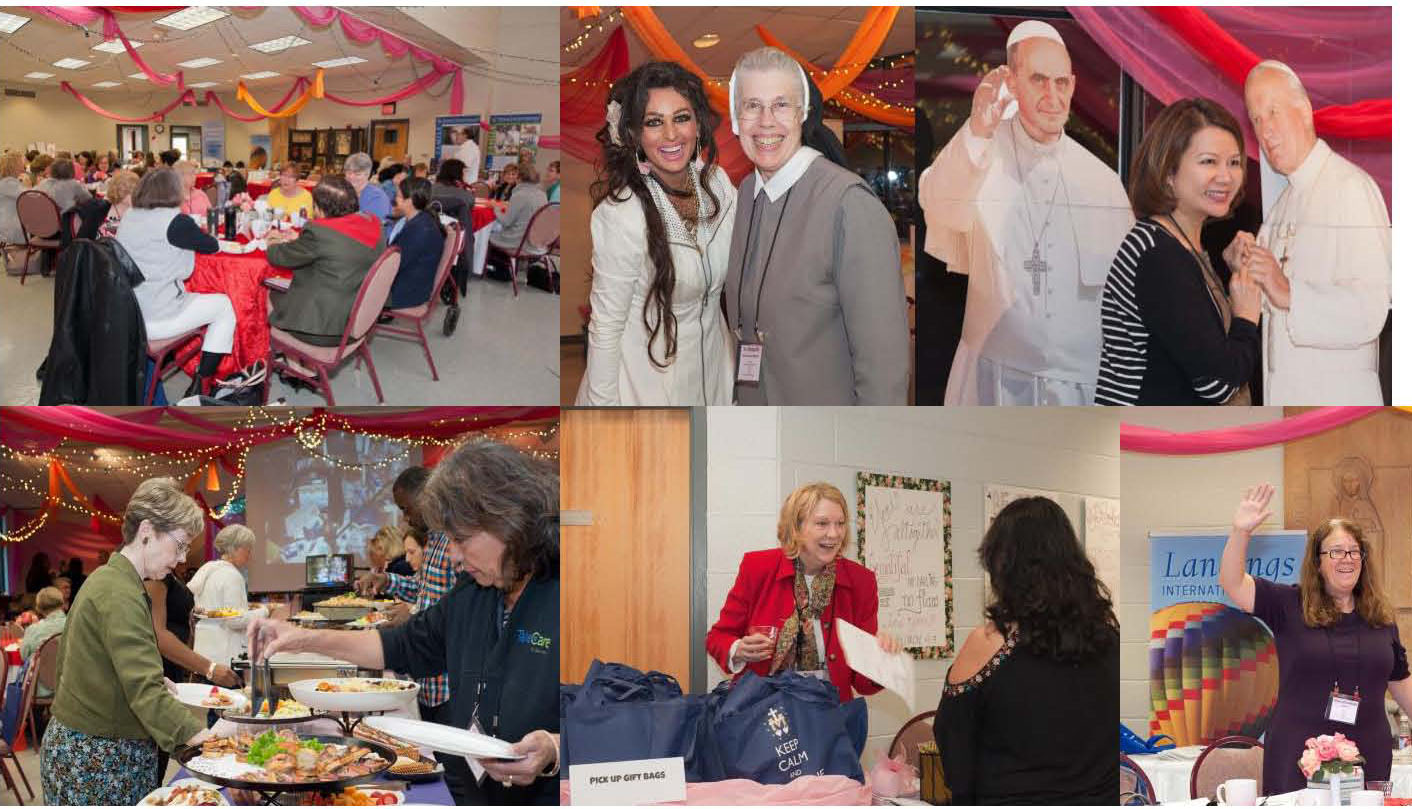 The 2019 fall conference is sponsored by:

FAQs
Will there be Mass?
Yes! We will have Mass with the St. Agnes community at 9 a.m. Saturday. Attendees also are encouraged to receive the sacrament of penance and reconciliation from 8 to 9 a.m. In addition, for those who would like contemplation rather than small group discussion on Saturday, the parish adoration chapel is located upstairs from the conference venue.
You also are welcome to join the St. Agnes community at the Vigil Mass at 5 p.m. on Saturday after the conference concludes.
What are my transportation/parking options for getting to and from the event?
Free parking is available at St. Agnes. For those who take Metro, transportation can be arranged from the Ballston station if you let us know in advance. Please email us at info@futurewithhopewomen.com.
Can I mail a check instead of using a credit card?
Yes. When you check out, under Payment, use the dropdown box to indicate pay by check. Checks then can be mailed to Future with Hope Women's Conference, 4201 Wilson Blvd. #110328, Arlington, VA 22203. If you prefer to register offline, please email us at info@futurewithhopewomen.com.
Is there a group rate?
Yes! Groups of six who pay by check are eligible for a reduced rate of $780. For details, please email us at info@futurewithhopewomen.com.
Can I get a refund if I don't attend?
We are unable to offer refunds, though you are welcome to sell your ticket to someone else. You may be able to do so via a post on our Facebook page.
Can I just come Saturday/just come for a particular speaker/just come look around?
The conference is an opportunity to build community and learn more about the options ahead for you, and we believe that is best experienced by attending the entire conference. You may decide to attend only parts of the event, but the fee will not be pro-rated.
Is financial assistance available?
We offer a limited number of scholarships. Please contact us for more details.
What about diet restrictions/physical and other accommodations?
We will contact registrants about accommodations a couple weeks before the conference.
I have a question that's not addressed here. Help!
Sure thing! Please contact us.