Description
FTA will host a 1.5 day Transit Asset Management (TAM) Roundtable for bus operators at the Marriott St. Louis Grand from September 4-5, 2019.
The TAM Roundtable for bus operators will bring together practitioners from transit agencies across the country who are directly involved in asset management. The event is designed for smaller tier I and tier II agencies that do not operate rail and will focus on more fundamental issues related to TAM implementation. This meeting is an excellent opportunity for your agency to share lessons learned through your asset management process, and gain valuable insights from your peers. Multimodal operators may register but may be better served by the Multimodal Roundtable Event.
Registration for the 2019 TAM Bus Focused Roundtable has closed. If you'd like to enquire about late registration, please email TAMRoundtable@dot.gov.
Interested in discussing a particular asset management issue at this event? FTA welcomes input in developing the roundtable program. Share topics of interest you'd like to see covered by emailing TAMRoundtable@dot.gov.
For questions, email TAMRoundtable@dot.gov.
---
Conference Hotel Information:
St. Louis Marriott Grand
800 Washington Avenue, St. Louis, Missouri 63101
TEL: 314-621-9600
Workshop attendees can reserve their room (Government rate $133 + tax) by visiting: Reserve Room or calling 314-621-9600. If you plan to make your reservation via phone please provide the group name: 2019 FTA Bus Roundtable.

The deadline for reserving a room under the block is Monday, August 5, 2019. After this date, all rooms will be released for public sale and will be based upon availability.
Transportation:
From St. Louis Lambert International Airport:

Follow Interstate 70 East for approximately 15 miles to downtown St. Louis and exit at Broadway (one way street). Continue on Broadway to Washington Avenue and turn right. The hotel is two blocks up on the left side of street across from the America's Center Complex at 8th Street and Washington Avenue.
Public Transportation Details:
From St. Louis Lambert International Airport:

Walk: From St. Louis Lambert International Airport to MLR Red line – Shiloh-Scott Station

MetroLink: Take Metro Light Rail to 8th & Pine Station (14 stops)

Walk: From 8th & Pine Station to 800 Washington Avenue, St. Louis, Missouri 63101
---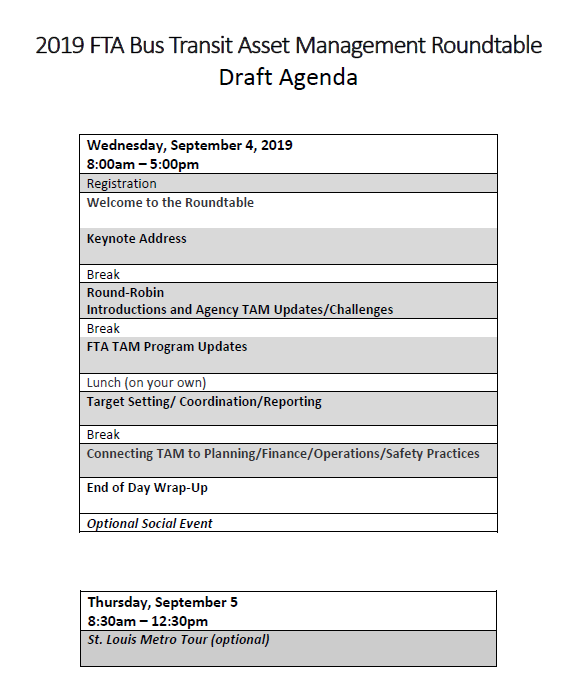 ---
Optional tour information:
Metro Transit Tour on Sept. 5, 2019
Depart Marriott St. Louis Grand at 8:45 a.m.
Return at noon
Do any of your transit buses have one million miles on the odometer with the original engine without an overhaul or a major breakdown? That's what Metro Transit has been able to achieve as part of its industry leading preventative maintenance program. Take a special tour of three distinct Metro Transit locations for a behind the scene look at the Metro Transit fleet which currently includes 400 clean-burning diesel buses and find out more about how the preventative maintenance program extends the life of a Metro Transit vehicle to an average of 15 years and more than 750,000 miles.
Another stop on the tour is in Ferguson, Missouri, to visit a former auto dealership that Metro Transit transformed into one of its newest transit centers to meet growing service needs.
The third element on the tour is the operations control center for Metro Transit Public Safety Dispatch, MetroBus and MetroLink. MetroLink light rail vehicles operate on 46 miles of tracks to serve 38 MetroLink stations in eastern Missouri and southwestern Illinois.