Description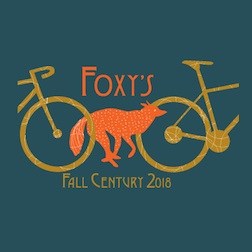 FOXY'S 2019 REGISTRATION OPENS ON JUNE 1ST

Davis Bike Club extends this invitation to ride and enjoy our premier late-season event, Foxy's Fall Century. Often described as the ideal first century ride, it offers challenges, distances, and scenery for riders of all levels. We offer three distance rides:
The Flat 50 k
100 k metric Century
100 mile Century
The Flat 50k course – Chill on this flat 31 mile route following country roads through farmland, over the iconic Stevenson Bridge and then through orchards to Winters for a relaxing break, with food and beverages in the park. Then loop back to Davis to celebrate with fellow riders, this classic Fall ride, with a delicious buffet dinner. Special for Families: On this course only, Kids 12 years old and under ride free when accompanied by a registered adult.
Start Time: 9 AM
The 100k Century - This is a great ride for most recreational cyclists. The route follows country roads to the English Hills, and through the picturesque shady rolling hills and orchards of Pleasants Valley. Following lunch near Lake Solano, the course continues through orchards and farmland for the return trip to Davis. Then celebrate with fellow riders, this classic Fall ride, with a delicious buffet dinner. Rest and lunch stops along the route will keep you riding strong throughout the day.
Start Time: 8 AM
The 100-mile Century - This well-marked route takes you through parts of Yolo, Solano, and Napa counties. Enjoy flat country roads through farmland and orchards of Yolo County, and the rolling hills, lakes and vineyards of Solano and Napa Counties. The moderately challenging climbs near Lake Berryessa will reward you with thrilling descents through the forested coastal mountains. Enjoy a well earned extended descent through the vineyards of Wooden Valley to your lunch stop. On your return leg, enjoy what has become a main attraction for cyclists throughout Northern California - the picturesque, shady golden hills, oak knolls, and orchards of Pleasants Valley and Putah Creek roads. Celebrate with fellow riders, this classic Fall ride, with a delicious catered dinner. Rest and lunch stops along the route will keep you riding strong throughout the day.
Start Time: 7 AM
Registration for Foxy's Fall Century is ONLINE only. No refunds of entry fees. Preregistration is capped at 1500 riders. Please Note: There will be no day-of registration. Get more information about our wonderful event at the Learn More links below. Bonus: Photos of riders on the course will be taken by Captivating Sports Photos. These photos will be available free, to download from your computer.

Foxy's 2019 Apparel
You rode it, and now you're one of the Foxy's pack. Choose the vibe you want from this year's designer apparel for Foxy's 2019.
2018 Tee Shirt
Show off your accomplishment with our super-soft long-sleeve Foxy's tee in deep heather teal, and feel proud. The tee logo colors are orange and ochre/gold with white textures. The running fox is your Foxy's spirit animal, always with you on your ride. Order now for pick up on the day of the ride only, at the start/finish. Very limited numbers and sizes will be available on Foxy day for those who do not pre-order. So lock in your order now and avoid disappointment. (When you register for your ride through Eventbrite, scroll further down the list of ticket types to find the selection for tee shirt purchase)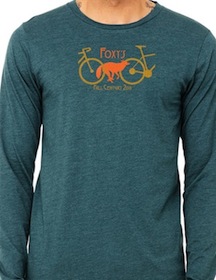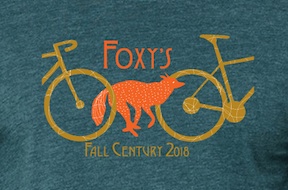 2018 Jersey
Make tracks cycling alongside orchards, lakes, vineyards, and rolling hills as part of the Foxy's pack. This year's designer jersey is marked with fox prints and tire tracks. Images of bike gears, fall leaves and your fox spirit-animal are designed for a sporty and adventurous look that pops for high visibility on the road. Order now, directly from Voler at the link below. Your Foxy's jersey should arrive within 2-3 weeks of order entry. Order by October 1 to be sure to have it to wear on Foxy day.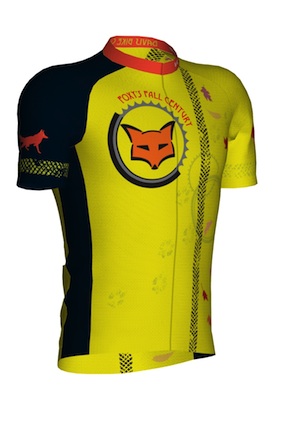 2018 Foxy's Jersey - On Sale Now at Voler - Click Here
Rider Tips:
1. Please respect all private property and public roads.
2. Please, please, please ride single file when traffic is coming from behind.
(This has been a problem and it endangers everyone).
3. Always be mindful of traffic: cars, tractors, other bikes, pedestrians, etc.
4. Just like you drive defensibly, please bike defensibly. Safety is more important than who might be in the right.
5. Take time to look around and enjoy the scenery; we ride through some great country!
Learn more: