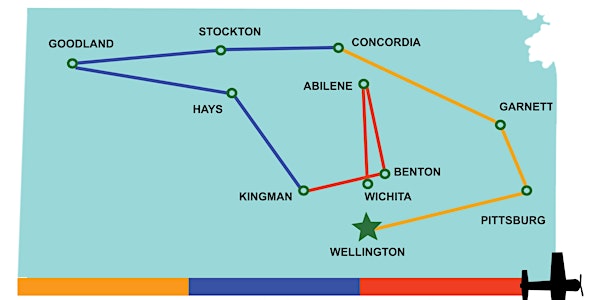 2019 Fly Kansas Air Tour
3 day tour with 11 stops across Kansas! Student Engagement! Aviation Tours! Special Events & Local Food!
When and where
Location
Wellington Municipal Airport 441 N. West Road Wellington, KS 67152
About this event
This is the sixth consecutive year for the Fly Kansas Air Tour which originally took place in 1928. The goal of that first tour was to promote the fledgling aviation industry in Kansas. Today, the air tour promotes Kansas aviation and shares the message that aviation is open to all. The public is encouraged to visit the local airports during the tour stops to see the airplanes up close, talk to the pilots and learn about the role of aviation in Kansas.
This year's tour includes stops from Garden City to Pittsburg and 9 places in between! We'll see the renovated Eisenhower Museum, visit the Kingman Fall Festival and we'll join the EAA banquet Saturday evening!
EGT - PTS - K68 - CNK - RCP - GLD - HYS - 9K8 - 1K1 - K78 - AAO
Registration closes Sunday, September 22, 2019. We hope to see you on the 2019 Fly Kansas Air Tour! Our partner airports, their city representatives and local affiliates, are partnering with KCAE and KDOT Division of Aviation for another successful event! A detailed schedule will be available soon!
The Kansas Commission on Aerospace Education (KCAE) is an organization that was commissioned by the Governor of Kansas in 1945 to promote aerospace education in the state of Kansas.
www.flykansas.org
WELLINGTON SEPTEPMBER 25
Hampton Inn & Suites I-35/Mulvane
785 Kansas Star Drive, Mulvane, KS 67110 (316) 524-3777
20 rooms available
$79 includes hot breakfast
CONCORDIA SEPTEMBER 26
Super 8 by Wyndham Concordia
1320 Lincoln St, Concordia, KS 66901
(785) 243-4200
30 rooms available
$77 includes hot breakfast
Holiday Inn Express & Suites
2175 Lincoln Street, Us 81, Concordia, KS 66901
(785) 243-2700
No room block or special pricing available
KINGMAN SEPTEMBER 27
Baker's Quarters Bed & Breakfast
336 North Main St, Kingman, KS 67068
(620) 955-6179
10 rooms available
$75-$105 includes hot breakfast
Copa Motel
1113 US-54, Kingman, KS 67068
(620) 532-3118
20 rooms available
$69-$79 *Breakfast not available*
WICHITA SEPTEMBER 28
Hampton Inn & Suites Wichita-Northeast
2433 North Greenwich Road, Wichita, KS 67226
(316) 636-5594
30 rooms available
$89 includes hot breakfast
**Please call the Kansas Division of Aviation with any questions you may have at 785-296-2553.