Description
Celebrating our 5th Year Anniversary - Flourish Together: Engaging Our Male Allies!
The Flourish Conference for Women in Leadership is designed for high-achieving female executives and entrepreneurs. It is an immersive leadership summit designed to empower and equip women in corporate leadership positions to flourish in their organizations, and in their professional and personal lives.
We expect the Cleveland conference to sell out quickly so register as soon as possible.
VIP Experience includes: Flourish Full Day Conference, Flourish Spa & Champagne Toast Reception, Luxury overnight stay at the conference hotel on Friday, November 8, Executive breakfast, VIP Transformation and Executive Coaching on Saturday, November 9, Course Materials and Assessments, Reflective, Collaborative and Relaxation Activities and VIP Gift Bag
Early Bird Tickets: $300
Previous Flourish conference attendees - Contact Crystal at cogden@flourishleaders.com to register for your special discounted ticket.
Please contact us for information on VIP and Table sales - Crystal - cogden@flourishleaders.com or 216-431-0008.

Please check us out on Facebook page at: https://www.facebook.com/FlourishLeaders?fref=ts, our website at http://www.flourishleaders.com or contact us at info@flourishleaders.com for more information.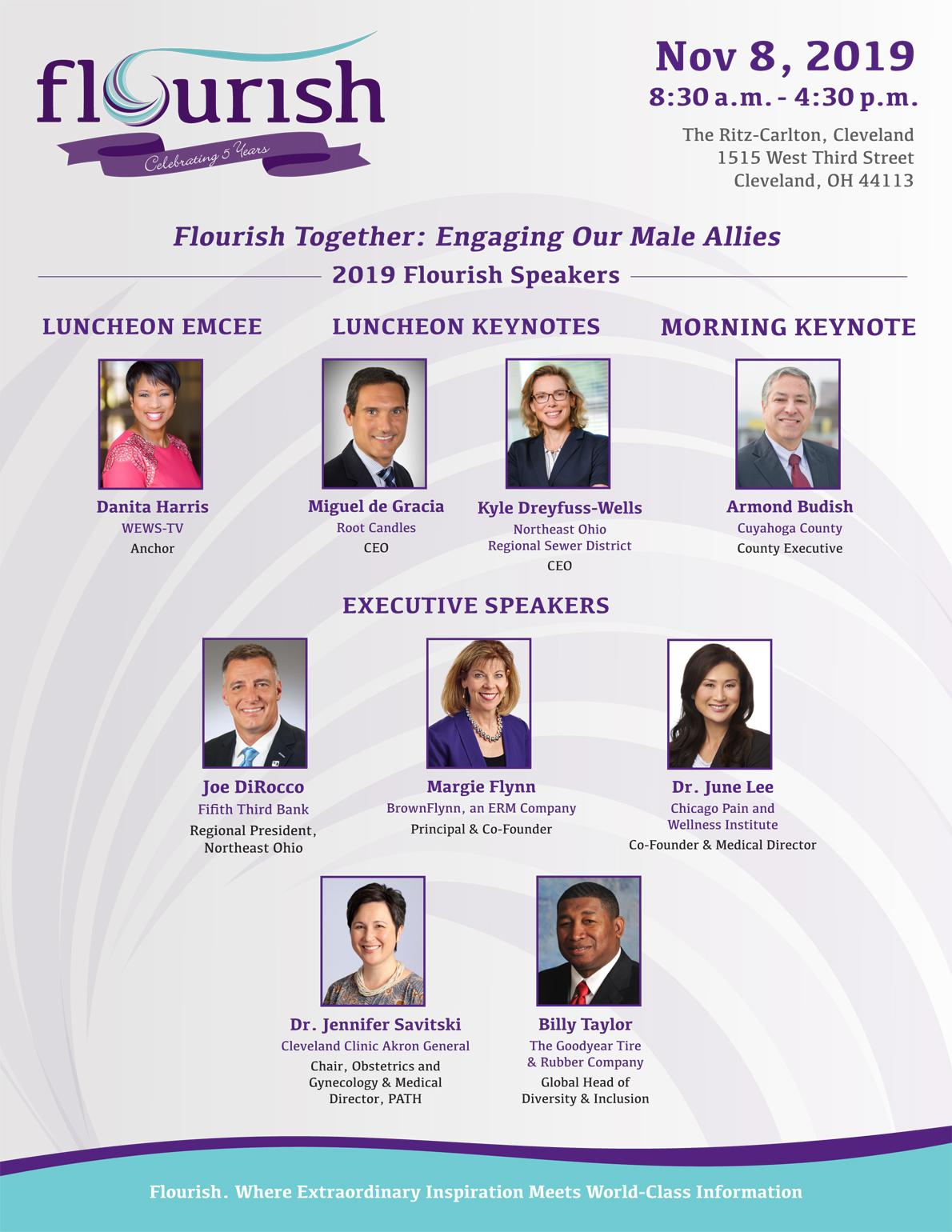 FLOURISH CONFERENCE AGENDA
November 8, 2019
Friday: 8:30am – 4:30pm
Celebrating our 5th Year Anniversary - Flourish Together: Engaging Our Male Allies!
8:30am - 9:00am Registration and Breakfast
9:00am - 09:15am Opening Ceremony
Morning Keynote: Women in Leadership: The Power of Collaboration
The Science of Flourishing: Exploring the Six Dimensions of Flourishing and the trends and insights regarding the impact of women in leadership.
9:45am - 11:45am Executive Fireside Chat: Intimate discussions in assigned small groups with the top executives and entrepreneurs in their industries. This is a unique element of the Flourish Conference Day.
11:45am - 12:00pm Break
12:00pm - 1:30pm Luncheon Keynote and Flourish Awards Ceremony
Flourish Keynote Conversation: Flourish Together: Engaging Our Male Allies.
We also recognize our outstanding Flourish Awardees.
1:30pm - 3:00pm The Art of Flourishing: Women will either join the Flourish Forward group for those who have participated in Flourish to design their 3-year plans, or first-time participants join together to understand the domains of flourishing.
Collaborative exercises. Career and Work-Life Assessments. Continuing through Flourish 100-Day Action Plans™ while working with Executive Coaches and Flourish Accountability Partners.
3:00pm - 3:15pm Break
3:15pm - 4:30pm The Mastery of Flourishing: Leveraging insights learned throughout the day for positive impact in the future. Participants strategize their top three (3) professional and personal priorities – and the impact these will have on their lives over next 100 days.
4:15pm Closing Ceremony
4:30pm - 6:00pm Flourish Spa and Champagne Toast: Featuring special guests, champagne and a Flourish Spa Experience (makeovers, massages and mingling).