Description
We hope you'll join us for the largest annual event sponsored by the Cactus Section IFT!. At Suppliers' Night, companies serving all segments of the food industry have the opportunity to showcase their products and services and exchange information with purchasers. Exhibitors include those representing food ingredients, dairy, meat, seafood, bakery, nutraceutical, testing laboratories, and pharmaceutical industries.

Pick Your Booth: You're invited to pick your booth spot during registration. You may want to look at the map at the end of this section before doing so. It is closer to scale than the ticketing seating map.

Expo Schedule
Set-Up: 1-3 p.m. Enter through the North door for set-up*
Education Session: 2:30-3:30 p.m. (one session)
Expo Floor Hours: 3:30-6:30 p.m.
Tear Down: 6:30-7:30 p.m. We ask that you avoid tearing down your booth space before 6:30 p.m..
Post-Expo Happy Hour: Appetizers and drinks at the Aloft Phoenix-Airport, just a mile away.

Hotel Discount: Aloft Phoenix-Airport, where we will hold the Post-Expo Happy Hour event, is offering discounted prices for reservations through March 9th. The hotel is just over a mile from the Expo and has shuttle service from 4 a.m. to midnight. The shuttle service includes transportation to and from El Zaribah Shrine, as well as the airport. Registration link coming soon.
Exhibitor Kit: For additional administrative details, the exhibitor kit is available HERE.
Pricing: Standard Registration with the accompanying $50 price increase, begins Friday, January 25th, 2019. Late Registration with another $50 price increase, begins Friday, March 15, 2019.
Questions: If you have any questions or need assistance, email, call, or text Holly Long. She can be reached at SuppliersNight@CactusIFT.org and/or 480.319.5644. Please allow 24 hours for a reply.
MAP 1: Exhibit Hall Map - a more accurate representation of scale.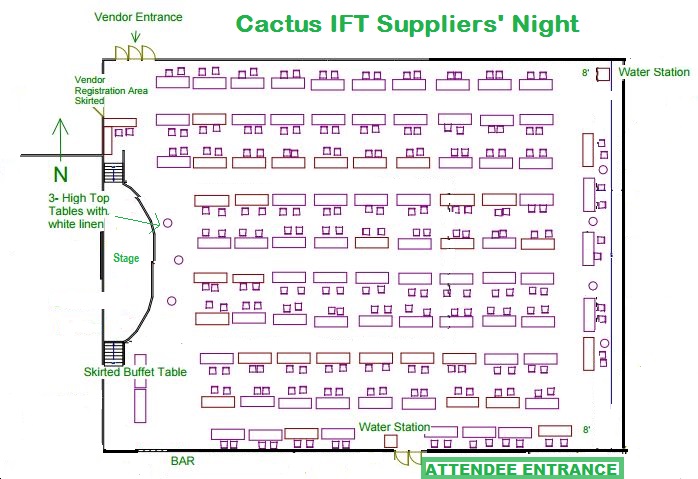 ---