2019 European Parliamentary Elections: Why Do They Matter?
Description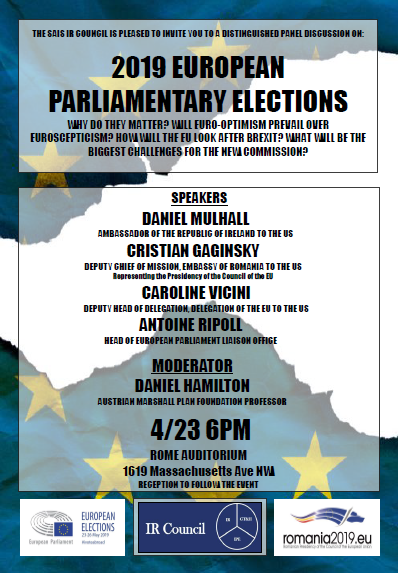 With the European Parliament Elections around the corner in late May, there have rarely been so many open questions surrounding the future of the European project: Why do the elections matter? Will Euro-optimism prevail over Euroscepticism? How will the EU look after Brexit? What will be the biggest challenges for the new Commission?
To get an inside perspective on these issues, we will be hearing from representatives of the EU institutions themselves and learn how policymakers view the challenges ahead of the Union.
The SAIS IR Council is delighted to present the following distinguished panelists:
SPEAKERS
DANIEL MULHALL, AMBASSADOR OF THE REPUBLIC OF IRELAND TO THE US
CRISTIAN GAGINSKY, DEPUTY CHIEF OF MISSION, EMBASSY OF ROMANIA TO THE US
Representing the Presidency of the Council of the EU

CAROLINE VICINI, DEPUTY HEAD OF DELEGATION
DELEGATION OF THE EU TO THE US

ANTOINE RIPOLL, HEAD OF EUROPEAN PARLIAMENT LIAISON OFFICE
MODERATOR
DANIEL HAMILTON, AUSTRIAN MARSHALL PLAN FOUNDATION PROFESSOR
*Reception to follow the event*