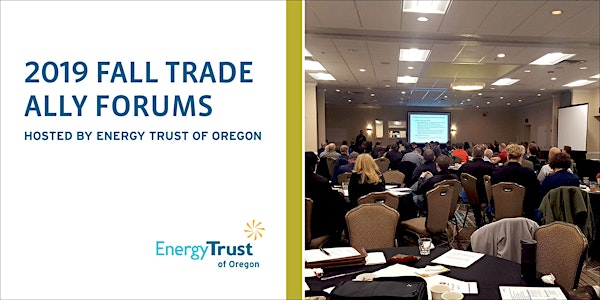 2019 Energy Trust of Oregon Portland Trade Ally Forum
When and where
Location
Sheraton Portland Airport Hotel 8235 Northeast Airport Way Portland, OR 97220
Description
Join Energy Trust of Oregon for this free, informative event to network with other industry professionals, learn about 2020 incentives, receive technical training, and discuss your questions and feedback with Energy Trust staff. The Trade Ally Forums are your best way to connect with Energy Trust staff and hear the latest updates – tailored for each location. Breakfast and parking are provided.
2019 Forum Schedule and Locations

Portland - Thursday, October 10 from 8:00am - 12:00pm. Sheraton at the Portland Airport.
Portland Agenda (tentative):
8:00am - 8:30am: Hot breakfast and networking

8:30am - 8:40am: Welcome and Vendor Introductions

8:40am- 9:00am: Energy Trust Executive Director Update

9:00am - 9:20am: Low and moderate income sales tips (Community Energy Project)

9:20am - 9:40am: Break and Vendor Networking

9:40am - 10:40am: Breakout Session A (pick one):

Mt Hood A: Residential and Multifamily program updates

Energy Trust program staff will be providing an overview of upcoming incentives changes for 2020.

Mt Hood B: Welcome to Energy Trust of Oregon

New to Energy Trust and our trade ally network? Join this session to learn more about the history of Energy Trust, benefits of joining our trade ally network, and an overview of our program offerings.

Mt Hood C: Home Enegy Scoring Update

Join this session to learn important updates about Portland's Home Energy Score and market potential.

Cascade B and C: Solar program updates and Oregon Solar Energy Industries Association (Part 1)

10:40 – 11:00am: Break and Vendor Networking

Make sure not to head out early. We will be drawing winners of the fabulous giveaways our vendors are bringing during this time.

11:00am – 12:00pm: Breakout Session B (pick one):

Mt Hood A: Residential and Multifamily program updates (repeat)

Energy Trust program staff will be providing an overview of upcoming incentives changes for 2020.

Mt Hood B: Central Air Conditioning Training

Bruce Manclark will be facilitating a training on the ins and outs of air conditioning including the following: Season Energy Efficiency Ratio (SEER), Energy Efficiency Ratio (EER), AHRI review and best practices for air conditioning system selection and installation.

Mt Hood C: Introductions to Net Zero Homes (Continuing Education Credit Approved Training)

Howard Asch, Director of Training with the Oregon Home Builders Association, will be facilitating a training on net zero residential homes and what differentiates them from traditionally built homes. The training emphasizes smart design and the areas where efficiency can be most effective. This training is geared toward home retrofit and new construction trade allies.

Cascade B and C: Solar program updates and Oregon Solar Energy Industries Association (Part 2)