2019 Employment Law Update with Brian Koegle - Chancellor's Circle Busines...
Description
2019 Employment Law Update with Brian Koegle - A Chancellor's Circle Business Breakfast Briefing
Friday, December 7, 2018
7:30am Breakfast - 8:00am Presentation
Presented by: Brian F. Koegle, Attorney at Law, Poole and Shaffery, LLP

Please respond by Nov. 30, 2018
Tickets $20 per person | Chancellor's Circle Members complimentary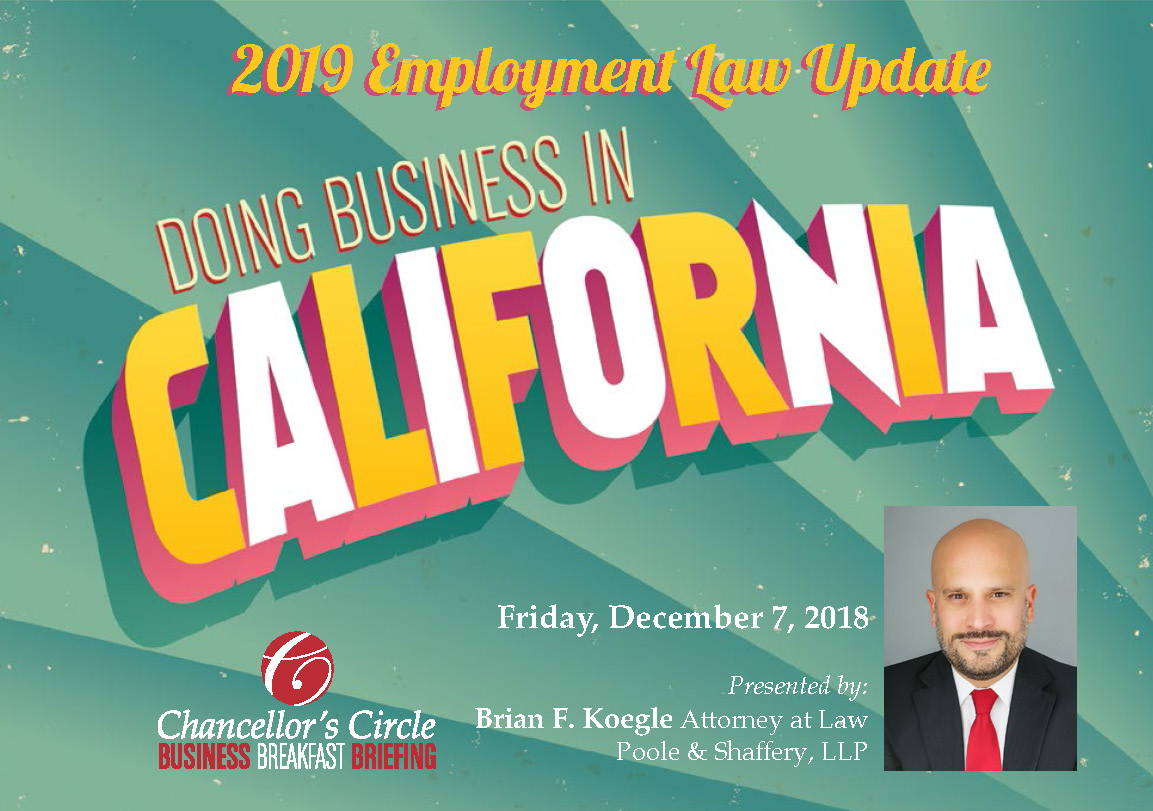 The California Supreme Court, California legislature, and even the U.S. Supreme Court have been active in changing employment law for California employers! Dozens of new rules, regulations and court ruling will affect employers throughout the state. Failure to comply with any of these changes can cost your business significant time and money!
Education is power! Come learn about the new laws which will affect your business and employees, and discuss the steps you can take to help ensure compliance and avoid costly fines or litigation.
Brian Koegle from Poole & Shaffery, LLP will present his annual Employment Law Update with a review of new federal and state regulations and recent case law, including:
• Changes in classifying workers as independent contractors
• De Minimis unpaid time and rounding timekeeping policies
• Calculating overtime payments for employees
• On-duty rest periods and the future of on-duty meal periods
• Changes to disclosure requirements and settlement agreements for harassment claims
• Employment arbitration agreements in California
The presentation will also include a look ahead at anticipated court rulings and legislation affecting the employment landscape in 2019.
For more information or to make a reservation contact the COC Foundation
(661) 362.3434 • cocfoundation@canyons.edu • cocfoundation.com
Dr. Dianne G. Van Hook University Center
26455 Rockwell Canyon Road
Santa Clarita, CA 91355