Description
EDUCATION EQUITY LUNCHEON
LULAC Florida welcomes US Department of Education to Sarasota to discuss K-12 education opportunities and challenges ahead from a federal, state and local perspective.
Keynote Speaker: José Viana, Assistant Deputy Secretary, Director of Office of English Language Acquisition (OELA), US Department of Education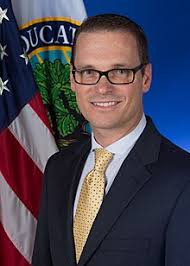 Mr. José Viana is the principal adviser to Secretary of Education Betsy DeVos on all matters related to the education of English Language Learners (ELLs), now estimated to be about 10 percent of the total K-12 public school enrollment nationwide.
A second-generation Cuban immigrant, Mr. Viana started his primary years as an English Language Learner and has devoted his life to improving educational opportunities for minority populations. He began his career in Miami-Dade County Public Schools as an elementary school teacher, moving on to numerous educational and administrative positions where he worked with migrant populations, universities, and North Carolina Department of Public Instruction.
As head of OELA, Mr. Viana supports the goal to provide national leadership in ELL education by advancing opportunities for educational excellence and equity for English Language Learners and their families. Mr. Viana will speak to us about the DOE's initiatives and various programs that deliver high-quality instruction for linguistically and culturally diverse students.
His message to Florida comes as Sarasota County Schools approves the first fully bilingual school in our state's Suncoast, a model LULAC hopes school districts across the state will implement since it has been proven to consistently close the achievement gap of at-risk students across the country's most successful public schools.
This year, LULAC celebrates 90 years of service to communities across our country. From its foundation, one of our main purposes has been:
"To foster the learning and fluent use of the English language so that we may thereby equip ourselves and our families for the fullest enjoyment of our rights and privileges and the efficient discharge of our duties and responsibilities to our country, at the same time, it is important to exert equal effort to foster the fluent mastery of the Spanish language, which is part of our heritage and a means of extending the cultural horizons of our nation."
Help us welcome Mr. José Viana, who along with his wife, Aimee Viana, have deep roots in Florida and are both representing our voice well in the highest corridors of the federal government.